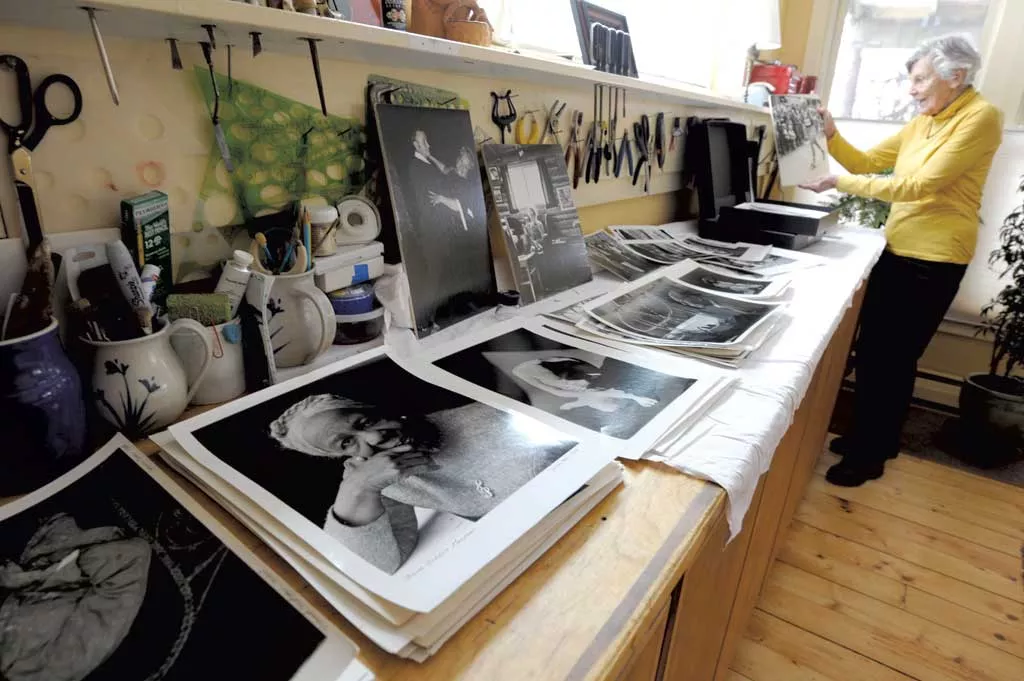 Jeb Wallace-brodeur
Jamie Cope
The view from the window in Jamie Cope's living room is the epitome of Vermontiana: tall pines in the foreground, a half-dozen snow-smattered peaks in the background, the spires of Montpelier churches nestled in a mid-ground vale. It cries out to be admired, painted, photographed.
Yet Cope, with the mechanical assistance of her trusty Hasselblad, stuck mainly to portraits in her several decades as a professional photographer. Her beautiful, naturally lit, black-and-white images unveil truths about their subjects that words never could.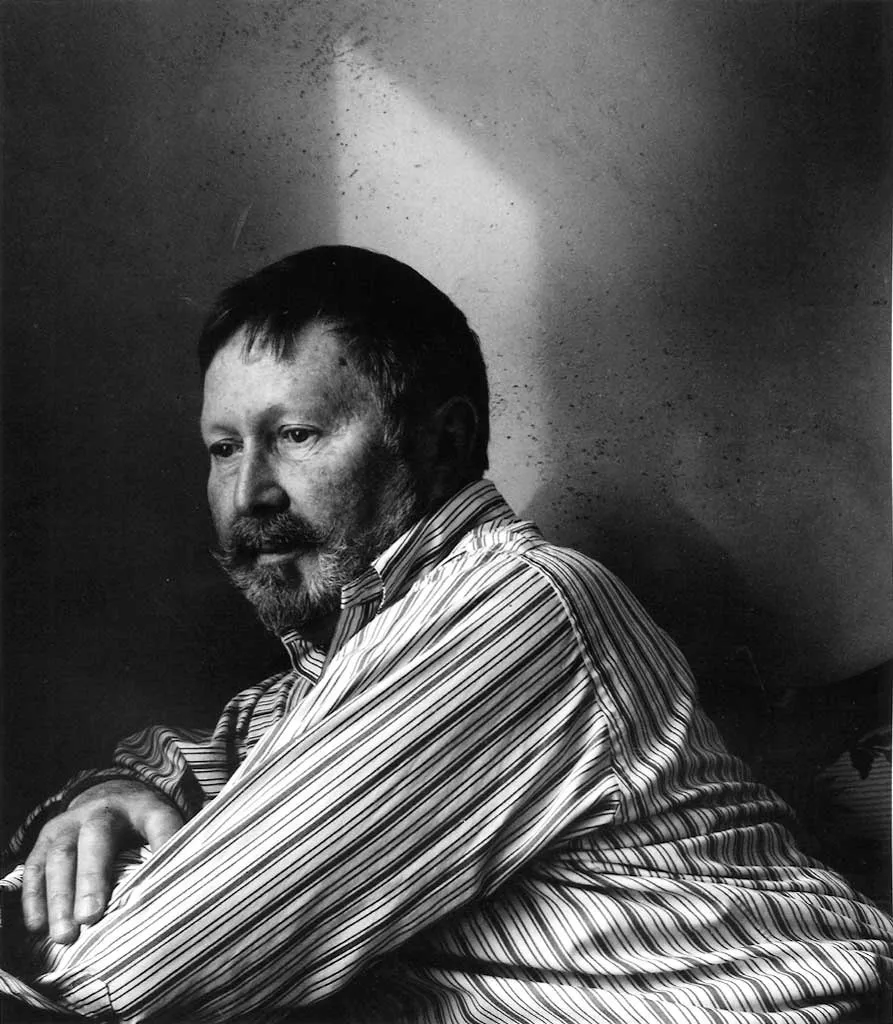 Courtesy of Jamie Cope
George Tooker
Cope rarely picks up her camera these days, whether to create portraits or images of the picture-perfect view from her hillside home. Still active and whip-smart at 93, she is slowing down a little and starting to think about her legacy. With the help of friends, she's recently started seeking an archive to care for her large collection of photographic prints and negatives.
Especially drawn to faces, Cope has photographed everyone from her friends and family members to Vermonters past and present, including author Jamaica Kincaid, cartoonist Edward Koren and the late poet James Hayford. Cope's portrait of Hayford — one massive hand clutching his shoulder, the other cradling his deeply creased face — makes him look less like a man of letters than a weather-beaten woodsman.
"Well, he was very rugged, and he was a woodsman!" Cope exclaims with a smile, delighted that her images still have the power to surprise and reveal.
Her shot of the poet is one in a series of elder Vermonters, the second such series Cope has created. The first depicted noted Bostonians of advanced age, including public-relations titan Edward Bernays and economist John Kenneth Galbraith. Both series reflect the photographer's longtime interest in issues pertaining to the elderly. From 1985 to 1990, she hosted a show on that subject on WCAX Radio. When she turned to photography in her forties, Cope quickly distinguished herself; her work has been exhibited in galleries and museums in Paris, New York and Washington, D.C., and in numerous Vermont venues.
As the sun streams into her sitting room and a fresh-baked spice cake cools on a rack, Cope sits down with Seven Days to talk about her art and the photographic traces she'll eventually leave behind.
SEVEN DAYS: How did you come to specialize in portraiture?
JAMIE COPE: I began by photographing my children. Then I thought, I'll just take a step toward my neighbors. I knew the kids in the neighborhood, and we were all friends. At the local hair salon, I noticed that the walls were empty. The hairdresser was a lovely man, and I asked him, "What if I photograph your children, and then hang them here?" That's how I got started.
SD: You imposed a major restriction on your process by using only natural light and monochromatic film stock.
JC: I did use color sometimes, when I found something that was just glorious, but I just couldn't get into color. I just loved black and white. And you're right that I almost never used artificial light. I have to give credit to being raised in Hollywood, Calif. Those black-and-white movies are just gorgeous. I was aware of lighting.
SD: Right, but Hollywood films generally use artificial lighting to simulate natural lighting.
Courtesy of Jamie Cope
Jamaica Kincaid
JC: True. But, then, one thing was that I didn't have the money to buy lighting equipment, so I had to invent my own way of doing what they did. I undid the process. I'd take people outdoors and find the shadows and the slanted light. If it was too bright or too harsh, I just moved to where it was softer. I learned a lot subconsciously. Most of my photography was done "by feel."
SD: Tell me about the exhibit of your portraits of elderly Bostonians.
JC: It was the first "old people" exhibit in the United States. There had been nothing like it. In Boston, I had been freelancing. One day, when I was only 50, I was on the Red Line and somebody asked me if I wanted his seat. I was very athletic, running track on my lunch breaks every day. So I was livid! I went back to my desk and thought, I don't look old! I'm going to have an exhibit of older people who are working. It soon escalated into all the famous people who really built Boston, people in their eighties and nineties, still very active.
It was Edward Bernays, who was my neighbor, who really stimulated me to do the series on Bostonians. He was charming, gave me all kinds of information. He was 90 at that time and had some great stories. John Kenneth Galbraith was also very active. He was a very little, thin man, and just popping around all the time.
It was very different from the series of older Vermonters. These were great farmers, all people of the earth. I really loved doing the Vermonters. They had great stories to tell me.
SD: Your portrait of the late artist George Tooker, who lived in Vermont, is very intense. His eyes look so dark, like something from Rembrandt.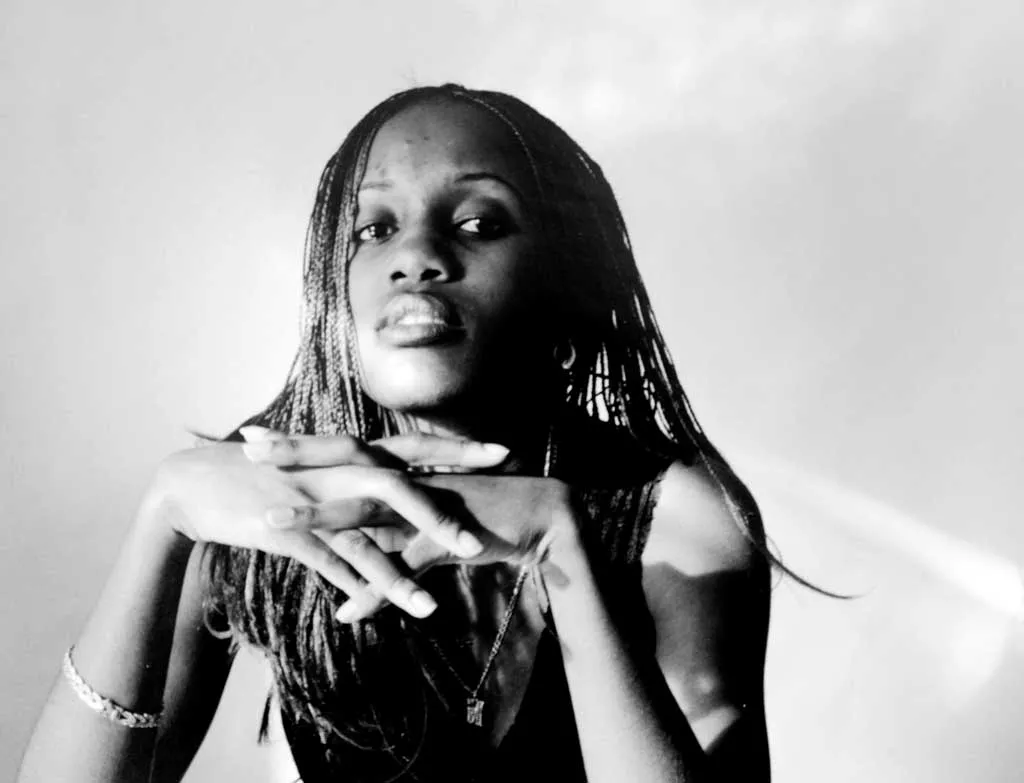 JC: He had a very interesting, teeny-weeny house, and he was a very intense Catholic. So when he came into the room, I framed it so that [the light on the wall above his head] would be like a halo. He didn't speak to me at all. That man was so arrogant.
SD: Why have you essentially stopped taking photos?
JC: I began being worried about my ability to focus, because I have macular degeneration. I've wrapped up my Hasselblad and put it away. That was about 10 years ago. I just got it out, though, the other day, and thought I really should sell it.
SD: Do you ever miss it?
JC: Maybe sometimes. I think this is true of every photographer, but as I'm looking at you, I see the shadows and where the light falls. You can't really give it up, because it changes your whole life. You think like a camera.
SD: You're looking for an archive or repository for your work. Where and in what condition is it all?
JC: I have all the negatives. I have limited prints, though. Some I'd sell, some I'd give away. I was really pretty casual about it. But all the negatives are clean and kept well.
I've just started, a couple months ago, looking for an archive, even though I've always worried about it. I only have a couple more years. [A friend] made up a list of possible archives, and I thought it would be a good idea to approach them with my book and a few prints so they could see the quality of the printing.
SD: Why, exactly, do you want to do this? Is it to preserve your legacy?
JC: No, it has nothing to do with me. It has to do with the people I photographed. But I don't know that the photos are old enough, or if they'll be appreciated for their quality. I have no idea whether they're valuable or not. I just don't want them to go up in flames.