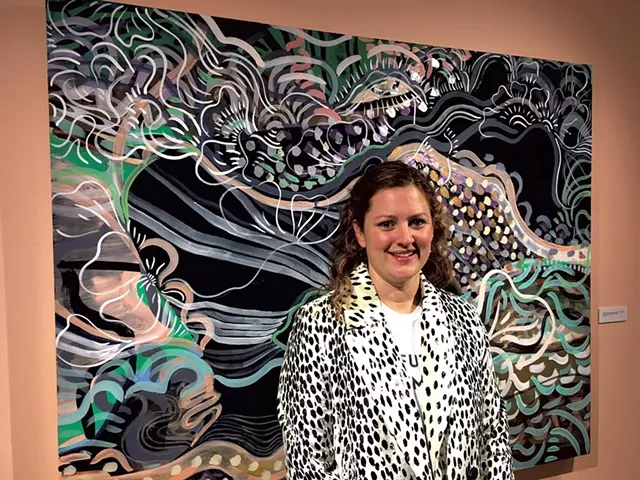 Pamela Polston
Wylie Sofia Garcia in front of "I Think I Know My Geography Pretty *** Well"
Burlington artist Wylie Sofia Garcia has a busy life. With her husband, fellow artist Clark Derbes, she takes care of their 8- and 2-year-old children. She teaches visual art at Shelburne Craft School, where she is also education coordinator. And, over the last year, she has been developing her art in a whole new medium.

Formerly known for her fabric works and installations, Garcia began taking a painting class at Burlington City Arts after she won the BCA's 2016 Barbara Smail Award for mid-career artists. (She succeeded Derbes, who had won it in 2015.) The award provides $1,500 to cover materials costs, as well as access to the organization's facilities and classes worth $1,000.
Though Garcia found time to attend only a few classes, the experience prompted her to switch to abstract painting. In a parallel pursuit, she began melding the two mediums of fabric and paint in lenticular prints — a printing technology associated with 3D images.
Garcia's culminating solo exhibition, "With My Voice, I Am Calling You Home," is now on display in the second-floor gallery of the BCA Center. Evidently, the artist decided not just to toe-dip in her new medium: Each of the six acrylic paintings on canvas or birch panel is at least 48 by 36 inches, and one is more than six feet tall. (Her four lenticular prints are smaller, each about the size of a sheet of paper.)
The paintings are profusions of wavy, curving, dotted lines or other repeating brush strokes, ebullient in pattern and, in most cases, color. Even Garcia's titles have a no-holds-barred quality. Shunning the laconic standard "Untitled [number]," the labels bear such titles as "I think I Know My Geography Pretty *** Well" and "I Think I Still Hear Bizet." Seven Days talked with Garcia about how she sees her new work, in relation to her former projects and to her life.
Photos Courtesy Of Daniel Cardon
"Walking Backwards"
Your painting strokes seem to echo lines of fabric and stitching.
When I did fabric, the stitch mark, the repetitiveness of it, helped me access my thoughts. Now it happens on canvas or birch panel in a more immediate way. The swoosh mark is me working through a thought, like, How could I have said something different to my son when he asked me that? Swooshy marks, hash marks, wavy lines — they're so much a part of my visual language now.
How else does your painting practice relate to your fabric work?
For my fabric art performance piece "The Dress That Makes the Woman" [2010], I integrated a daily practice of art making into my life. I had to work on the same dress every day for 10 minutes and change it in some way. I wore it every day for a month, and changed dresses every month for a year.
The paintings are [also] me working through things with daily processing. I'm calling myself home to a place of calm, returning to something normal from a hectic place. The [peach-pink] gallery wall color is a comfort color, like a hug, a color to evoke a familiarity and a femininity.
What's the origin of your title for the show, "With My Voice, I Am Calling You Home"?
It's a lyric from the Nick Cave song "Jesus Alone," from his album Skeleton Tree. I listen to a lot of music while I'm painting. The paintings are about my idea of home being this emotional state. I observe the different roles I play [while I paint]. It brings me into a quiet space where I'm processing them on a surface. My idea of home is quietness.
Quietness is the last thing that comes to mind with some of these paintings.
Well, I have a very active brain. [Laughs.]
Photos Courtesy Of Daniel Cardon
"Toast Will Never Be Bread Again"
What is "Toast Will Never Be Bread Again" about?
At the time [of painting it], there were a ton of black people being shot by police. I was processing through my confusion. Every day, I'm reading about more people dying, yet I'm telling my kids we live in a safe place and going into work to plan arts education. Then I saw an episode of "Orange Is the New Black" called "Toast Will Never Be Bread Again," about police shootings, and I looked at this painting and thought, Wow, this is holding all of this.
People say, "Your paintings are so happy!" — which is fine, but there's more going on. There are so many layers to the paintings — fabric, movement, reflection. I use interference paint [an opalescent paint flecked with mica], and when it's painted over a dark surface, it reflects more. Depending on how the light passes through it, you can see what's behind it or not.
How about "Ermahgerd" — is that a German word?
It's an Urban Dictionary word, kind of like "Oh, my god." It's a great texting phrase when you want to say, "I can't believe I'm looking at this." I looked at that painting and thought, I'm not really sure what this painting's about, so — ermahgerd! That piece was from a happier place of working things out than "Toast."
So you're an instinctive painter?
Definitely. I do think about composition and formalism, but I feel that, as I try to mature as an artist, I try to do less internal questioning. [I try to ignore] my personal gremlins, like, What am I doing here? Am I a painter? Will anyone like this? I try to shut that off.