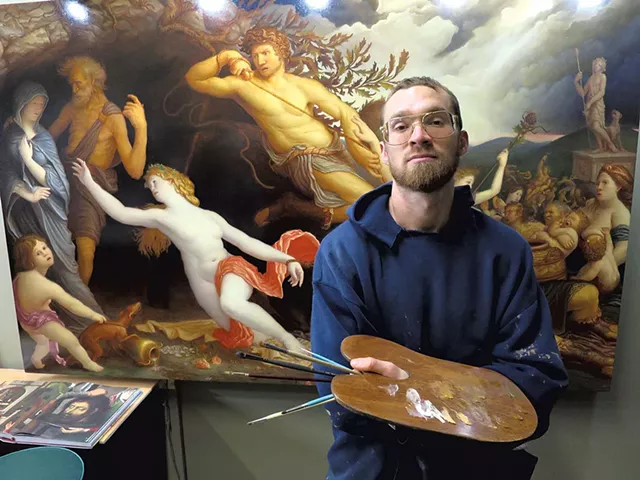 Matthew Thorsen
Kalin Thomas
Kalin Thomas started oil painting just three and a half years ago. The Burlington artist is only 28, but if you look at his work, you might think he was 68 and had spent decades studying the likes of Raphael, Titian, Pontormo and Dürer.
Thomas didn't need a time machine to hang with the old masters, just time. That's what he was granted in 2011 when he won the $50,001 Foot Locker Art Prize while living in Brisbane, Australia. The native of Lubec, Maine — who spent part of his childhood in Rutland — had moved Down Under after completing a degree in linguistics at the University of British Columbia. In Brisbane, he made his living painting elaborate acrylic illustrations for T-shirts and advertising.
Shortly after Thomas won the Foot Locker prize, a friend introduced him to oils. "Before [that], it was just about what looked cool," he says. With the time and money to stop and reflect, Thomas searched for more meaning in his artwork. He shifted gears and began researching oil painting and art history online.
Though Thomas took a few entry-level art classes in college, most of his experience comes from hours and hours of independent study. He says he's grateful for the time he's had for that pursuit. But even without the financial safety net, his long hours at the studio make it hard to imagine anything could keep him from painting.
Thomas and his wife now live in Burlington, where she's a resident in internal medicine at the University of Vermont Medical Center. The tall, gold-spectacled artist spends long days in a Pine Street studio. There he quietly creates stunningly skilled, massively scaled artworks that draw on Renaissance technique, Greek and Roman mythology, and Stoic philosophy.
Thomas has yet to sell a painting or show them publicly; he was even reluctant to give up his relative anonymity for a little media exposure. But in the end, Thomas allowed Seven Days into his studio to learn more about his work and his motivations.
How would you refer to your work, if someone wanted to classify it?
That's the thing; I'm not referencing a particular time period. I don't look at an artist from the early Renaissance exclusively. I jump around. I study a lot of Asian art. I've been really into ancient Hindu sculpture — because it has beautiful abstractions in the posing — and a lot of etching and engraving lately. It all overlaps and snowballs.
The illusion of authenticity is an important quality in my work. I want the viewer to feel like [it] was painted a long time ago.
Initially, I started doing this because I thought if my work looked like paintings from a well-validated period in art history, people might think I was quite a bit better than I was. It turned out to be more difficult than I thought. Now, at least for me, by making a strong reference to a particular time period in art history, I can juxtapose values we associate with that time period against our own ideas of conduct.
That creates this really interesting dialogue; you get this objective perspective that you never could have reached any other way.
You mentioned that these works aren't going to be titled, right?
Exactly. I want to encourage the viewer's interpretation. It's important to me that they have the freedom to see in it what they want.
But are there narratives, ideas or symbols that you're expecting people to recognize? For example, in this piece you've depicted the assassination of [mythological figure] Dirce.
No expectations. But I can explain my own intentions [with that one]. I was very interested in the duality of human nature. We have this very reasonable mind; we can be extremely loving and caring. But then we can also be very animalistic, prone to impulses and violence. I became interested in that through studying Stoic philosophy, and so that ended up coming out in all these pictures. But in this particular one you see the tension between the human and animalistic nature.
[And] it's not enough to say, "Of course we have this two-part nature." Not everything that's animalistic is bad; maybe some things are good. Or are they?
What would be the ideal circumstances for people to see your work?
When I do show these, I want to show them with cubist sculpture. I think the contrast is so interesting. I would probably design them myself so they'd be the right scale, and they'd depict whatever I wanted — maybe figurative but really abstracted. But I think it would bring out the strengths of both styles.
You've said you get to the studio around 7:30 a.m. and leave around 8 or 8:30 p.m. That's an incredible amount of focus.
Honestly, it just comes back to the fact that I absolutely love it. It's not even something I think about, it's just what I want to do. Any time I'm not at the studio, that's the difficult part. How do you handle time when you're not at the studio? I don't know, I can't.