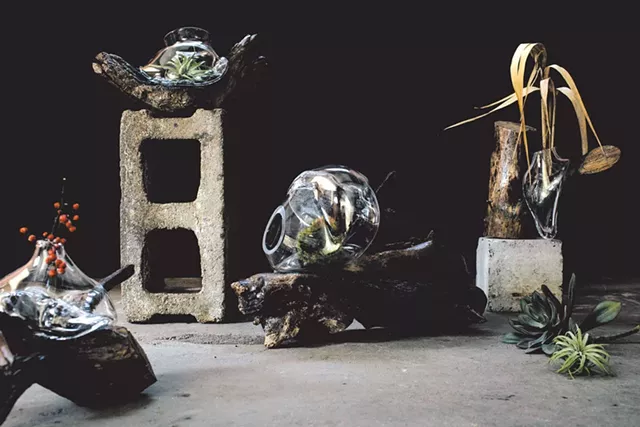 Photos Courtesy Of Kelly Dudash
Alissa Faber's glass and wood sculptures
Walk into New City Galerie on Burlington's Church Street some afternoon, and you'll get the full effect of Alissa Faber's wall-mounted sculptures. The distorted glass bubbles draped over charred tree branches glow in the light flooding through the venue's tall windows.
The sculptures, from Faber's Blackened Timber series, are part of the "Momension" group show at New City. Faber also shows her work at Edgewater Gallery in Middlebury.
"Momension" captures three views of functionality in art objects. Bech Evans' ceramic mugs and coffee-making apparatus are fully utilitarian; gallery-goers can even use them to make themselves a cup of coffee. Conversely, rusty metal sculptures by Patrick O'Shea are tasked only with inciting the imagination.
Faber's works fall somewhere in the middle. The 30-year-old glass artist started this series two years ago, after a period focused on glass and ceramic terrariums. Pieces from the Blackened Timber series look like they might function in the same way. Glass bubbles with polished openings — many with vase-like shapes — rest on charred branches. Faber achieves the effect by dropping each bubble, still molten hot on the pipe, straight onto the wood. The glass molds itself to the wood, burning it where it makes contact.
Faber pays for hourly furnace sessions at AO Glass on Pine Street and rents a small studio in that building. There, old runs of terrariums and newly thrown greenware mugs line shelves and tables. A pile of branches and crooked logs is tucked beneath a long drafting table. New pieces for the Blackened Timber line sit on top.
Seven Days visited Faber in her studio to hear more about her work.
Photos Courtesy Of Kelly Dudash
Alissa Faber blowing glass
SEVEN DAYS: When did you first blow glass?
ALISSA FABER: When I was at [Alfred University]. We weren't allowed to do anything in freshman year, but I always snuck into the glass shop. I didn't blow glass, but I would help the upperclassmen, and I'd just stare at the furnace and want to be in there. The first time I did anything myself was when I was in a sophomore class.
SD: What made you want to be there?
AF: I went to art school thinking I was going to be a potter. There were so many people who were so good at pottery, [but then] we all took this glass class together and everyone was awful. You couldn't just be good off the bat, because it was such a hard material. I think about it all the time when I teach people now. You could be twice my age and be an amazing artist, but if you've never touched glass, you're going to make the same mistakes in the beginning.
SD: What inspired Blackened Timber?
AF: So, there's a lot of history with wood and glass. We use wood to shape the glass, and I wanted to experiment with a piece [of wood] that was not smooth and going to give you the right shape. I made a few pieces for a photo shoot for my Alluvial Forms terrariums, and I was like, Oh, I'll just make a few of these funny experiments I have in mind, and we'll stick them in the photo shoot. It was fun to style them, and they came out even better than I had [pictured them] in my head.
So I kept going with it, and getting a little more creative with the wood. I couldn't stop seeing wood whenever I was outside. I would see pieces [and] want to see how they interacted [with glass], and now I just have a lot of wood everywhere. I feel like I haven't exhausted what could happen. I'm learning more about what the glass will do, or how far I can push it, each time I do it.
SD: What's your process?
AF: So, I always find a piece of wood first, and I really like things that are rotting or irregular. I'll ... go in the shop to sit with all the wood before I blow the glass, to think about how I want the glass to sit on it. And then I spray the wood down a little bit, but as soon as I put a glass bubble on it, there's a lot of smoke and steam and fire. The wood does burn where the glass sits on it.
Sometimes it takes three or four times. Recently, I started cutting a lot of the [wood] tops. All the wood gets a finish at the very end. I use PolyWhey [Furniture Finish], which is actually a Vermont brand. It's a water-based polyurethane; it doesn't smell as much. I give everything one coat, and it helps keep the bark on and makes it more sellable.
SD: Your work seems to straddle a line between functional objects and art objects. When you look at these, are they functional? Or are they strictly art?
AF: I like that they're on the line. I'm very intrigued by that — by function versus art. Because I think they definitely hint at function, and I think if someone wanted to choose to use them functionally, they could — the function maybe would be to put [in] some kind of plant. A lot of times for photo shoots, I'll style them with some kind of branch or berries, grasses.
Or they make you think of something else; maybe because people know my other work, they see this and go, "Oh, this is a new way to make a terrarium!" And I think, Would you say that if you didn't know my other work?
I think there's also quite a history of glass needing to have a function. Everywhere in our life that we have glass, it's functional, from a window to a drinking glass. It's harder sometimes to see glass in other mediums as just art. People want to give a function to it, no matter what the artist says.
SD: Sometimes you like objects in art precisely because they're not functional. And yours capture process.
AF: I think, for a lot of people, unless they've been around it, glass is quite a mystery, which is fascinating to me because it's so prevalent in our lives.