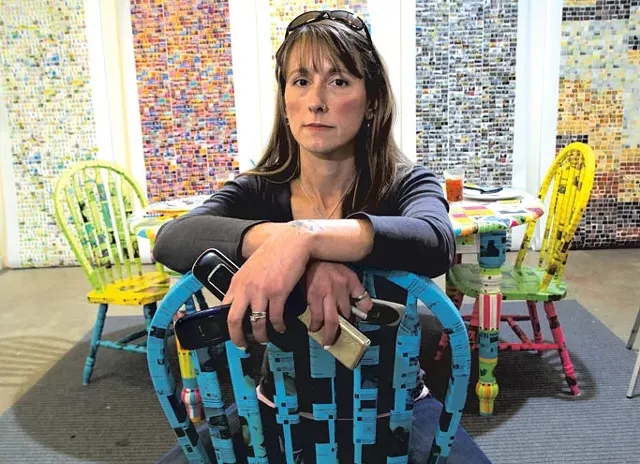 Matthew Thorsen
Kristen M. Watson with "FEED (Alone, together)" in front of her "TMI Prints" series
Over the past decade or so, the millennial generation has been an almost comical object of cultural scrutiny. That fascination hinges, at least in part, on the generation's status as the first digital natives — people who grew up in the internet age — and how it influences social development.
Vermont artist Kristen M. Watson uses the digital native's counterpart — the "digital immigrant" — as a departure point for her new solo show, an ambitious multimedia installation at Burlington's S.P.A.C.E. Gallery. "Digital Immigrant" is juicy, inventive and, thanks to its subject matter, accessible to all. It brims with culled media, ranging from a ready-made 1904 dictionary-tome ("Search Engine") to VHS tapes and circuit boards to a series of "TMI Prints," wallpaper-esque scrolls filled with images from Google searches.
Watson, 40, began to conceive the works in "Digital Immigrant" last May.* She notes in her artist statement that she encountered the term "digital immigrant" when she watched the documentary "Digital Nation" on the PBS series "Frontline." Watson calls her exhibition a radical shift away from her previous work — two-dimensional, abstract mixed media, collage and prints in natural palettes, as well as darkroom photography and book making.
"Digital Immigrant" includes Watson's first-ever site-specific installation: the wall-mounted, circuit-board-inspired "Immigration," meant to map the transition from analog to digital media. On a gallery wall, VHS tapes and audiocassettes give way to hard drives, circuit boards and even a child's retro Nitro Notebook. All these elements were sourced through ads on craigslist and Front Porch Forum — a choice whose circularity is not lost on Watson.
"Immigration" fittingly leads the viewer to the central gallery space, which resembles a living environment. Linguistic wit abounds as Watson plays on social media's invasion of the domestic sphere. For "FEED (Alone, together)," she covered an entire dining set with printouts from her own Facebook feed. Defunct cellphones are served up on "Eat your media" dishware bearing Facebook, Twitter, Instagram and Pinterest logos.
The ingenious "Comforter" is a graphic duvet patterned with various social media buttons and logos, all arranged in the shape of Facebook's "like" symbol.
During a recent gallery visit, Watson discussed her process and shared her thoughts on the present-day addiction to social validation, the paradox of being "alone together" and how social media factors into the life of a working artist.
What emotions come up for you around social media use?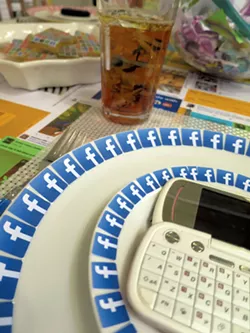 Matthew Thorsen
"Eat your media," one of four in a series dishware
I'm probably like a lot of people; I love the power and the potential of social media and digital technology, but I also get really frustrated. I see how my life is changing because of it; how I interact with people, and how I use it as a form of escape from the present moment — the "emotional dislocation" that Sherry Turkle talks about in her book Alone Together. It's a little bit scary.
I think that vulnerability is also an issue, feeling vulnerable and people being willing to be vulnerable socially in ways that maybe we weren't before now. Also, what's "vulnerable"? I would not post certain pictures of myself that I feel make me vulnerable, but someone who's 20 and grew up with this stuff is much more trusting.
Personally, what social media do you use?
I use Instagram; I try to post at least once a day. I post on Facebook consistently. Those are pretty much the two that I go to, because they're more visual.
This came up for me creating the show, the idea that in the modern contemporary art business, we make art, and the only way for the art to get seen, generally — legitimized, almost — is for it to be posted online. So I started asking, Is the art even worthwhile or real until it's posted? Because no matter what you make the art from — it could be a painting, it could be a marble sculpture — it all becomes a digital product nowadays. It's required in order to survive in the art business.
Can you talk about the overtly domestic works, "Comforter" and "FEED (Alone, together)"?
I didn't initially mean to create a domestic space, but I think it came through subconsciously. "Comforter" is a realization of our need for social validation. As are [the printed posters] "Notice Me" and "Ignore Me," which were created digitally and then printed by an online vendor, Vistaprint. They're kind of juvenile, like how you are in teenage years — very emotional. Because that's right under the surface for all of us.
The vocabulary around what we're doing on social media fascinates me. Notice me, hear me, see me, love me, accept me — that's what we're asking for when we ask people to "like" me and "share" me and "favorite" me.
When I was doing Google searches, I found images of hypodermic needles and pills with little Facebook and Twitter logos. It's pretty hit-you-over-the-head stuff. It's like heroin for some people; they have to be sharing, they have to be "liked," they have to be connected.
In "FEED (Alone, together)," I'm talking about "overwhelm" and this "alone, together" idea from Boston-based psychologist Sherry Turkle. She analyzes the way our behaviors are changing because of technology and how we are choosing our devices over the people right in front of us. It's a form of escapism. I can't tell you how many people have told me stories — confessions, sort of — about their own escapism.
Our conversations now are so frenetic, particularly in our Facebook feed. Something really poignant is followed immediately by something really silly and then by ... whatever. It's just all over the place. I wanted that to come through on the table as a physical presence of that intensity. The feed might contain useful or thought-provoking information, but I guess the question is, what's the right time to engage?
What has it been like to incorporate digital tools into your practice?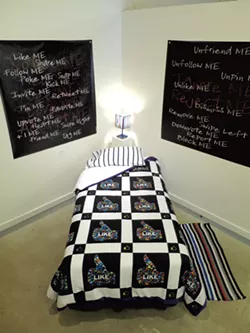 Matthew Thorsen
"Comforter" (center), with "Notice Me" (left) and"Ignore Me" (right)
Before this show, I completely avoided digital media, with a purpose. I feel like in the business of selling art, I have to do so much online marketing as it is, so when I'm in my studio, I want to be using what I consider real, physical art tools and materials.
So, it was a real struggle for me to jump from that to accepting — mentally, emotionally, physically — OK, I'm going to use Photoshop, and I'm going to create a piece of art. And then I'm going trust someone else to produce it for me in a way that I like. So I was giving up some control there.
I have my degrees in studio art and psychology from [the University of Vermont]. My roots are in analog and darkroom photography. In my own practice up 'til now, it's been very mixed-media, non-digital stuff.
What's next for the work in "Digital Immigrant"?
I really want the show to travel. I think it's important. It's bringing up a lot of conversations.
*
Correction, May 27, 2016: An earlier version of this story misstated when Watson began working on "Digital Immigrant."