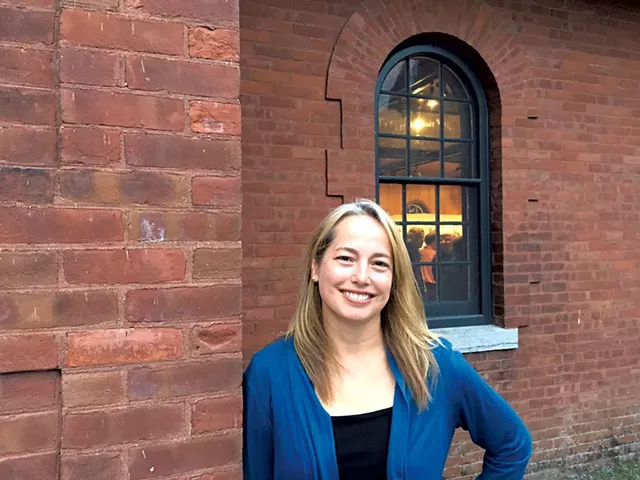 Pamela polston
Heather Ferrell
The BCA Center has a brand-new curator and exhibitions director. After a summerlong search, Burlington City Arts hired Heather Ferrell to fill the shoes of DJ Hellerman, who took a job in April at the Everson Museum of Art in Syracuse, N.Y.
Ferrell, 46, hails from Boise, Idaho. She's lived in Vermont for four years with her husband, a commercial airline pilot, and their young daughter. But Ferrell has some 20 years of national and international museum experience behind her. Most recently, she was a museum consultant for Mathaf: Arab Museum of Modern Art, and deputy director of programs and exhibitions at the National Museum of Qatar, both in the city of Doha. Ferrell has also worked at small art centers in cities such as Salina, Kan.; Salt Lake City, Utah; and Boise.
The language of Burlington City Arts' recent announcement introducing Ferrell was telling: The word "community" appeared six times. It was used in the context of involving, exciting, interacting with and educating locals about contemporary art.
Ferrell hasn't wasted any time getting started. She's already been meeting local artists, and she jumped right into the installations for "Of Land & Local: Watershed." That fourth annual exhibition of contemporary works opened last Thursday at Shelburne Farms; the portion sited at BCA Center opens this Friday, October 7.
Last week, Ferrell took a break from installing to talk with Seven Days about art, exhibitions and — no surprise here — community.
SEVEN DAYS: What have you been up to for the past four years?
HEATHER FERRELL: I've been based in Vermont, but I'd go back and forth between Qatar and here doing consulting work. I've had some great opportunities to travel in that time. I think [that] is really important, especially in the visual arts, to see not only what's going on in the community here but what's going on internationally. There are a lot of synergies, a lot of things to inspire you. This is an expansive world. So the same issues we have here, I see resonate in other places. For example, issues of housing and affordability, or community identity and how that changes over time.
SD: What was your favorite exhibition, curated by someone else, that you've seen in the past five years, and why?
HF: I'm going to go with something very recent. Cai Guo-Qiang. He's a Chinese artist who was invited to curate an exhibition, "What About the Art?" that just recently closed at the [Gallery] Al Riwaq art space [in Qatar.] He curated artists from China over the course of [three] years. Some of them were very established, some were considered traditional folk artists, but they were all creating work that he thought spoke to the art-making process. Sometimes things are lost in commodification and acquiring and collecting. But [this exhibition asked], "What about the art?" What's the actual material; what are the ideas propelling these artists forward that they're exploring? It was a very powerful exhibition.
SD: In terms of shows you've curated, what was the most successful, or which one were you most excited about?
HF: One particular show has resonated with me on a lot of levels. It was called "[A] Changing Fabric," and it was four artists — Jessica Rankin, Hildur Bjarnadóttir, Nick Cave and Jil Weinstock — that I brought together around this idea of textile arts and crafts, and hierarchy in media. I was in Kansas at the time, and people were like, "Oh, you're in Kansas, you can do a great quilt show [there]."
But there are fabulous artists working with traditional textiles, or just working with the idea of traditions. Like with the Icelandic artist, Hildur. Everyone in school [in Iceland] learns how to knit, sew, embroider, tat. So [Bjarnadóttir] used a contemporary vernacular to put it together and create this wonderful work of art that can speak to the audience on many different levels.
Nick Cave had a similar idea. He was using fabric to talk about identity, and how you project your identity into the community and how you can integrate dance with that. But what was interesting with this particular exhibition was bringing these artists together and also creating the programming to talk about it, to get the curatorial message across, to have the community come in and engage with the work, not to be a passive viewer but to consider and contemplate.
SD: What do you want people to know about contemporary art, specifically people in Vermont?
HF: First of all, "contemporary" is a really loaded word. [Let's] put that aside, and say that contemporary art is a way for people to come together and dialogue and exchange ideas, to think about an issue. I would love for people to feel that contemporary art is as safe and fertile a place as a public library or a trip to the park with your children.
I think people hear that term, "contemporary art," and a door automatically closes. People [should] feel like they can come in and go, "Yeah, this is BCA, this is my gallery, and today I can walk through my collection and see how it speaks to me." And some work is challenging, so how can we help facilitate engagement?" You can present challenging things here if you can also give people tools and access to engage with it.
SD: What have you heard about contemporary art in Vermont?
HF: I would say, I haven't heard enough of it. I know there are some fabulous artists that are working here, but what I always say about any community I live in is, I'd always like to hear more. And to hear about it not only in a publication dedicated to arts coverage, but maybe in everyday conversations. There's not a special place that you put it, in a particular review column. I want to hear about it in conversations at the school. That's something I aspire for wherever I live.
SD: Vermont is known for its loyalty to local — an affinity for supporting local artists, food, everything. Do you think that impedes the growth of the arts?
HF: I know it's very much a foundation of Vermont, but it's not that different from other places. And I don't think it impedes artistic growth. I think you need to be very open as to how you interpret that growth. If you always look inward, at one way of nurturing and growing artists in your community, you won't grow. But if you look at ways to share ideas, cross-pollinate ideas, pair people up and create exchanges, you will.
SD: While supporting local artists, do you think it's important for BCA to bring in artists from outside Vermont?
HF: Absolutely. We don't just live in Vermont. We don't just live in the United States. We live in a global world. There is a lot going on, and I think we have a responsibility to look locally as well as internationally, while always keeping ourselves grounded in our community.