Jeb Wallace-brodeur
Laura Gordon, Heather Bryce and Liz Leahy rehearsing at the Vermont College of Fine Arts in Montpelier
Alisa Dworsky is a familiar name to many art watchers in Vermont. Her large-scale crocheted installations wrapping the columns of the Bennington Museum and tree trunks at the Fleming Museum of Art are among a lengthy list of exhibitions and public projects. Now the textile-based artist and architectural designer has turned to collaborations with dancers.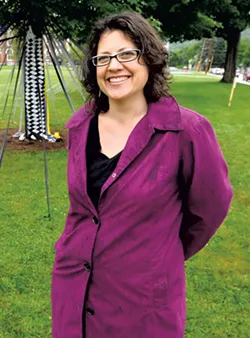 Jeb Wallace-brodeur
Alisa Dworsky
Dworsky's recent installation "Motion — Line — Form," at the Brattleboro Museum & Art Center, was conceived as "a radical transformation of the maypole dance," with dancers weaving ribbons around a series of conical sculptural forms.
Dworsky collaborated with dancers and choreographers Candice Salyers and Dahlia Nayar, whose movements shaped the installation's final form. The artist describes the dancers' interaction with the structures as they wove the ribbon through them at a painstakingly slow pace as "drawing in space and time."
"The ribbons are a trace of the dancers' movement," she says. "They move in pattern, and the ribbon follows."
Dworsky's "Over and Under," coming to the Vermont College of Fine Arts green this Saturday, June 20, continues her collaborative experiments. Another sculptural installation partially created by dancers, it incorporates a roughly hourlong performance choreographed and performed by Heather Bryce, Liz Leahy and Laura Gordon, members of Bryce Dance Company. Like the Brattleboro work, this one will draw on the woven form of the maypole, but will use trees as vertical supports for the sculptures.
On a recent afternoon, Seven Days sat down with Dworsky at her Montpelier home to learn more about her collaborative works and her plans for "Over and Under."
You describe this piece as "a radical reinterpretation of the maypole dance." What makes it a radical reinterpretation?
I didn't want people to have the expectation we'd be working with traditional music and traditional forms, recreating the maypole dance. I wanted to acknowledge its influence, and yet indicate that now, with my collaborators, there's freedom to move away from it. My children and husband have participated in All Species Day on the capitol green for many years. I had this aha moment four or five years ago, where I realized, Oh, my God, a textile is being constructed! I was watching that [group dance in the All Species Day festivities], and there were really fascinating things happening.
There's one [formation] called Spider's Web Pattern that's very open. They would hold [the ribbons] in tension and go, "Ta da!" and there'd be this cone-line form floating over their heads. Then they'd do the dance backwards and undo that particular pattern. They'd end with the Plain Weave, where they're going in opposite directions, just going in and out of the person coming at them. They'd create this [pattern] along the pole, which was very modest, visually speaking. The pole wasn't that wide, but I thought, Oh, could I amplify that? Could I focus on the textile? And I had this other revelation: All these people are functioning like a very large loom! I mean, it's a dancing loom, it's a performance loom, but wow! This might be another way of making textiles.
Why were you drawn to dance and dancers for these projects?
I explicitly wanted their expertise, and respect their expertise. Yes, I can construct these without dancers. I discovered that through doing the full-scale studies. I can build exactly this form without any dancers involved, but it's not particularly graceful. By working with dancers, there's so much more for me to learn and discover through the process, to watch what they can do. This is their medium. And yet I'm working with choreographers who are strong conceptual thinkers. So I'm intrigued with our commonalities; we can talk through common themes.
For me, this is all about discovery. It's all me being curious, and I just want to see what happens. I want to see what these people bring to it; I want to see what they can teach me. I want to see what I can learn. I want to see how my ideas might influence them. I just love human dialogue in that respect, at its most creative.
What do you hope to discover by making this piece here?
Here's what I profoundly believe about creativity: that one very rich source of innovation and creative ideas is to look to other disciplines for, not just an idea, but for a prod. When you collaborate with someone from another discipline, a seed of something coming from that can generate new ideas within your primary discipline.
I've embraced that wholeheartedly ... I started out in painting and printmaking, moved to architecture, and then started working in installation, which has many influences from architecture in terms of scale and construction and three dimensions. When I work [now] in drawing and printmaking, [all the disciplines] are constantly influencing each other. There is, I think, a very explicit dialogue going on.
I have some recent drawings in which my experience hammering and constructing is now influencing the way I make drawings, and I love those moments! I've been working within my four fields — architecture, installation, painting and printmaking — and maybe five if you add construction — for 25 years, and I was feeling ready to bring in another discipline, another expertise, and to have a conversation with people about that and see what would happen to my work, and how it would influence their work. That, to me, is really rich, exciting territory.
I've had this idea now for a number of years, and it's taken a while to write the grants, and coordinate and realize these projects, find the collaborators. I can already tell from this first collaboration, and from my conversations with Heather, that we're all mutually really excited about that. I know that it's already working. I feel very lucky.