Luke Awtry
BCA Center curator and director of exhibitions Heather Ferrell (left) and guest curator Stella Marrs
Last Friday, the BCA Center in Burlington opened three new exhibitions, including, on the main floor, "Apocalypse Diet: What Will We Eat?" Among the works in the show are a large, pink-lit display of plants, an interactive seed library, and multiple films about the reclamation and restoration of land.
All of the work is by women, curated by local artist Stella Marrs as part of Burlington City Arts' Artist's Artists program, which invites Vermont creatives to assemble exhibitions.
In her previous home in Washington State, Marrs was both a familiar and a mysterious fixture of the Pacific Northwest art scene, selling collage postcards featuring retro images and creating large-scale installations and social gatherings featuring women's voices. She moved to Burlington eight years ago when her partner got a job teaching at Champlain College, where Marrs has since taught as well. Locally, she has exhibited her massive, inflatable figures made of shiny Mylar — a shifting, modern take on sculpture.
Luke Awtry
"Next Epoch Seed Library" co-collaborator Ellie Irons with her daughter
The interactive nature of Marrs' work is apparent in the BCA show, too. The "Next Epoch Seed Library," by Ellie Irons and Anne Percoco of Troy, N.Y., and Jersey City, N.J., respectively, features seeds from wild plants gathered around Burlington. Packets are available for viewers to take home and plant. A film by Brooklyn artist Candace Thompson highlights her project the C.U.R.B., which teaches urban dwellers about food systems and will host a banquet, urban walking tour and weed-identification class in Burlington in May.
It's remarkably difficult to learn about Marrs online and nearly impossible to find her photo. She's pleased with this; long ago, she said, as her art gained traction, she decided to keep her personal life private. During a coffee shop conversation with Seven Days, Marrs frequently closed her eyes for long moments to pick her words, focusing intently on the images in her mind as she spoke about her experience curating the BCA show.
SEVEN DAYS: Where did the idea for "Apocalypse Diet" come from?
STELLA MARRS: I was asked a couple years ago if I wanted to curate for the Artist's Artists series, and I said yes. And then I thought, What would my topic be? And it was like, well, of course it would be climate change.
I have always started with this premise of focusing on trying to pay attention to work that women make. My work has always come from this position that I want to hear women's voices and make platforms for women's voices. Also, personally, from time to time I've developed projects that have been environmentally focused. So it was just kind of this very natural evolution from this moment of time we're in.
SD: How did you come to food systems specifically?
SM: I didn't start out with the idea it was going to be food systems. I really initially was approaching just the wider question: "What are we making in terms of this question of environmental work and climate change?"
I think that growing food is very difficult, and you have to have a very intimate relationship, and be slowed down, to have a relationship with seeds and soil and that those things are tied into broad systems.
It's not just food in this show. It's also individual attempts to think about new systems that are outside of the box and new kinds of relationships with plants and animals. It's a shift in relationships between us and the living things that we depend on. Everyone in the show is actually thinking in those terms. What's our past as a species? How do we retool it so that we have these active and true relationships? So that we have a sense of camaraderie, instead of colonialism?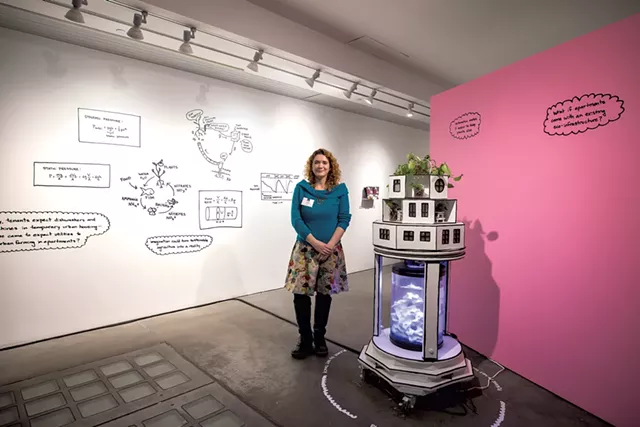 Luke Awtry
Local artist Jane Adams and her installation
SD: Do you think artists make this kind of work to feel hope? Or do you think they make it as a call to action? Or an expression of grief? What kind of feelings did you get, looking at all this work?
SM: All of those things. There's this kind of research in terms of figuring out the images that are coming to you, what to do with them and how to express them. Because what you're doing is, you're trying to forge a sense of possibility.
What's most interesting to me is, right when I started doing this work, trying to figure out what people were making, I was seeing things that kind of took my breath away and kind of felt too wild, too futuristic, too edgy, too scary. But then, a year or a year and a half later, they were actualized. Their meaning was completely different. They were no longer too edgy or too scary.
SD: So the work was the same, but your perspective had changed.
SM: Yeah, because what had happened politically, socially, economically had shifted that much, just in that small amount of time. Those images were accurate. The things they were expressing were accurate. The things they were pointing to were true.
If you really want to cultivate ideas about the future, artists really can be in that next space if you give them the opportunity.
SD: It sounds like the work in this show is solutions oriented.
SM: It's speculative solutions oriented — some of the work is. For me, the point of this platform and the people I put forward is to show examples of individual agency in relation to this topic.
SD: I get the sense that your work has always been feminist, but do you feel like it has had an ecological bent, too, for a long time?
SM: Yeah. Specifically, my expression of environmental themes came out of my background of finding myself basically chemically poisoned — multiple chemical sensitivity. We have been inundated with petrochemical products in every part of our lives, such that there was just an entire group of people that could be labeled as canaries in the coal mine, that were responding and reacting and not being able to be a part of modern life because they were so poisoned. And I was in that category.
SD: Did you always know that you wanted to do art professionally?
SM: Well, I'm dyslexic, and I think making art has always been, by default, what I can do. Because art gives me the possibility of defining my terms and making something based off of what I see.
SD: Has living in Vermont changed your thinking in any way?
SM: It's been really an incredible experience to move here at this point for me, because of how much less of a population it has, and how much more open space is still available in the landscape. And that, those things being true, the culture here is more gentle and slower, in terms of how people approach and interact with each other. And that seems and feels really healthy to me. And [it makes you want] to envision a way to contribute. I feel like that's really possible if you have an idea. You can make things happen here.