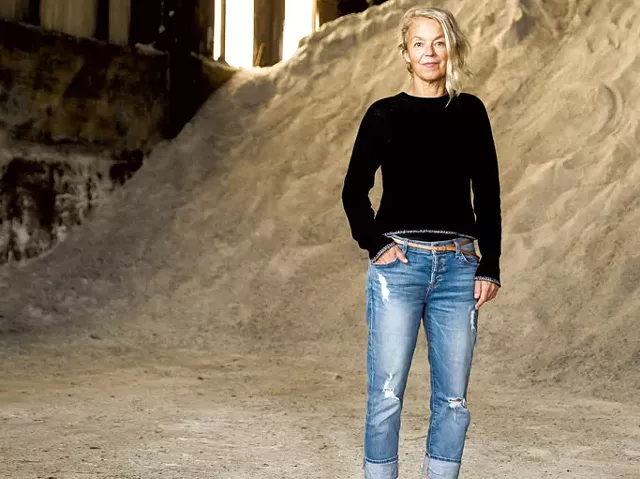 Oliver Parini
Erika Senft Miller at the salt shed
On a recent Sunday, Erika Senft Miller rose from a bare plywood bench in the Karma Bird House Gallery to address 150 people packed into the small room. She thanked them for coming, then introduced the performance they were about to witness, saying something to the effect of, "Even I don't know what's about to happen." Strange, given that she had organized it.
Shortly after, Senft Miller led a snaking crowd out of the gallery, around to the back of the building and into the massive salt shed owned and operated by Vermont Railway.
Senft Miller, like her work, thrives in a place of transition: liminal (or borderline) space. It's a concept for which she's long had a fondness, one that permeates her work and attitude toward life.
The performance she'd orchestrated for this particular evening, "White Noise Now Presents: Salt," made use of the vacuous, concrete and corrugated tin building — and the veritable mountain of coarse salt it houses. In an attempt to summarize the evening, you might say various things: It involved choreographed movers employing a variety of props including shovels, wheelbarrows, a television and translucent dresses; Craig Winslow's light stylings bound together performers and audience members in electric beams; sound designer Miles Dean created a sonic landscape that transported the entire affair into a dreamworld.
But that would be just a summary, when Senft Miller's work can't be summarized — it has to be experienced. It's neither dance nor theater. It's site-specific performance art. And while her work is largely collaborative, it succeeds because of her particular talent for amplifying the efforts of her fellow artists.
Originally from Marktoberdorf, Germany, Senft Miller has moved 17 times, gathering degrees in communications and physical therapy and a doctorate in dance education along the way. She's worked as a dance educator, most recently at Saint Michael's College, and her personal work has been picking up steam in the past year.
In addition to "Salt," Senft Miller organized a grandiose, and incredibly well attended, performance at the Lake Champlain Community Sailing Center during this year's South End Art Hop. An installation of photography, video and artifacts from that event was included in Burlington City Arts' annual show "Of Land & Local" this fall at the Shelburne Farms Coach Barn.
Seven Days sat down to talk with the artist about the origins of "Salt," liminality and space.
SEVEN DAYS: Your website says it's hard for you to describe what you do. But I'm going to ask you anyway. In your art, what do you do?
Courtesy of amira silverman
Performers during Erika Senft Miller's
ERIKA SENFT MILLER: I create immersive experiences for both audiences and performers to experience a certain space [such as the salt shed or the Community Sailing Center] in their everyday surroundings in a different way. It allows for a shift out of the habitual. The official title would be "site-specific performances." And I'm really passionate about the definition of site-specific, because I think there's a lot of art out there that's taken out of the theater and gallery into a site. To me, that's not site-specific. It's just taking art to a different stage. For me, it's really having the site inspire — guide — the experience.
SD: Are there any experiences you can recall — ones you did not manufacture — where you had that sensation? Where you were able to communicate with a site in the way that you're trying to get your sites to communicate with the audience?
ESM: Yesterday I was up on Mount Mansfield for a short hike, looking at the ski trails and thinking, This is my practice in the winter. It's completely immersive. And in the summer, it's paddleboarding on the lake. And to me, those activities have taken the place of being in the studio and doing dance work. It's completely immersing myself in the environments, having this back-and-forth, this dialogue, this call-and-response between the immediate environment and myself. That's how I am [when] I'm outside, whether it's on skis, on the paddleboard, taking a walk, hiking.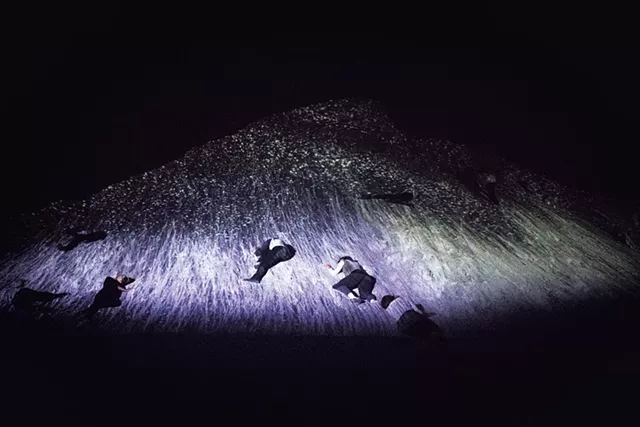 Courtesy of amira silverman
recent performance in the salt shed
SD: How did your recent performance, "Salt," come about? What inspired it?
ESM: Well, there are two layers. The first one is that I was on an artists' retreat in Napa last summer [with] Craig Winslow, and we started playing around with what it looks like to project on moving pieces. I had arbitrarily packed these white stretch bags, so one evening I [put one on], and he started projecting on the stretch bag and I was playing around, making shapes. I couldn't see anything but the light, so it was this duet between the rhythm of the lights and changing shapes, not thinking about me as a body, but as a moving projection surface.
[Then] we started going crazy with what else can we project on ... and I also invited [sound artist] Miles [Dean]. We were developing the concept and thinking about space [over Skype], and I would look outside my office studio window [in the Karma Bird House]. I was always mesmerized by the salt shed and the rock pile in front of it. So I approached Vermont Railway, and they graciously allowed me to do this. I feel so much respect for that place and the people who run the whole operation. It's unbelievable.
SD: You talk a lot about the concept of liminality in your work. Because this is an abstract concept, I'm hoping you can provide a verbal illustration. Where do you experience liminality; where do you see it? Where do those moments pop up where you're like, Oh, that's what this is?
ESM: I think it's everywhere. It's the process of change. So a very concrete image would be an estuary, where you have freshwater and saltwater all together; it could go either way. In terms of the manmade world, I'm always interested in how builders and designers navigate the space between the sheetrock and the floor. You can either do it really mindfully or just piece it together. And that's where the breaking points are, too, the weakest points. I think we see that with our coastlines. There's a lot of erosion, and if you're not mindful, it can be a big mess, but there's also this huge amount of possibility.