Matthew Thorsen
Stephanie Zuppo
The business of art making isn't about just, well, making art. It's no different in the world of comics. If you create a comic book, for instance, where should you publish it? Which comics convention should you attend to market it? Is the whole endeavor worth your time?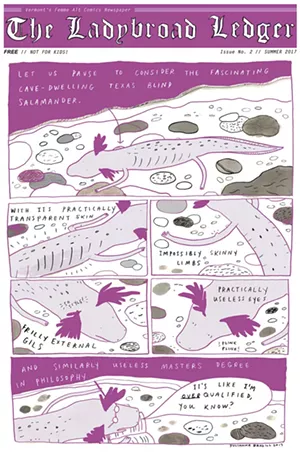 Matthew Thorsen
The Ladybroad Ledger Issue No. 2
Vermont cartoonist Stephanie Zuppo, 27, seeks to answer these questions and others. (The artist goes by gender-neutral they/them pronouns.) In February, they launched The Ladybroad Ledger, the first all-femme and nonbinary newsprint comic, and distributed the free publication at sites around Vermont.
With their husband, Zuppo also created a website called Conosaurus as a resource for cartoonists, other creatives and fans to manage convention schedules. It provides access to a database of information on comics events throughout the United States and Canada.
Zuppo, an MFA graduate of the Center for Cartoon Studies in White River Junction, works in a studio in Generator maker space in Burlington. Seven Days caught up with them to hear more about their work, successes and challenges.
SEVEN DAYS: As an internet-based small businessperson, how does the conversation around net neutrality affect you?
STEPHANIE ZUPPO: Oh, it's so scary. It does limit startup companies based entirely on the web pretty heavily. The possible restrictions — selling the internet as packages; not having the visibility we have right now, where we are free to view by anyone. That could change, and it would ruin everything. People are pretty nervous in the cartoonist community right now about [the artist patronage platform] Patreon, because a lot of people make their livings off of [it].
SD: Apart from Ladybroad and Conosaurus, are there other milestones from 2017 that you are particularly proud of?
SZ: We started The Ladybroad Ledger Drink and Draws. We've done one so far, at the Mule Bar [in Winooski]. It was really, really great. I was surprised, because it was the first one and I [thought] we might not get that many people. But we ended up taking over the entire space, which was amazing.
We packed it, and [the bar managers] were really happy we were doing it there, because I guess Sundays are really slow. Even people at the bar started getting into it and grabbing paper and crayons. One of the bartenders hung out after her shift because she's an artist. It was amazing.
SD: You founded The Ladybroad Ledger almost a year ago. Why did you do it, and what has changed since it started?
SZ: I was a fan of a free comics newspaper called Secret Prison from Philadelphia. I've always wanted to start something in that format: a free newspaper that promotes comics and gets people [who are] interested in comic art [but] wouldn't typically go to a comic book shop.
I wanted to do that especially for all femme-identifying people, because I feel like we needed to all come together and meet each other and work together. I wanted to promote those voices, and that was just a good way to do it. Since starting it, I've met so many people that I wouldn't have otherwise met, so I feel like we're building a community of artists — we just didn't know the others existed.
SD: You have a booth at Generator. I think there's still a misconception that maker spaces are just for machines. What do you get out of the space?
SZ: They're just cheap studio spaces, basically. And there are plenty of independent artists and makers and people in tech, people doing all sorts of things like sewing and jewelry making. Of course, you have the woodworkers, but we also have someone who is into fabric arts and is a weaver and does incredible illustrations. It's pretty much whatever you make out of it.
I needed a place to work, so I looked for the cheapest place I could find. And I just fell in love with the space. If you're a studio member, you get access to all the resources that you would as a regular member, so I'm growing an interest in all these different areas I didn't think I would. I remember when I took my tour and walked through the electronics room, I thought, I'm never going to use this. But I made light-up buttons with my friend, using LEDs and soldering them onto a press-on button. That was so cool! Everyone should learn how to solder.
SD: So there's a lot more to it than just having your studio space.
SZ: You're also paying for the cool community, everybody collaborating with each other and learning from each other.
SD: How has that changed your practice, your business and the opportunities presented to you?
SZ: The community has been really motivating. Being around all these people who are constantly working and thinking of all these cool ideas, it just made me want to develop all these fun projects. Which is what I've been doing for the past year and a half. It's given me a place to run workshops and events.
We had the launch of Ladybroad Ledger in Generator. I've run a bunch of little [cartooning] workshops in there, and I'm doing some more soon. Every time they have an event, people come in and ask me about my work. I've gotten a lot of jobs through there and really good opportunities from people wandering into the space, seeing my studio and my stuff. A lot of teaching gigs, some art stuff, design stuff.
SD: In terms of your own projects and cartooning, are you focusing on certain themes in your work?
SZ: At the moment I'm not creating as many comics as I used to, but for a reason. I love making comics, but what I'm more interested in right now is developing resources for other cartoonists, ways to make their lives easier, give them more opportunities. Which is why I started Ladybroad Ledger and Conosaurus and various other small projects in the works. I always say that I didn't go to comics school to make comics; I went there to learn the industry. To learn all the practical stuff so I could help other cartoonists make their stuff.