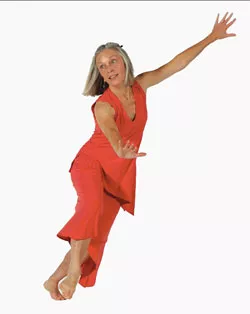 Anyone who likes to muse about spirituality, art and/or nature — or better yet, all three at once — would likely enjoy a "conversation" series developed by Shelburne Museum director Stephan Jost in partnership with Shelburne Farms, All Souls Interfaith Gathering and Champlain College. Held at the All Souls church at the corner of Swift and Spear streets on three afternoons this month, "Conversations with a Dancer, a Poet and a Painter" will feature Andrea Olsen, David Young and Eric Aho, respectively; the talks will be led by Fran Stoddard, interviewer for Vermont Public Television's "Profile."
Olsen is a Middlebury College professor of dance and environmental studies whose forthcoming book is titled The Place of Dance. Young, a professor emeritus of Oberlin College, is an award-winning poet who also translates poetry in five other languages. And Aho, an accomplished painter who resides in southern Vermont, has been exhibited and collected throughout the U.S. and in Europe.
The series came about, says Jost, from a desire "to collaborate with the Farms and the Interfaith [church]. Our own conversations about art overlap with theirs about nature and spirituality." In addition, he notes, "The museum has a quiet presence six months of the year — this allows us to do something in the winter."
Jost also allows that he's "just a huge Fran Stoddard fan," and is glad to put the unscripted conversations in her hands. Happily, an anonymous donor stepped up to pay for the series, he adds.
While the 3-5 p.m. time slot will make it hard for just about anyone with a day job to attend, Jost acknowledges that "the out-of-season audiences are older; we scheduled it during the day so they can drive to it."
If the series is successful, he says, "we'll do it again."