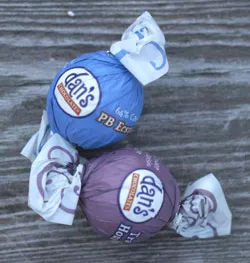 Vermont is overflowing with chocolatiers. From the ever-growing Lake Champlain Chocolates, LLC, to the Barry Callebaut factory in St. Albans to small producers like The Daily Chocolate in Vergennes and Laughing Moon Chocolates in Stowe, we've got more than our share of cacao capital. But there's one purveyor, headquartered in Burlington, that you may not know about: Dan's Chocolates. (Disclosure: I'm well acquainted with Dan's Chocolates because I used to work there).
This month, Dan's is set to raise its profile with a line of individually wrapped truffle balls that will be available at Burlington's Homeport, specialty food shops, mom 'n' pop convenience stores and co-ops around the state and New England. Native Vermonter Dan Cunningham, the company's CEO and "Chief Chokolada," says he wants to give truffle-loving impulse buyers a local option. "Lindt is kind of the 800-pound gorilla in the truffle ball market," he suggests. Cunningham notes that Lindt's Lindor Balls aren't all natural, as his are. Then there's the green issue. Cunningham tries to maintain a zero-waste policy at the Rhode Island factory he shares with several other chocolate companies. "Essentially, every piece that comes in the door of the factory, we send out again as product," he says.
Cunningham started his biz by selling truffles on the Internet. In the fall of 2005 he introduced a new product, miniature chocolate bars, at area stores. The single-serving sweets come in eight funky flavors — caffeine-infused dark chocolate, white chocolate with pretzels and a raisin-cranberry combo enrobed in milk chocolate, to name a few.
The truffle balls will come in the same flavors, and you won't find them at Costco or Wal-Mart. The truffle ball is "a product that's really designed for local stores. It's a niche product . . . There's not a multimillion-dollar ad budget behind it; it's spreading via word of mouth," Cunningham says. The truffles tend to retail for about 40 cents, while the mini-bars go for just under a dollar. "We're trying to create innovative products at price points that won't break the budget," Cunningham explains.
How do the sweet treats taste? The peppermint and caramel flavors stand out. The "Peppy-r-mint" features a refreshing combo of candy cane and snappy dark chocolate, while the milky and smooth "Caramel River" soothes a savage sweet tooth.