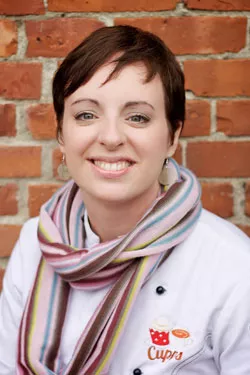 "On Episode 1, there's drama," says Gretel-Ann Fischer, co-owner and baker at Cupp's in Winooski. She's talking about season three of TLC's "Next Great Baker," which premieres November 26 at 9 p.m. Fischer is one of 13 contestants who lived in a Jersey City hotel earlier this fall, competing for $100,000, a feature in Redbook and "a chance to work side-by-side with Buddy [Valastro, of TLC's "Cake Boss"] and his team at Carlo's Bakery."
Fischer says that, while many contestants auditioned, producers recruited her to join the show. Once in New Jersey, Fischer and her rivals competed in what she describes as "'The Amazing Race' for cake decorators." During 20-hour days, the competitors squared off in "Baker's Challenges," which tested their pastry skills, before embarking on the elimination challenges, which involved decorating cakes at least four feet high.
Though Fischer can't yet reveal any of the desserts she prepared, she'll appear on WCAX's "The :30" at 5:30 p.m. on November 27 to discuss the previous night's show. The treat she prepared on that episode will be on special at Cupp's until the following week's show, when Fischer's next "Baker's Challenge" dessert will take its place.
When she's asked how many weeks this arrangement might last, the baker's voice takes on a secretive, plummy tone. "It was fun" is all she'll share regarding her longevity in the competition.
For now, Fischer is focusing on preparing holiday desserts at Cupp's. Apple-cranberry crostati, chocolate-caramel-toffee cheesecake and "really cute cake pops: little pilgrims and turkeys and cornucopias" are among the selections. Whether any of them will soon be "as seen on TV" remains to be seen — and tasted.