courtesy of the Barton Chronicle
Wayne Dion
Fifteen deer mounts decorated one side of Wayne Dion's living room, arranged in three neat rows of five. On the opposite wall, two dozen rifles hung within arm's reach. In the kitchen, a visitor found mounts of coyotes, a bear and fishers, along with yellowing pictures of Dion posed with various kills. At least 50 sets of antlers formed a row midway up the wall, like wallpaper border.
"I'm somebody who loves to hunt," Dion, 66, explained on a quick tour of his Irasburg home.
He's also somebody who loves to poach, according to the Vermont Fish & Wildlife Department. It started investigating Dion and his wife, Jennie, several years ago before arresting them last November for allegedly running what the department called an "elaborate deer-poaching operation" that is among the largest it has ever uncovered.
While searching their home, game wardens found more than 100 deer mounts, seven freezers full of apples and corn, which can be used for animal bait, and a shooting port in the bedroom that opened onto a field illuminated by five spotlights.
The poaching was so significant, according to wardens, that it altered Irasburg's ecosystem. Wardens say they found lengthy deer trails that indicated the animals were traveling from all directions to the Dions' 100-acre property, attracted by piles of their favorite foods. Hunters in areas surrounding Irasburg reported difficulty in finding deer.
"That's just not natural deer activity. They were born and didn't know anything else other than apples that were free and easy to get year-round," Fish & Wildlife Lt. Jason Batchelder said. "Deer take note of that for miles around. [The Dions] wanted to shoot big deer every year, and this is how they did it."
Wayne Dion faces nine misdemeanor charges of illegally baiting and shooting animals. Jennie Dion, 61, faces a misdemeanor charge of possessing an illegal deer. Each charge carries a potential 60-day jail sentence, fine and revocation of one's hunting license.
In a recent interview at his house, Wayne Dion greeted a visitor warmly. Bald and broad-shouldered, the Irasburg native proudly showed off his wall mounts and scrapbooks full of pictures and newspaper articles about his wife, a five-time Vermont Demolition Derby champion and successful race car driver.
Though he declined to discuss the criminal case in any detail, Dion said that he expects to be exonerated. The Dions' attorney, Kyle Hatt, also declined to comment.
"It hurts my feelings," Dion said. "It's like I'm going to have a heart attack, it hurts that much. I appreciate deer."
To prove his point, Dion gestured across the road to a field where six coyotes dangled from a wire suspended between a tree and a telephone pole, their lifeless faces scraping the snow. Coyotes can be hunted at any time of year, in any number, in Vermont. Dion said he kills between 30 and 60 coyotes every year, luring them to his property with animal carcasses.
"I clear the coyotes out. It's saving at least 35 deer or more a year," Dion said. "Fish & Wildlife won't admit that."
Game wardens maintain that coyotes rarely hunt deer and survive on a diet of mostly berries and small rodents. "The majority of coyotes in Vermont do not rely on deer as their main food source," Batchelder said.
Vermont has 65,000 licensed hunters who legally kill around 14,000 deer every year during designated seasons. Rifle season, the most popular of them, spans two weeks in mid to late November, during which time hunters are allowed to shoot one buck. Baiting deer with apples or other food is forbidden in any season, as is shooting deer at night, because the animals freeze in a spotlight. To be legally hunted, deer must also be of a certain size.
Fish & Wildlife has never estimated how many deer are killed illegally but, due to legal and logistical hurdles, only a handful of poachers are prosecuted annually. The department has 40 game wardens responsible for patrolling anywhere from six to 10 communities each. Wardens enforce fishing and hunting rules and respond to 8,000 complaints a year, which leaves little time for criminal investigations.
"We don't have enough wardens in the state of Vermont," said Ed Gallo, a veteran hunter and board member of Hunters, Anglers and Trappers of Vermont. "They have way more ground to cover than they possibly can. The poachers know it. There are a lot of places you can go and know you're not being watched."
Besides the lack of wardens, there are other hurdles in prosecuting poachers. Especially in smaller towns, people are reluctant to come forward with poaching tips, the department says. Further, it can take years to gather enough evidence to prove a case. Usually there are no eyewitnesses. And once a deer is dead, it is nearly impossible to prove that it was killed illegally.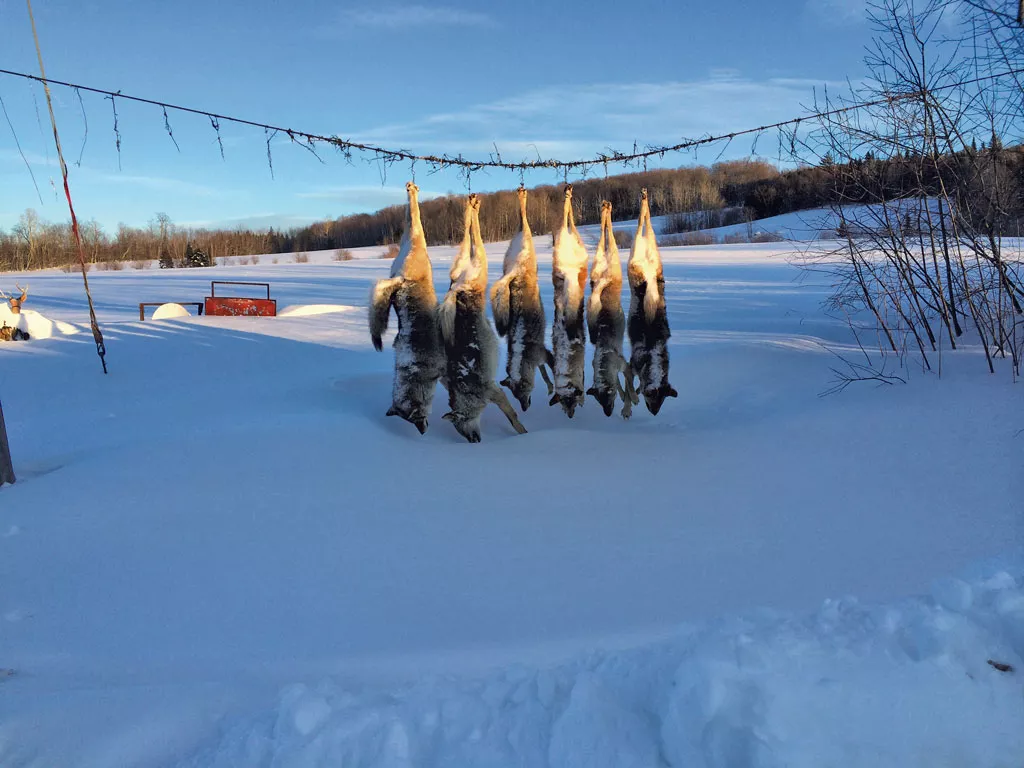 MArk Davis
Coyotes killed by Wayne Dion
"It's hard to make an airtight case on these things," Gallo said. "They've almost got to have videotape evidence of somebody doing it. I sympathize with them."
The Dions pleaded not guilty in Orleans Superior Court last month, and a trial has not yet been scheduled. Citing the ongoing criminal cases, the department declined to answer questions about some aspects of the investigation. But officials did discuss their decision to focus on the Dions, and court documents provide additional details.
A now-retired warden first opened a case file against the Dions 19 years ago, but never filed charges, said Major Dennis Reinhardt, chief of law enforcement at the Fish & Wildlife Department. Then, in 2011, several members of the public came forward with tips that the couple was baiting deer. The department launched another investigation, and, every deer season since, wardens have tried to gather evidence against the Dions, Reinhardt said.
In 2013 and 2014, wardens noticed alarming deer behavior during trips to Irasburg. The deer would stroll close to the Dions' home, unafraid of humans. According to Batchelder, wardens found deer trails that led to the house and heard reports that other local hunters, unable to find deer, had also started baiting.
"It was a lot of word of mouth — the public is what drove it at first," Batchelder said. "And once we started realizing the effect it was having, it gave us more interest. Rarely do we see a macro event like this, where something is being affected so dramatically. It was evident that this was something that we needed to devote a serious amount of work to."
Wardens also noticed that the Dions seemed to be the luckiest hunters in Vermont. Even the best, most experienced hunters sometimes emerge from the woods empty-handed or with a smaller deer. "Everybody has bad years," Gallo said. "There's a lot of luck involved in deer hunting, no matter how good you are." Yet year after year, Reinhardt said, the Dions would both bring massive deer to the local weighing station and would often send pictures of themselves posing with their prized kills to the Barton Chronicle.
It's easier to prove that someone killed a deer out of season than to show they illegally baited during hunting season. And court documents show that wardens were determined to catch the Dions doing the former.
Wardens staked out the home several times in early November. They returned secretly on the evening of November 14, the night before opening day of hunting season. Around 5:30 p.m., Senior Warden Jason Dukette heard a single gunshot come from the Dions' Young Road home and saw a man walk outside with a flashlight in his hand, searching a nearby field.
Wardens Jenna Reed and Batchelder picked up the case before dawn, but heard no shots from the Dion house. They were parked at the end of Young Road at 8:30 a.m. when Dion, driving away from home, stopped and told them that he had just shot a nine-point buck that morning. Wardens saw blood on his hands.
Because the wardens had heard a shot the night before — and none that morning — they were able to convince a judge to give them a search warrant for the Dions' home and property. They found an ATV track, stained with blood and littered with deer hair, that ran from the home to an area of melted snow where wardens concluded the deer had died.
In the Dions' basement, an eviscerated nine-point buck hung from the rafters, its innards dumped in a five-gallon bucket, affidavits say. Wardens took temperature readings from the deer's thigh and deduced that it had been dead long before that morning.
In the Dions' bedroom, wardens observed a large bay window above the bed, ammunition on a nearby table, a small sliding port that opened to the outdoors and a gun-rest similar to those found at shooting ranges. Three light switches near the table controlled five outdoor floodlights.
Dion told wardens that he had shot the deer from this perch, but insisted it had happened that morning, during hunting season. His wife said that she was in bed but didn't hear the rifle shot — an implausible claim, wardens said in court documents.
Dion was also charged with shooting a blue jay that wardens found dead in the field. According to affidavits, Dion told them he shot the legally protected bird after it ate corn from his bird feeder.
It's rare that poaching cases get to trial or result in prison time. Defendants usually pay fines and surrender their hunting licenses under terms of plea agreements. Batchelder said that the department merely hopes the Dions are convicted, and declined to say whether he thought imprisonment was appropriate.
But poaching cases tend to rile hunters who play by the rules, and many view the crimes as theft. "When you go outside the law, you're stealing from people who follow the rules," Gallo said. "The whole sport of hunting centers around the fact that there are rules to the game and you follow the rules like everybody else, or you're an outlaw."
The Dions' arrests garnered a brief flutter of statewide publicity, but the attention is nothing new. Local papers have repeatedly documented Wayne Dion's long-running battle against coyotes. A 2002 story in the Newport Daily Express described Dion strategically placing animal carcasses in his field, grabbing his rifle, whistling quietly when the coyotes approached to get them to freeze — and then firing away.
In the stories, which Dion clipped and saved in a scrapbook, Dion challenged game wardens. "It wasn't long ago that the Fish & Wildlife people thought these coyotes weren't a problem," Dion told the Express. "But since I have been shooting them I'm seeing more does with fawns and an increase in birds around here ... So I think they have been wrong about a lot of things over the years."
Also saved in a scrapbook was a letter to the editor of another local paper in which Dion explained his tactics and pledged to continue what he sees as the fight to protect deer.
"The coyotes will keep on coming, and as long as they do I will keep on shooting them," he wrote.
Accompanying the letter was a picture of Dion posed with 31 dead coyotes hanging in his field. He stood tall, with his shoulders back, a rifle in his hands and a slight smile across his face.