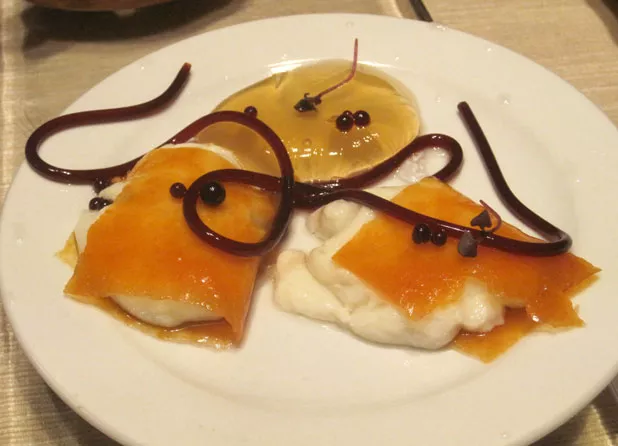 Slow Food Vermont potluck dinner
On a recent Sunday, Mara Welton and her husband, Spencer, owners of Burlington's Half Pint Farm, are hosting a potluck. While she sets their square wooden table with salumi, cheese and bread, he fills a tablespoon measure with clear liquid, then drops it in a fluid-filled bowl labeled "calcium lactate."
The first few times Welton performs his maneuver, clear blobs form in his bowl of liquid, only to break apart as he retrieves them. His wife fetches him a Japanese soupspoon, with which he scoops out a perfect ball. When he hands it to me, I slurp it like an oyster, and a thin membrane breaks, flooding my mouth with mint and rum. Welton's first trick of the night is a molecular mojito.
This potluck isn't your average pasta-salad-and-barbecue-meatballs affair. The "mojito," composed of rum muddled with homegrown mint and mixed with sodium alginate, wouldn't be out of place at the most avant-garde of big-city restaurants. The Weltons are preparing to serve it to five guests in their New North End dining room. This is a molecular-gastronomy potluck organized by Slow Food Vermont, of which Mara Welton is the chapter president. Since last March, she and Spencer have hosted potluck dinners — with themes such as soufflés, smoked food and charcuterie — on the third Sunday of each month.
The international Slow Food movement aims at public education, promoting high-quality local produce and meat over "fast," processed options. Welton, who took charge of the Vermont chapter in 2008, seeks to make that mission fun and accessible, even to diners on a budget. "In the early days, [Slow Food Vermont] focused a lot on $100-a-plate fundraising dinners," she says. "That's a piece of the pie, but it's not everything. Some people felt a little marginalized. People didn't feel like they had access."
Now Welton makes sure most Slow Food Vermont events cost $25 or less. The potlucks are free, as are the weekly tastings the group hosts at the Intervale Center's Summervale events from June through August. Among the $25 activities are cooking classes in the Jericho kitchen of Jessica Bongard, chef-owner of slow-food catering company Plumpest Peach. An upcoming series of farm visits combined with classes by various experts will carry the same price tag. At the first, to be held at Family Cow Farmstand in Hinesburg on October 2, participants will make their own mozzarella from fresh, raw milk.
The spirit of inclusion has been part of Slow Food Vermont from the beginning, says Jeff Roberts, one of its founders. In 1999, the Montpelier-based food historian, also a founding member of the Vermont Fresh Network, hosted Slow Food International founder Carlo Petrini on a whirlwind tour of Vermont food systems. Roberts established Slow Food Vermont before a Slow Food USA even existed. Now, every two years, Roberts, Mara Welton and other Vermont delegates attend the Slow Food International Terra Madre conference in Italy to learn about improving sustainable food systems — and to share their local products. As Roberts puts it, "We're part of a world; we're not isolated. We have something to contribute and something to learn."
Though Slow Food activities can have political undertones, Welton prefers to keep them that way — as subtext. "In Vermont, we have so many great food organizations already doing that kind of work," she says of activism. "We didn't want to overlap in that area and be redundant in our mission. It doesn't need to be a main topic all the time. I think eating should be fun." As for those who can't eat a meal without a diatribe, Welton says, "Making eating hard makes it far less enjoyable. We're a little bombarded by [politics], honestly."
Politics do come up this time, after Spencer Welton opens the Cuisine R-EVOLUTION molecular gastronomy kit he purchased at Librairie Gourmande in Montréal. Among the potluck attendees are two chemical engineers. One of them, when she sees soy lecithin in Welton's kit, remarks that she avoids processed soy products because they block necessary digestive enzymes. Soon the guests are discussing Italy's recent yearlong ban on molecular-gastronomy chemicals; famed molecular-gastronomy chef Grant Achatz's oral cancer, which some blame on the (mostly plant-based) chemicals he uses; and the nutritional value of this particular strain of "slow food."
Those concerns don't stop anyone from digging in. The potlucks are the brainchild of Spencer Welton, who chose this evening's theme as an excuse to explore molecular gastronomy with friends. An environmental science professor at the Community College of Vermont, Welton says he was attracted to the "chemistry-set aspect" of the molecular kit. Since not everyone has pipettes and xanthan gum at their disposal, this particular dinner isn't a traditional potluck. Guests have been asked to bring something to snack on, but the real cooking is happening by the minute at the Weltons' table.
One of the guests — and cooks — is Chris Wagner, a Slow Food Vermont board member, executive chef at the Willard Street Inn and manager of the Burlington Farmers Market. Wagner pushes droplets of warm, sodium-alginate-infused balsamic vinegar from a syringe into a vase he's filled with cold olive oil. The resulting pearls are similar in texture to tiny tapioca balls floating in bubble tea. They look like sturgeon caviar, but taste like a sweet, fruity balsamic reduction.
Wagner strains the pearls from the oil and Mara Welton adds them to a plate of tomatoes. They're some of the last remaining after Tropical Storm Irene's flooding devastated the Intervale's farms, hers included. She tops the plate, full of jewel-like colors, with her farm's micro-basil greens.
Next, Spencer Welton pipes tomato purée into thin tubing provided with the kit. He leaves the tubes in calcium lactate for three minutes, solidifying the sodium alginate-infused mixture, then uses an empty syringe to force red-orange "pasta" from them. Each strand emerges with a climactic pop of air. They're the width of thin spaghetti and taste like a pasta dinner — no sauce necessary.
Not all of the experiments work. Blue-cheese "foam" doesn't whip up beyond a bubbly liquid. An attempt to gel freshly prepared coffee into balls to accompany apple pie fails because of tiny bubbles in the liquid. But these missteps are all part of the learning process. "Everyone's going to be doing it for the first time," says Mara Welton. "No one's an expert here … but we can talk about it and see if it works out."
That experimental approach works for running Slow Food Vermont, as well. "We're the group that's willing to try," says Welton. "We might as well put it out there."
One of Welton's major goals is to better serve members outside Chittenden County — which has been difficult at times, she says, even though Slow Food members are most heavily concentrated in central Vermont. One strategy is to help them replicate the events she hosts. One of Slow Food Vermont's 10 board members hosted a "Just Cook It" potluck at his Plainfield home last month, inviting locals to bring their homemade tomato sauces.
In May, Slow Food Vermont partnered with the Big Picture Theater & Café in Waitsfield for the first in an anticipated series called Reel Good Food, combining a family-style dinner and film showing. A Spanish feast and Pedro Almodóvar's Women on the Verge of a Nervous Breakdown attracted members of the Mad River Valley Film Club as well as Slow Foodies. Next on the Slow Food agenda: to provide corresponding grub for food-themed films at the Vermont International Film Festival in October.
If the organization's schedule makes it sound more like a college outing club than a single-minded, mission-driven group, Welton says that's kind of the point. Under her guidance, Slow Food Vermont has become a meeting ground for food fans from all walks of life, from folks who attend tastings at Lake Champlain Chocolates to those who study up on the recipes of food scientist Hervé This (to whom a previous potluck was dedicated). While tonight's molecular spread may seem esoteric, the foodie mentality is increasingly mainstream — and Slow Food Vermont caters to it.
"People kind of find their tribe when they join Slow Food," Welton says. "It feels so good to have them find something they've been looking for in us. The cool offshoot is, we've become very dear friends with the people who participate. It's as simple as just getting geeked out about tomato sauce with somebody, and they totally understand me."
The next "Just Cook It" potluck is October 17, 5 to 8 p.m., with a charcuterie theme. Space is limited. Register at vermontslowfood.org.