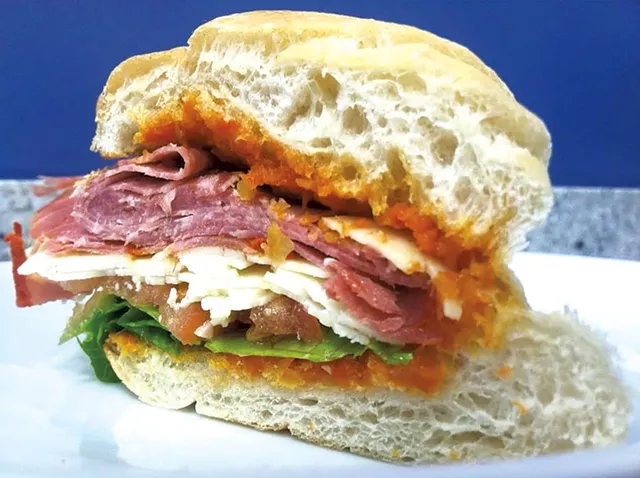 Earlier this week, Stowe's newest lunch-and-dinner stop rounded out its first month in business. The Kitchen, which replaced Bender's Burritos at 1880 Mountain Road the week after Christmas, is the second Stowe business from chef-owner Neil Handwerger. The new spot builds on the success of Café on Main (formerly Jamie's on Main), where Handwerger and family have been serving casual, hearty breakfasts and lunches since 2011.
At the Kitchen, Handwerger's daytime fare includes hot sandwiches stuffed with meatloaf or crispy buttermilk fried chicken; shrimp po'boys; turkey with stuffing, cranberry and gravy; and an array of deli-style stackers and salads. All of these can be eaten in-house or taken to go.
The same is true of a handful of weekly changing dinner entrées such as steak frites, lasagna (vegetarian or sausage and beef), and fried chicken with mashed potatoes and slaw. Recent fish options have included sesame-crusted sweet-and-sour tuna with bok choy.
Mostly priced at less than $15, such entrées are designed to offer affordable sustenance to on-the-go local families and out-of-town visitors, said Alan Handwerger by phone on Monday. The family patriarch, father to Neil, is a familiar face at the Kitchen and Café on Main. The industry veteran has aided his three sons in the development of several restaurant businesses in Vermont and in Providence, R.I.
While the other eateries are more focused on lunch, the Handwergers hope that Stowe locals will embrace the Kitchen's evening model as a quick and satisfying dinner option. "A lot of what we're doing is introducing people to [the idea of] taking dinner home," Alan said. "That's a key for us."