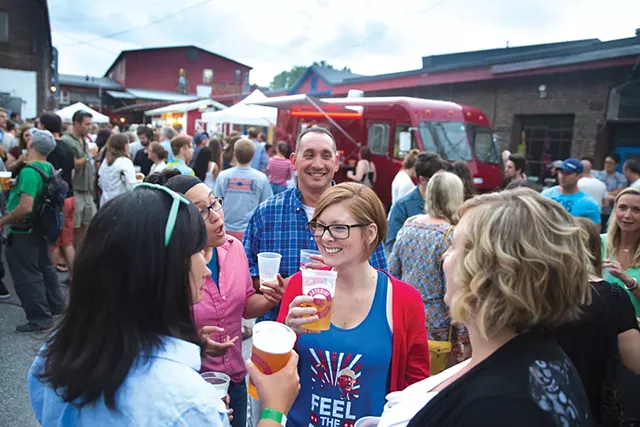 File: James Buck
Truck Stop
New in town and looking to live it up like a local? Take our quiz, and we'll lead you to some of the area's biggest and best annual events.
For more can't-miss happenings in Burlington and beyond — from September's Pride Parade to January's Vermont Burlesque Festival to July's Old North End Ramble — check the Seven Days calendar and sign up for the NOW (Notes on the Weekend) newsletter.
Take the Quiz!
1. My go-to social media influencer is...
A) Chef and cookbook author Jamie Oliver. I drool over his pics of perfectly plated dishes.
B) Viral musician Marc Rebillet. How could I not follow a guy who calls himself the Loop Daddy?
C) Nancy Spector. The artistic director and chief curator of New York City's Guggenheim museum won't steer me wrong when it comes to art.
D) Serena Williams, champion on the tennis court and in life. Go hard or go home!
2. My idea of treating myself involves...
A) A gorgeous cheese board and wine flight. Cheers to me!
B) Cutting a rug to live tunes. As Robyn sang, "I keep dancing on my own."
C) Getting lost in an indie or international flick.
D) Sweating out stress in a hot yoga class.
3. If I won an all-expenses-paid trip to my dream destination, I'd head straight to...
A) Maine for lobster rolls, Louisiana for gumbo, Rhode Island for coffee milk. Do I have to choose just one?
B) Graceland, the former Memphis, Tenn., home of Elvis Presley. Thank you. Thank you very much.
C) Berlin in search of street art. Spray paint and posters and murals, oh my!
D) The home country of the Eiffel Tower to cheer on ambitious athletes in the Tour de France.
---
What's on Your Agenda?
Go to Edible Adventures
Mostly B?
Go to Facing the Music
Mostly C?
Go to Liberal Arts
Mostly D?
Go to Breaking a Sweat
---
A. Edible Adventures
With a smorgasbord of culinary happenings throughout the year, the Queen City satisfies casual diners and seasoned gourmands alike.
Experience the flavor of the Green Mountain State during Seven Days' Vermont Restaurant Week. During this late-April foodie fest, dozens upon dozens of eateries across the state offer prix-fixe menus and themed events at reasonable price points.
From early spring through late summer, locavores make Friday evening visits to ArtsRiot's Truck Stop. A fleet of food trucks anchors this al fresco fiesta featuring live entertainment and cold beverages.
Oktoberfest Vermont — actually held on September 20 and 21 — combines suds from more than 40 brewers, traditional Bavarian music and plenty to eat. The two-day carnival-style bash at Waterfront Park typically sells out, so get your tickets early or risk missing your chance to learn the authentic chicken dance.

B. Facing the Music
File: Luke Awtry
Rough Francis at Waking Windows
From rock to jazz to pop to folk, myriad musical styles thrive in Vermont. Just look to a few area festivals for proof.
Vermont native and bona fide rock star Grace Potter may have toured the world, but she hasn't forgotten her roots. The "Stars" singer stages her own festival, Grand Point North, September 14 and 15 at Waterfront Park, headlining two nights of live tunes by area and national acts.
A stone's throw from Burlington, Winooski hosts Waking Windows. The hip extravaganza of concerts, comedy, art, food and drink invites indie music lovers to catch emerging bands each May.
Jazz fans get down during June's Burlington Discover Jazz Festival. Music makers both local and legendary — think Kamasi Washington and Cécile McLorin Salvant — show their chops on indoor and outdoor stages around town. Check the event schedule for free shows.
C. Liberal Arts
Courtesy Of Josh Brown
Festival of Fools
Though Burlington boasts a bevy of galleries, creative expression extends well beyond their walls.
Exhibits, fashion shows, artist markets, live demos and music from more than 600 participating creatives draw thousands of visitors to Burlington's South End Art Hop. Prepare to brave the crowds September 6 through 8 — it's worth it.
September 13 through 15, Burlington artist group Anthill Collective hosts Above the Radar, a weekend-long graffiti festival at the King Street Ferry Dock. Its goal? To celebrate and destigmatize the genre as an art form.
The Queen City gets quirky during the Festival of Fools. Billed by organizer Burlington City Arts as "busking, music and laughter for the entire family," the internationally recognized street performance festival features more than 100 free displays of music and comedy throughout downtown in early August.
D. Breaking a Sweat
Courtesy Of Special Olympics
Penguin Plunge
Endorphin junkie? You're in good company here. There are so many health, fitness and all-around wellness activities that it's hard to pick just a few.
In Vermont, swimming's not just a warm-weather activity. Participants in the Penguin Plunge, held on February 1, brave frigid Lake Champlain to raise funds for Special Olympics Vermont.
If you'd rather row, wait for the Lake Champlain Dragon Boat Festival. On August 2, teams of community members and breast cancer survivors race through the waves in 41-foot watercrafts, making a splash for cancer support. There's additional live entertainment for spectators.
And, on the last Sunday in May, runners in the Vermont City Marathon & Relay get to know the city while pounding 26.2 miles of pavement. On your mark, get set, go!