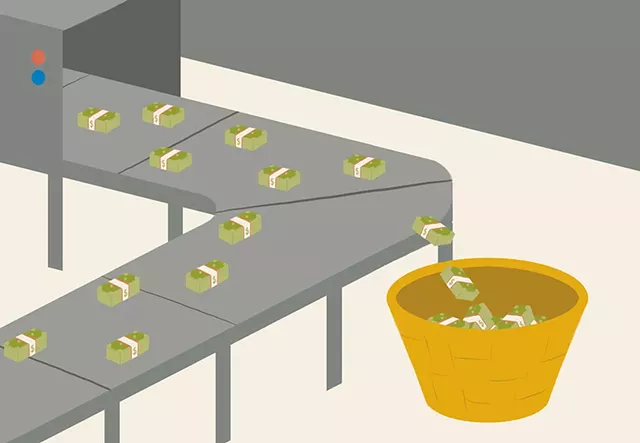 For seven years, Vermonters gave generously when the phone rang and they were asked to donate to the Professional Firefighters of Vermont. Between 2007 and 2014, paid solicitors collected nearly $1 million a year for the trade union's charitable and professional work.
The fundraisers promised potential contributors free concert tickets and said donations would buy such things as scholarships, educational coloring books for school kids and winter coats for needy children.
Then the phone calls stopped. The firefighters found that once they had paid the professional fundraisers, only 22 percent of the total raised was left for their charities. The vast majority of what Vermonters contributed was spent on soliciting that money — not helping their fellow citizens.
"You have to pay for the venue, you had to pay for the people to make the phone calls, you had to pay for the phone lines, the paper to mail the stuff out, the postage," Professional Firefighters president Bradley Reed said. "We made the prediction that if we continued to do it, then we would be losing money."
While the firefighters union has stopped the practice of fundraising — and the charitable work it paid for — other organizations continue to rely on paid outside companies to bring in donors and dollars. Some smart organizations use the tactic in a targeted way, but others allow most of their donations to go to waste.
According to data collected by the Vermont Attorney General's Office, just 37.2 percent of the $33 million raised by paid fundraisers in Vermont since 2006 has made its way to the intended charities. Some nonprofits have received much less — and, in a few cases, all the money raised went to pay the costs of fundraising.
Most of the fundraising calls Vermonters receive come from out-of-state charities such as the Sierra Club, the Planned Parenthood Action Fund and Mothers Against Drunk Driving, though donors tend to give more when the caller is working for a local organization. A review of data from June 2012 through July 2015 by the Attorney General's Office found that 55 percent of the money donated through paid fundraisers was intended for in-state organizations.
Some Vermont statewide nonprofits, such as Vermont Public Radio and Special Olympics Vermont, hire paid solicitors as part of a broader strategy that puts more emphasis on cheaper in-house fundraising through mailings, on-air campaigns, charity events and face-to-face contact with donors.
Still others appear to rely largely or entirely on paid telephone solicitation companies, as the Professional Firefighters used to.
The Vermont Troopers Association has raised $1.5 million from local businesses since 2006, using an outside firm to sell ads in a semiannual magazine that goes to its members. Police Publications, the fundraising firm, sends 26 percent of the total raised to the troopers union and keeps the rest.
Mike O'Neil, a retired trooper who is now executive director of the union, said the funds help support members by paying for hospital bills and, in a few cases, funeral and estate planning costs.
"We've had members end up in Boston with sick children and need to spend a month there, and we've picked up an apartment for the entire month right next to the hospital," he said.
O'Neil acknowledged that some people question a 26 percent cut for the union, and he said he's considered the possibility of bringing the fundraising and magazine operations in-house.
"Running that whole business ... would require somebody in our organization to have the time to do that," he said. "You're also paying the salary of the people doing the phone calls, postage for sending out our magazine ... and the actual printing of the magazine."
O'Neil, the union's sole staff member, spends his time representing troopers. "It could really be a struggle to try to run the fundraising operation ourselves," he said.
Experts in nonprofit fundraising say paid telephone solicitation is not necessarily a bad or foolish tactic, despite the low return.
All fundraising has a cost, they note. Data about paid solicitations by outside companies is public under state law. Nonprofits do not have to disclose what they spend on in-house fundraising done by staff members or volunteers.
It's more important for interested donors to understand a nonprofit's mission and whether dialing for dollars has a specific purpose as part of an overall fundraising campaign, those experts said.
Anne Wallestad is president and CEO of BoardSource, a Washington, D.C.-based organization that advises nonprofit boards on sound management practices. Even if an organization's share of the take from paid solicitations is a very small percentage, she said, "What I would be focused on is, Huh, I wonder how that compares to the overall number if you looked at all fundraising tactics."
Focusing only on the cost of paid fundraising ignores the size and stability of an organization's donor base, she said.
"To the extreme, if you are a million-dollar organization, would you rather have one million-dollar gift or would you rather have a million $1 gifts?" she asked.
Finding a million $1 gifts would be extremely expensive — but an organization that depends on just one $1 million donor runs the risk of going out of business if that individual donor withdraws. Wallestad said it's important for organizations to focus on that risk, too, not just the cost of fundraising.
Whatever its size and mission, an organization's revenue stream should be viewed like an investment portfolio, according to Wallestad: Smart use of a number of fundraising tactics can lead to a healthy revenue stream, while over-reliance on any one method of fundraising is a bad idea.
Tom Siegel, CEO of the Los Angeles-based fundraising firm Donor Services Group, agreed. His company has raised $1.2 million from Vermonters for dozens of causes and has kept about half the money as fees.
"What we recommend to our clients is: Always use a less-expensive medium first, and only use the phone as a last resort," Siegel said.
Email campaigns that allow a single staff member to reach thousands of donors are far cheaper than phone calls, he noted, but they also have a far lower response rate. His company advises nonprofits to work from the bottom up, only using the phone to call members or past donors who have not responded to cheaper appeals.
"A well-rounded fundraising program uses all the mediums," Siegel said. "It just does that carefully."
At Special Olympics Vermont, paid fundraisers have brought in $2.1 million since 2007. Of that, about 40 percent, or $845,638, went to the organization. President and CEO Sue Minter said those campaigns make up a tiny portion of Special Olympics Vermont's revenue.
"It is literally less than 2 percent of what we raise, and it is not something we rely on at all," Minter said, noting that local events such as the Penguin Plunge bring in far more money for the nonprofit.
Then why use paid phone solicitors? Minter said it's not just about the money.
"In addition to reaching out to businesses and corporations, it is also doing education work," she said. "The script [fundraisers read from] talks about our summer games; it solicits volunteers."
At BoardSource, Wallestad echoed the fact that different tactics have various side benefits and costs.
For example, an event that brings the nonprofit face-to-face with potential supporters "may be a great way to bring in new donors and ... to thank and cultivate current donors," she said. "But events tend to be very high-cost, so you don't want that to be the only way you're bringing in money."
The Vermont Public Interest Research Group has discovered the pros and cons of hiring paid telephone solicitors.
Between 2009 and 2017, VPIRG contracted with Aria Communications, a Minnesota-based fundraising company that raised $145,363 from Vermonters for the political advocacy group. VPIRG kept 27 percent of the money — less than $40,000.
Executive director Paul Burns said the fundraising stopped because VPIRG could no longer justify the cost. One campaign that ran from 2016 into 2017 raised $2,415 of which VPIRG kept less than $30 — only 1.1 percent.
"Of course we look at the bottom lines," he said. "We no longer work with Aria."
But Burns said VPIRG's use of phone fundraisers wasn't just about the bottom line. The group's political advocacy depends on strength in numbers. That's why the organization sends young staffers door-to-door all over the state, and Burns said the phone calls have a similar effect: They keep Vermonters engaged with the organization regardless of how much cash each call brings in.
"It's best if you can actually connect one human being to another, and if you can't do it face-to-face, by phone is the next best thing," he said.
Since public tax filings don't give a detailed breakdown of a nonprofit's fundraising strategies, how can Vermonters decide whether or not to donate when they get a call from a charity that sounds like it's doing good work?
"I have a pretty harsh rule in this house," said Kate McGowan, the former executive director of United Way of Addison County. "We don't give any money to anybody over the phone. I just don't."
Instead, McGowan, a self-identified "recovering" certified public accountant who has led Marlboro College's Center for New Leadership since January, asks phone solicitors for more information.
When she is impressed by an organization's pitch, she asks the caller to send its most recent tax filings and financial audit. After that, she tells callers, she'll consider a gift. None has ever followed through.
Potential donors can also do their own research, she said. Every nonprofit has to file a Form 990 federal tax document, which can be viewed for free online through the GuideStar service. To enable more complex searching of local organizations' 990s, Seven Days built its own database called the Vermont Nonprofit Navigator. It's accessible to the public at nonprofits.sevendaysvt.com.
Many nonprofits publish program updates and annual reports online, which can help a potential contributor decide whether an organization is using its money to effectively fulfill its mission.
Siegel, the paid fundraiser, said donors should beware of organizations raising all of their money over the phone.
When that happens, he said, "The telemarketers are making a shitload of money, and nobody really benefits."
Digital Editor Andrea Suozzo analyzed data for this story; staff writer Mark Davis contributed reporting.