Courtesy of Willard Street Inn
Back lawn of Willard Street Inn
Burlington makes an ideal getaway any time of the year. As Vermont's biggest city, it offers the best of both worlds — rural intimacy and authenticity balanced with urban convenience, hustle and bustle. Visit in the winter, however, and you'll likely spend more time cozying up at your overnight accommodations. Warm blankets and warmer hospitality are fine antidotes to the cold weather.
Wondering where to bunk down? There are plenty of overnight options, from Victorian bed-and-breakfasts to chic downtown hotels. Read on for three centrally located, independently owned lodgings, each with its own distinct character.
Willard Street Inn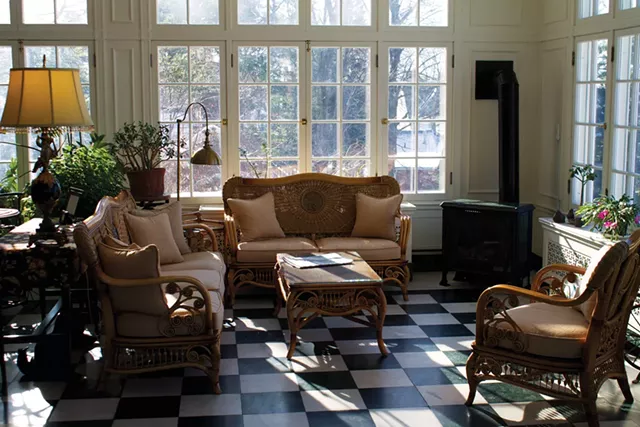 Courtesy of Willard Street Inn
Willard Street Inn's solarium
Originally built in 1881 for prominent businessman and state senator Charles Woodhouse, the Willard Street Inn is a full-size mansion with 14 rooms and classic B&B charm. The commanding residence was converted to an inn in 1996. It's now run by the Davis family, who stayed there on their very first visit to Vermont. As they write on the inn's website: "The rest is history."
And history is palpable in this fully restored structure that blends Queen Anne and Colonial-Georgian Revival styles. Each room at Willard Street is uniquely decorated, informing the quarters' names: Rose Garden features climbing-rose-and-trellis wallpaper and a rainfall showerhead; Victorian Cabernet showcases burgundy accents and antique sconces. Many of these rooms enjoy views not only of the inn's grounds and lush gardens but also of Lake Champlain and the Adirondack Mountains. Looking for the best vantage? Choose the Tower Room, of course.
A B&B wouldn't be complete without, well, breakfast. Here, guests enjoy daily chef-prepared morning meals in the inn's dramatic 317-pane, marble-floored solarium. Among the local treats are 802 Coffee and Snow Hill Farm maple syrup. And should you get peckish between meals, count on fresh chocolate chip cookies that the Davises deliver to each room daily.
Hotel Vermont
Courtesy of Hotel Vermont
Hotel Vermont lobby
Fans of the Scandinavian concept of hygge — which loosely translates to "coziness" and "well-being" — will find it in spades at Hotel Vermont, Burlington's first luxury boutique hotel. The city's original Hotel Vermont operated a century ago a few blocks away, on the corner of Main and St. Paul streets. This new iteration, open since 2013, offers much more than a comfy place to rest your head. It delivers a carefully curated Vermont experience.
The hotel prides itself on being stocked with local goods. Plaid flannel blankets are made an hour away at Johnson Woolen Mills; leather straps tying the blankets come from Queen City Dry Goods. Bathrooms are filled with organic body products from Burlington's Lunaroma; mugs are spun by Waterbury ceramicist Jeremy Ayers. The list continues.
When you're not holed up in your room or suite checking out the goodies — or shopping on nearby Church Street — head down to the hotel restaurants. A James Beard Award-nominated chef is at the helm of Hen of the Wood, a rustic-chic farm-to-plate establishment. The lobby-adjacent Juniper offers small plates and elegant cocktails, as well as an expansive stone patio with a fire pit.
The hotel's weekly entertainment lineup includes Monday night trivia, live jazz on Wednesday, and a variety of live music on Friday and Saturday evenings. To get the most out of a Vermont vacation, check in with the resident activities coordinator or beer concierge for guided tours and personalized recommendations.
Made INN Vermont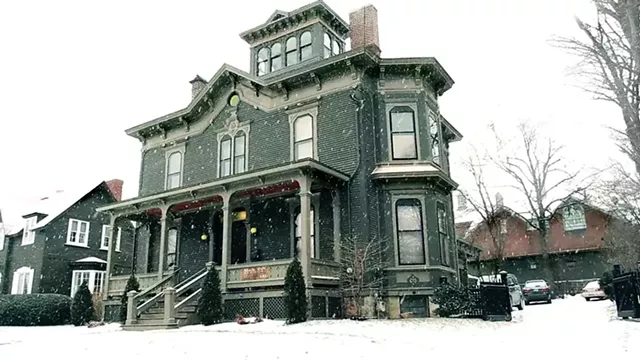 Courtesy of Made INN Vermont
Made INN Vermont
Made INN Vermont proprietress Linda Wolf considers her eclectic inn a constantly evolving work of art. Built in 1881 as the residence of a granite excavator, the house retains many of its original features, from curved entryways and luscious, thick banisters to paneling and wooden floors. But Wolf has delighted in decorating the B&B with vintage treasures from decades past — claw-foot tubs, cowhide rugs, globes, Kewpie dolls. It's a collector's paradise.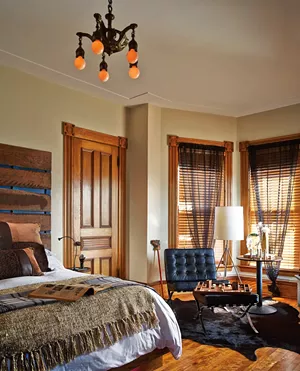 Made INN Vermont
Guest room at Made INN Vermont
With just four guest rooms, located on the second floor, the inn makes visitors feel like both royalty and beloved guests. (The small size warrants booking your stay well in advance.) The first floor harbors a sumptuous lounge featuring a library stocked with art and design books, vintage games for the playing, and untold antique treasures to discover.
Gourmet breakfasts are served daily, and sundry snacks are up for grabs in the well-stocked self-service café. The kitchen opens onto a secluded back patio with a hot tub — a treat in chilly Vermont. Those seeking a cozy hideout and a stellar Lake Champlain vista can venture up to the mansion's windowed cupola, where a checkerboard for games awaits.
---
Courtesy of Willard Street Inn
Back lawn of Willard Street Inn
Une escapade à Burlington est agréable à n'importe quel moment de l'année. La plus grande ville du Vermont offre en effet le meilleur des deux mondes : une atmosphère rurale authentique avec l'animation et les commodités urbaines. L'hiver, toutefois, vous passerez sans doute plus de temps à l'intérieur. Couvertures douillettes et hospitalité chaleureuse sont la formule parfaite quand il fait froid dehors.
Vous vous demandez où loger? La ville offre une multitude d'options, depuis les gîtes touristiques victoriens classiques jusqu'aux hôtels chics du centre-ville. Nous vous présentons trois hébergements situés au centre, ayant chacun leur caractère propre et appartenant à des propriétaires indépendants.
Willard Street Inn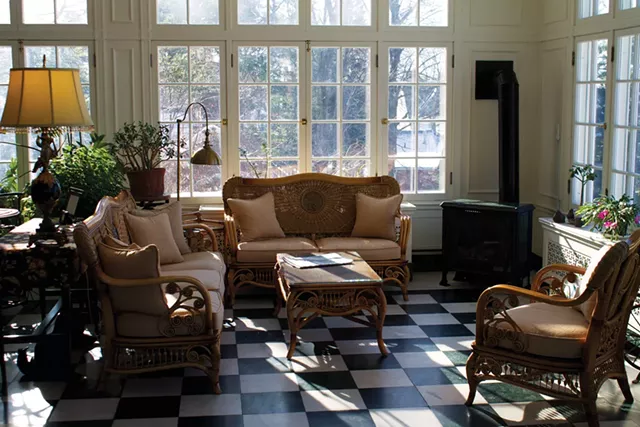 Courtesy of Willard Street Inn
Willard Street Inn's solarium
Construit à l'origine en 1881 pour le célèbre homme d'affaires et sénateur Charles Woodhouse, le Willard Street Inn est une grande maison de 14 chambres qui a le charme d'un gîte touristique classique. Cette résidence a été convertie en auberge en 1996 et est actuellement gérée par la famille Davis, qui y séjourna lors de sa toute première visite au Vermont. Comme ils le disent sur le site Web de l'auberge, on connaît la suite.
On peut dire que l'histoire imprègne l'atmosphère de cette demeure entièrement restaurée où cohabitent les styles Queen Anne et néocolonial géorgien. Chaque chambre à l'auberge Willard Street a un décor unique, en lien avec son nom : la chambre Rose Garden est décorée d'un papier peint au motif de treillis et de roses grimpantes, tandis que la chambre Victorian Cabernet a des accents bourgogne et des appliques anciennes. Beaucoup donnent sur les jardins de l'auberge, mais aussi sur le lac Champlain et les Adirondacks. Vous voulez le meilleur point de vue? Choisissez alors la chambre Tower, bien entendu.
Un gîte touristique ne serait pas complet sans le petit-déjeuner, il va sans dire. Ici, les hôtes déjeunent tous les matins dans le spectaculaire solarium aux 317 carreaux vitrés et au sol de marbre. Parmi les saveurs locales, vous ne manquerez pas d'apprécier le café 802 et le sirop d'érable de la ferme Snow Hill. Et s'il vous vient une petite faim entre les repas, les biscuits aux brisures de chocolat que les Davis déposent dans chaque chambre tous les jours sauront vous contenter.
Hotel Vermont
Courtesy of Hotel Vermont
Hotel Vermont lobby
Les adeptes du concept scandinave du hygge — qui évoque le bien-être et une atmosphère chaleureuse — ne seront pas en reste à l'Hôtel Vermont, le premier hôtel-boutique de Burlington. L'Hôtel Vermont d'origine était situé il y a cent ans à quelques rues de là, à l'angle des rues Main et St. Paul. L'hôtel moderne, ouvert depuis 2013, propose, en plus d'un confort douillet, une expérience vermontoise impeccable.
L'établissement est fier de privilégier les produits locaux. Les couvertures de flanelle à carreaux sont fabriquées à une heure de l'hôtel chez Johnson Woolen Mills et elles sont attachées avec des lanières de cuir provenant de Queen City Dry Goods. Les salles de bain sont remplies de produits biologiques de chez Lunaroma, de Burlington, les tasses sont faites par le céramiste Jeremy Ayers de Waterbury, et ainsi de suite.
Lorsque vous n'êtes pas dans votre chambre à profiter de toutes ces douceurs – ou en train de magasiner sur la rue Church non loin de là –, dirigez-vous vers l'un des restaurants de l'hôtel. Les cuisines du restaurant Hen of the Wood, un établissement à la fois champêtre et chic qui offre une gastronomie « de la ferme à la table », sont dirigées par un chef ayant été mis en nomination pour un prix James Beard. Le Juniper, juste à côté dans le hall, propose de petites assiettes et d'élégants cocktails, et a une grande terrasse de pierres avec un foyer.
Des soirées de spectacle sont organisées par l'hôtel toutes les semaines : soirée culture populaire le lundi, orchestre de jazz le mercredi et musiciens divers le vendredi et le samedi soir. Pour profiter pleinement de vos vacances au Vermont, renseignez-vous sur les activités offertes auprès du coordonnateur ou du responsable des bières, qui pourront vous parler des visites guidées et vous faire des recommandations personnalisées.
Made INN Vermont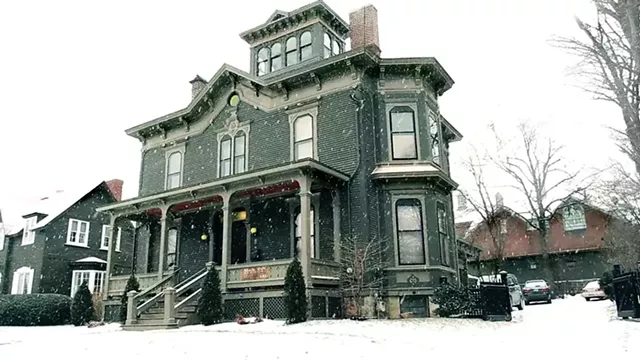 Courtesy of Made INN Vermont
Made INN Vermont
La propriétaire du Made INN Vermont, Linda Wolf, considère son auberge éclectique comme une œuvre d'art en constante évolution. Construite en 1881 pour un marchand de granit, la maison conserve de nombreuses caractéristiques de l'époque, depuis les halls d'entrée jusqu'aux somptueuses rampes d'escalier en passant par les lambris et planchers de bois. De plus, Mme Wolf adore décorer son établissement avec des trouvailles vintage des temps passés telles que baignoires sur pieds, tapis en peau de vache, globes de luminaire et poupées Kewpie. Un véritable paradis de collectionneur!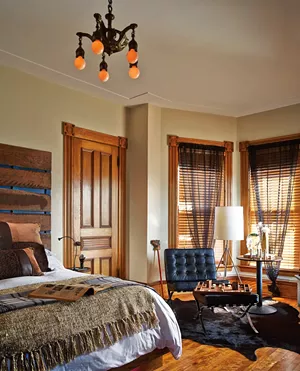 Made INN Vermont
Guest room at Made INN Vermont
L'auberge ne compte que quatre chambres, situées au deuxième étage, et donne à ses hôtes l'impression d'être des membres de la famille royale. (Il faut évidemment réserver longtemps à l'avance pour avoir de la place.) Le rez-de-chaussée comprend un superbe salon où la bibliothèque regorge de livres d'art et de design; on y trouve aussi des jeux de société et de belles antiquités.
Le petit-déjeuner quotidien est gastronomique et on peut se servir une collation au café libre-service toujours bien garni. La cuisine donne sur une jolie terrasse très privée, où se trouve un spa, véritable bonheur lorsqu'il fait frisquet. Les personnes qui recherchent un petit coin chaleureux et une vue exceptionnelle sur le lac Champlain peuvent s'aventurer jusqu'à la coupole fenestrée de la maison, où les attend un damier pour jouer à des jeux.