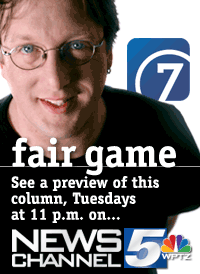 The jaw-dropping $6.8 million retirement package awarded to the outgoing president and chief executive officer of Blue Cross Blue Shield of Vermont may have been illegal, according to the state's top insurance regulator.
The finding was issued last month by Banking, Insurance, Securities and Health Care Administration commissioner Paulette Thabault in a six-page "show cause order" denying the insurance company's proposed rate hikes for roughly 6000 health savings accounts customers.
The average proposed premium increase for that group is 25 percent, though some plan premiums could rise as much as 50 percent.
It's enough to make you sick.
"There is cause to believe that this excessive monetary award is contrary to the insurance laws of this state, contrary to the laws regulating the company and its obligations to subscribers, and contrary to the company's obligations to its subscribers as a nonprofit corporation," Thabault's order noted. "The commissioner acknowledges and supports the continuing efforts of the current management of the company to reduce the total retirement compensation paid to the company's former chief operating officer."
As "Fair Game" first reported in January, William R. Milnes Jr. received $7.25 million when he left BCBS last December after 20 years of service, 10 of them in Vermont. He is credited for "saving" BCBS in the state. In this case, heroism pays.
BCBS officials tell "Fair Game" they do not believe they broke any Vermont law by gilding Milnes' parachute.
"We are talking with the department about how to resolve their concerns on the issues surrounding the retirement payment," said Kevin Goddard, vice president of external affairs.
How so?
"We have engaged in the process to determine if it's possible for some of the retirement benefit to be reduced or recouped," said Goddard. He declined to provide further details.
In the meantime, they'll just keep squeezing blood from their subscribers.
*****
Monkeying Around
At his November 20 press conference, reporters questioned auditor Tom Salmon about his decision to use two state employees to videotape the event and hand out materials related to his office promotions and personal finances.
Those employees, and their spouses, were celebrating promotions and pay raises with the auditor the night he was pulled over and charged with a DUI. Last week, Salmon pleaded guilty and paid a $500 fine — along with $376 in court surcharges. Soon thereafter, he gave up his license for 90 days.
Salmon thought it appropriate to have staffers on hand to videotape the press conference speech, and to make an important point: Despite the increased compensation and promotions, his office will spend less money on personnel this year.
"Do I think it's going to help Vermonters financially if what happens here today is documented, memorialized? Is it going to help the legislature make brave actions and decisions?" Salmon asked reporters at the presser. "Um, yeah, I think it's prudent."
After further questions from "Fair Game" and others in the media, Salmon issued a memo explaining the camera's origin. It was purchased on June 5 in Barre, along with a carrying case, an extra battery and a tripod. Taxpayers paid $560 for it.
He also said the camera has been used four times: on June 8, to tape testimony before the Joint Legislative Government Accountability Committee; on June 23, to film a speech at a Vermont League of Cities and Towns symposium; on November 20, to document the press conference; and for a "speech made in Burlington."
Hmm. That last one sounds vague. "Fair Game" requested that the auditor divulge the content of the tapes. He produced them, and charged Seven Days $105 to create three DVDs.
What's on them? Lots about auditing, accountability and the state's finances.
Then there was that "speech made in Burlington."
It had to do with money, but not the state's checkbook. It was a June 11 political fundraiser at the St. John's Club that netted Salmon at least $5150, according to campaign finance records.
Democratic powerbrokers Harlan Sylvester, David Coates and Salmon's dad, Gov. Thomas P. Salmon, were at the fundraiser; the Salmon fry thanked some of them, along with office staffers in the audience, for their support.
"If I ever get to the big office, I'll tell you right now, I'm going to be about reform and honesty and commitment, and I appreciate your help with me getting there," Salmon told the crowd of supporters. "I may raise $200,000 as auditor, and if I have anything left it will be for the next pursuit and I hope you will help me get there."
One thing might get in the way: Taping a political speech with a taxpayer-purchased camcorder may violate state rules and regs.
Here's what it says in the state personnel manual: "An employee shall not use State property or equipment for his private use or for any use other than that which serves the public interest."
There's also Bulletin 5.62, which reads: "Employees shall not use, or attempt to use, state personnel, property, or equipment for their private use or for any use not required for the proper discharge of their official duties."
Salmon defends his actions.
"Using a Vermont State camera to record speeches of any kind, or even 'Vermont this Week,' could add value to Vermonters," wrote Salmon in an email to "Fair Game." "I don't think some folks think about the germane challenges and issues as they affect the long-term future of Vermont."
He then exclaimed: "I don't care if I hear that Shay Totten says he has naked pictures of me with a monkey; I am going to focus on my job."
Glad he set some boundaries.
******
Political Playroom
Another week, another six-hour Burlington City Council meeting ending in emotional and political chaos over the future of Burlington Telecom.
Last week, councilors met from 6 p.m. Thursday until 12:30 a.m. Friday in a special session dedicated to BT's current operations and finances. In short, BT is losing money, but less each year. BT lost $6.7 million in FY09, $12.7 million in FY08.
This week, the city will answer the Public Service Department's 124 questions. They missed their December 4 deadline and have until December 9.
On Monday night, councilors met for two hours in secret about BT finances. Later, in open session, the council gave more oversight power of BT to the city's Telecom Advisory Committee.
The council will debate BT's future again on Monday, when they will be asked by Mayor Bob Kiss to move the city closer to refinancing BT's $33 million debt, repaying the city checkbook $17 million, and borrowing an additional $10 million to complete its buildout.
Two former Republican city councilors — Fred Osier and Gene Shaver — are suing the city in Chittenden Superior Court in an effort to force BT to repay the $17 million and keep BT from borrowing any more money until a full audit is complete. Hmm. Repay the money without borrowing more? Sounds like a fire sale in the making.
Shaver, who didn't support BT while on the council, said the suit was "non-political" and "strictly about protecting taxpayers."
Sure it is. Just like the pro-BT flyer funded by the "Vermont Progressive Party" was about "facts" and not "politics."
In an effort to protect BT from being sold to the highest, or lowest, bidder, some Queen City residents have formed "Friends of Burlington Telecom," said Sandy Baird, a former Democratic legislator and the group's cofounder.
Council president Bill Keogh warned councilors Monday not to let emotions get the best of them at future meetings. Past meetings had the "decorum of a play room, and that is not conducive to meaningful debate," Keogh noted.
Guess that's why councilors ask for a "recess" when they want a break from the meeting.
******
Moving On
Progressive Emma Mulvaney-Stanak (Ward 2) is resigning her Burlington City Council seat next week, just eight months after being elected to a two-year term.
Why? She bought her first home and it happens to be in Ward 3 — not 2. City charter requires that she resign immediately. Since the vacancy is occurring within 90 days of the next election — she moves in on December 15 — no special election will be held. Instead, Mulvaney-Stanak's seat will be up for grabs in March, along with the ward's other seat, held by Democrat David Berezniak.
"This is certainly not a great time for me to be leaving the council," observed Mulvaney-Stanak. Especially if you like six-hour meetings.
Her departure leaves two Ward 3 Progressives on the council: Clarence Davis and Marissa Caldwell. Davis intends to run for reelection in March.
In the meantime, with seven councilors seated, the Democrats will hold an outright majority on the council for the first time since the 1980s.
******
Furlough Frenzy
Gannett, the parent company of the Burlington Free Press, announced last week that its non-union newspaper employees will be required to take another one-week, unpaid furlough in the first quarter of 2010.
Employees were forced to take two weeks' unpaid leave in 2009, during which many collect unemployment.
Enacting a new round of furloughs was not an easy decision, explained Bob Dickey, president of Gannett's newspaper division, in an email to employees.
"We understand and appreciate the difficulties furloughs have placed on many of you and your families," wrote Dickey. "The furloughs we took companywide this year, however, saved Gannett a significant amount of money."
Those guys really know how to spread the holiday cheer.
Got a news tip? Email Shay at shay@sevendaysvt.com
Click here to follow Shay on Twitter.