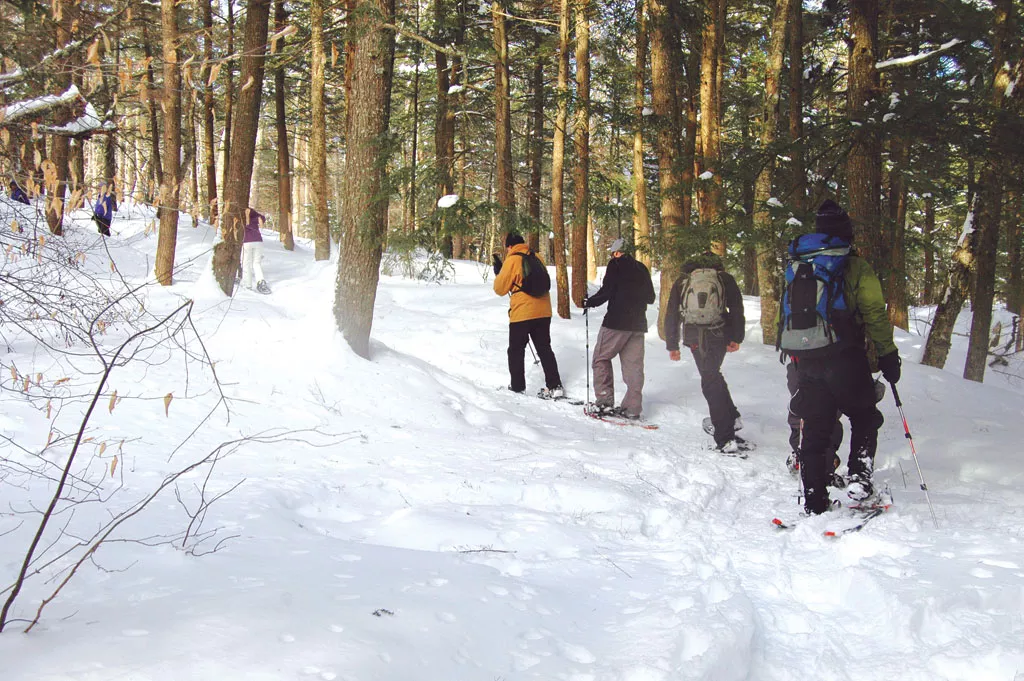 Ever daydreamed of relaxing in front of a fireplace in a woodsy cabin while snow falls softly outside? In Vermont, the reality is even better: think gourmet meals, gorgeous views and primo spirits at some of ski country's legendary log cabins and lodges. And getting there is as much fun as the destination.
Slayton Pasture Cabin, Trapp Family Lodge, Stowe
A bowl of butternut squash soup, a homemade brownie and a steaming mug of hot chocolate taste even better after you've snowshoed or hiked three miles uphill in the woods to this legendary log cabin. Sitting on a knoll on the Trapp Family Lodge's 2500 acres, it has beckoned and welcomed winter recreational enthusiasts with not only a fire in an old stone hearth, but also a kitchen stocked with soups, sandwiches, snacks and hot drinks. Thank Mike Gora, who's lived seasonally at the cabin for nearly 15 years, for the fine fare. And be prepared to commune with fellow cabin-seekers on weekends.
Open 10 a.m. to 3 p.m. in winter. Info, 802-253-8511.
Stone Hut, Stowe
One of the most coveted reservations in Vermont is for a night at this simple bunkhouse near the summit of 4393-foot Mount Mansfield. Why? Because dwellers get first tracks at Stowe Mountain Resort after spending the night here, not to mention the thrill of exploring the upper trails with headlamps — and maybe telling ghost stories by candlelight while other skiers are way down below.
Built by the Civilian Conservation Corps in 1936, the Stone Hut has a woodstove but no electricity, cooking facilities or heat, so be prepared for a rustic winter camping experience. (Bathrooms and running water are available in a ski patrol building just 100 feet away, and the Fourrunner Quad chairlifts can ferry up backpacks until 4 p.m. during skiing season.) The Stone Hut has four single, wooden bunks and four full-sized bunks, all with mattresses, and there's a large wooden dining table. Oh, the stories it could tell.
$195 per person overnight; first-come, first-served reservations. Info, 802-253-4010. vtstateparks.com
Butternut Cabin, Sleepy Hollow Inn, Huntington
Two of Vermont's top endurance athletes help run Sleepy Hollow Inn, which operates this four-bunk cabin in the woods. It's a mile up from the cross-country skiing and snowshoeing center, and there are breathtaking views of Camel's Hump from the cabin's balcony. Cross-country skiers and snowshoers can pop in for a quick break during the day (bring your own snacks and drinks), or can spend the night (bring sleeping bags, matches and kindling for the woodstove; firewood is provided). The cabin sleeps up to 12 and offers no refunds for no-shows. As the proprietors explain, "Inclement weather is part of the fun of the cabin."
$50 to $100 per overnight; reservations required. Info, 802-434-2283.
Allyn's Lodge, Sugarbush Resort, Warren
If dining on fondue and pâté while sampling a David Bruce Pinot Noir is your idea of roughing it in the woods, then Allyn's is the spot for you. Sure, you could spend an hour and 15 minutes snowshoeing or "skinning" (climbing uphill on skis with special sticky fabric on the bases) to the cranberry-red lodge, which is open 24 hours a day at the top of Gadd Peak. But most attendees of the Remote Fireside Wine Dinners at Sugarbush choose to ride a 12-passenger Piston Bully snowcat, nicknamed the "Lincoln Limo."
It's a 15-minute ascent through the dark to reach the lodge, where you'll find a wood-stoked fire and a four-course meal that might include, for example, some garlic soup and zucchini risotto. Dessert is served back at the base area at Timbers, and guests can either ride in the Lincoln Limo or ski down — it's an electrifying nighttime drop down Snowball and Spring Fling.
Dinner is $175 per person; reservations required. Info, 802-583-6590.
Ledgewood Yurt, Killington Resort
Mongolians never lived in a yurt like this: Strung with twinkling lights, stocked with a full bar and equipped with chefs preparing Cavendish quail and Georges Bank scallops, this yurt offers a five-course, fine-dining experience for adults only. (Children are permitted on special family nights, when the price drops to $59 per person.) Guests arrive after a 15- to 20-minute ride on a sleigh pulled by a snowcat, and are seated at tables of six or eight set with pewter plates and water glasses, cloth napkins and candles. There's a wood-burning stove, seats for about 40 guests, and a posh outhouse for when nature calls. This is an adventurous dining experience with all the (jingle) bells and whistles — and Vermont's WhistlePig whiskey, too.
Dinner is $109 to $119 per person; reservations required. For Info click here, 866-809-9147.
Faites une excursion hivernale – à skis, en raquettes ou en dameuse – jusqu'à un petit chalet accueillant dans les forêts du Vermont
Avez-vous déjà rêvé de relaxer devant un feu de cheminée dans un chalet au milieu des bois tandis que de gros flocons de neige tombent dehors? Au Vermont, la réalité est encore plus belle : repas gastronomiques, vues spectaculaires et alcools de qualité vous attendent dans certains des pavillons et des chalets de bois rond légendaires de ce paradis du ski. Et faire le trajet pour y arriver est tout aussi amusant que d'y être.
Slayton Pasture Cabin, Trapp Family Lodge, Stowe
Un bol de soupe à la courge musquée, un brownie maison et une tasse de chocolat brûlant ont encore meilleur goût après une ascension de cinq kilomètres à travers la forêt, à pied ou en raquettes, jusqu'à ce légendaire chalet de bois rond. Situé sur une butte dans le domaine de plus de 10 000 km2 du Trapp Family Lodge, ce chalet attire les adeptes des sports d'hiver grâce à son feu de bois et à sa cuisine qui sert des soupes, des sandwichs et des boissons chaudes. Il faut remercier Mike Gora, qui habite le chalet en saison depuis près de 15 ans, pour ces douceurs. Les fins de semaine, soyez prêts à partager le chalet avec d'autres personnes.
Ouvert de 10 h à 15 h en hiver. Info, 802-253-8511. trappfamily.com
Stone Hut, Stowe
Ce pavillon-dortoir situé à proximité du sommet du mont Mansfield, dont l'altitude est de 1 340 mètres, est l'une des destinations les plus convoitées pour une nuit au Vermont. Pourquoi? Parce que le matin, les pensionnaires sont les premiers à dévaler les pistes de la station de ski Stowe, sans compter le plaisir d'explorer les pistes du sommet avec des lampes frontales et, peut-être aussi, de raconter des histoires de fantômes à la lueur d'une chandelle pendant que les autres skieurs sont encore tout en bas.
Construite par le Civilian Conservation Corps en 1936, la Stone Hut est munie d'un poêle à bois, mais n'a pas d'électricité, d'équipement de cuisson ni de chauffage. Il faut donc être prêt pour une expérience de camping hivernal plutôt rustique. (Il y a des salles de bain et l'eau courante dans le bâtiment de la patrouille de ski à 30 mètres à peine, et on peut faire monter son sac à dos dans le télésiège Fourrunner Quad jusqu'à 16 h pendant la saison de ski.) On trouve dans la Stone Hut quatre lits superposés de bois à une place et quatre lits superposés à deux places, tous dotés de matelas, ainsi qu'une grande table de bois, qui pourrait raconter bien des histoires.
195 $ par personne pour une nuitée; réservations sur la base du premier arrivé, premier servi. Info, 802-253-4010. vtstateparks.com
Butternut Cabin, Sleepy Hollow Inn, Huntington
Deux des meilleurs athlètes d'endurance du Vermont participent à la gestion du Sleepy Hollow Inn, dont fait partie ce chalet, situé dans la forêt, à 1,6 km au-dessus du centre de ski de fond et de raquettes, et offrant quatre lits superposés. Les vues de Camel's Hump depuis le balcon du chalet sont saisissantes. Skieurs de fond et raquetteurs peuvent y entrer pour faire une pause pendant la journée (il faut apporter de quoi boire et manger) ou y passer la nuit (il faut avoir son sac de couchage, des allumettes et du petit bois pour le poêle; le bois de chauffage est fourni). Douze personnes peuvent y coucher. Vous ne serez pas remboursé si vous ne vous présentez pas. Comme l'expliquent les propriétaires, le mauvais temps fait partie du plaisir au chalet.
De 50 $ à 100 $ pour une nuitée; réservations nécessaires. Info, 802-434-2283. skisleepyhollow.com
Allyn's Lodge, Sugarbush Resort, Warren
Si votre idée d'une dure expérience dans les bois consiste à faire un repas de fondue et de pâté arrosé d'un pinot noir David Bruce, alors le pavillon Allyn est tout indiqué pour vous. Oui, vous pourriez passer une heure et quart à monter en raquettes ou avec des peaux de phoque (il s'agit en réalité de tissu adhérent spécial fixé sur la semelle des skis) jusqu'au pavillon rouge, ouvert 24 heures sur 24, au sommet de Gad Peak. La plupart des participants aux soupers de Sugarbush (Remote Fireside Wine Dinners) choisissent cependant de monter sur la dameuse Piston Bully, surnommée la « Lincoln Limo », qui peut transporter 12 passagers.
Il faut un quart d'heure pour monter au pavillon dans le noir. Un feu de bois et un repas quatre services incluant, par exemple, une soupe à l'ail et un risotto aux courgettes vous y attendent. Le dessert est servi en bas au retour à Timbers, et les hôtes peuvent soit reprendre la Lincoln Limo soit redescendre à skis – une descente électrisante de nuit sur les pistes Snowball et Spring Fling.
Prix du souper : 175 $ par personne; réservations nécessaires. Info, 802-583-6590. sugarbush.com
Ledgewood Yurt, Killington Resort
Les Mongols n'ont jamais vécu dans une yourte comme celle-ci. Décorée de lampions suspendus et munie d'un bar bien rempli et d'un poêle à bois, cette yourte offre aux adultes des soupers gastronomiques cinq services préparés par des chefs cuisiniers qui apprêtent cailles Cavendish et pétoncles Georges Bank. (Les enfants sont admis lors de soirées familiales spéciales, le prix baissant alors à 59 $ par personne.) Les hôtes arrivent dans un traîneau tiré par une dameuse après un trajet de 15 à 20 minutes. Ils prennent place à des tables de six ou huit personnes, où ont été disposés des assiettes d'étain et des verres à eau, des serviettes de table et des bougies. La capacité d'accueil est de quarante personnes. Une toilette sèche grand style est prévue à l'extérieur pour les besoins naturels. C'est une aventure dînatoire où rien n'est laissé au hasard – pas même le whisky WhistlePig du Vermont.
Prix du souper : entre 109 $ et 119 $ par personne; réservations nécessaires. Info, 866-809-9147. killington.com