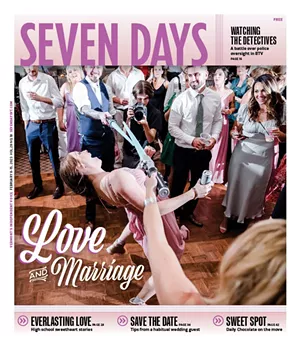 Courtesy of Ali B. Photgraphy | Rev. Diane Sullivan
If you planned to get married in summer 2020, you probably either postponed your nuptials or said your vows before God and family on Zoom. Although the initial COVID-19 vaccine rollout created more favorable conditions for the following year, it wasn't much better, wedding-wise. To host a wedding in summer 2021 was essentially to invite your closest friends and family to a super-spreader event. But at least they got to do the Electric Slide along with their PCR tests.
The wedding-industrial complex saw a rebound in 2022. But the backlog of anxious couples who'd been waiting two years to tie the knot made booking a venue, caterer or wedding band about as cutthroat as the bridesmaids' battle to catch the bouquet.
While the pandemic bottleneck has begun to ease, anecdotal projections suggest that the 2023 wedding season will again be exceptionally busy. A wedding photographer friend recently told me that not only is he fielding more inquiries than usual, he's also being booked for weddings on nontraditional days — Thursdays and Sundays, in particular.
It all adds up to more weddings to attend. That's certainly the case for Seven Days events and ticketing manager Katie Hodges. By the end of this year, she will have attended 24 of the 27 weddings she's been invited to since 2019 — and that doesn't include her own, scheduled for this summer. In an essay, the self-described "semiprofessional wedding attendee" offers her list of "I Do's" and "I Don'ts" for nervous wedding guests.
Emily Howe and John O'Brien didn't look far for a place to get married. They held their 2015 wedding on their Tunbridge sheep farm, and guests enjoyed the site so much that they encouraged the couple to rent it to others. Landgoes Farm has become a popular — and affordable — barn-chic wedding venue.
Weddings haven't always been lavish affairs. When Diane and Frank Farrington got married in Randolph in 1953, four people attended the ceremony — including the couple. The Farringtons are one of four pairs of high school sweethearts who spoke with Sally Pollak about their lasting relationships.
One key to a good relationship: good sex. At Earth + Salt in Burlington, the pursuit of orgasm is the top priority. The shop's curated array of products embraces sex-positive pleasure seekers of any gender identity, sexual orientation or kink proclivity who are at least age 18, and its owner emphasizes the value of openness and communication.
Looking for a sweeter Valentine's Day gift than sex toys? Try the confections at Daily Chocolate in Vergennes. After 17 years in the Little City, the chocolatier is about to move to a bigger storefront right upstairs from its original location.
While you're there, maybe you could pick up a box of chocolates for Lisa Fennimore and Nate Wright, the couple who co-own Marble Valley Kitchen in Rutland. They've never sat down to a romantic Valentine's Day dinner because they're always busy working together on the big day — and they couldn't be happier about that (page 44).
Fennimore and Wright, who are both chefs, are likely to get a kick out of Morgan English's poem "Never Give Your Love a Knife, Because." We think you will, too.