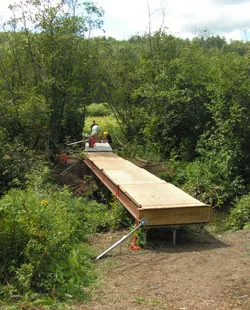 Click here for more Summer 2008 Hot List picks.
Crunching through the forest and then scrambling to the summit of a Vermont peak for heart-hammering views and fistfuls of trail mix is one of summer's greatest pleasures. But when you're sharing those same paths with a conga line of fellow foot travelers, going up can be a downer. Camel's Hump shoulders more than 20,000 hikers each year, according to the Green Mountain Club, while Mount Mansfield's distinctive face sees more than 40,000 people trample across its Nose and Chin.
This year brings a couple of new twists to old trails that make "roads less taken" even more appealing. On Belvidere Mountain, part of the Long Trail between Jay Peak and Sterling Mountain, the Green Mountain Club has finished refurbishing Tillotson Camp, the last of the original structures built by Roy Buchanan in the 1930s. According to GMC Executive Director Ben Rose, the 7.9-mile loop connecting Tillotson to the top of Belvidere is relatively unknown. Climb the summit's 50-foot fire tower, and you'll gape not only at the Green Mountains but also at the White Mountains of New Hampshire (including Mount Washington) and peaks across the border.
For wheelchair users, there's other good news from the GMC. This spring, the club received a $15,000 grant from the Christopher and Dana Reeve foundation to help finish building an accessible boardwalk and viewing platform at the base of Thundering Falls — the tallest waterfall in the state — near Killington. The area is part of the Appalachian Trail, whose West Virginia-based board provided the final funding for the project this month. "The stars are aligned," says Rose, whose club will build the boardwalk in time for an official unveiling on Saturday, September 13.