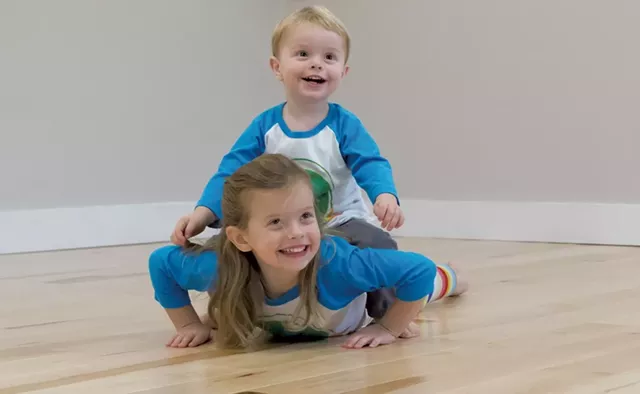 courtesy of dwelling photography
While parents of young children tend to be pros at multitasking, exercising while child wrangling often feels impossible. And sometimes Mama (or Papa) just needs an hour to sweat it out. In February, Evolution Prenatal & Family Yoga Center began offering childcare services during three morning classes in its Essex Junction location. Families can preregister for childcare during Evolution's Monday 10:45 a.m. and Saturday 9:45 a.m. strength training classes, and its Wednesday 10:45 a.m. yoga class. Kids — from crawling to 6 years old — can cavort in the center's downstairs playroom while parents burn energy and build strength in the upstairs exercise studio. Babies who aren't yet crawling can still accompany their parents to class. "People have been asking for this for a while," owner Susan Cline Lucey said. "There are a lot of people home with their kiddo who need this."
Preregistration is required for childcare at Evolution Prenatal & Family Yoga Center in Essex Junction. Cost is $5 in addition to the class fee. For more information, visit evolutionprenatalandfamily.com.