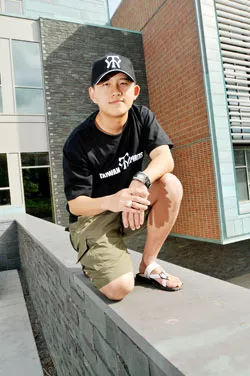 Norwich University cadets Hung Ching-Hao and Liao Tzu-Chuan are modest types, even though both young men have plenty to brag about.
Hung, a 22-year-old senior majoring in communications, and Liao, a 21-year-old junior studying biology, are "cadres," or upperclassmen who mentor younger cadets. Each maintains a GPA well above 3.3 — an impressive feat for any Norwich student, let alone those learning in a language they could barely speak before arriving on campus.
Hung and Liao, international exchange students from Taiwan, are graduates of the Chinese Military Academy, an elite school in Taipei that has groomed generations of high-ranking Taiwanese military officers. Handpicked from hundreds of classmates vying for scholarships to American military colleges, Hung and Liao have brought to Norwich a combination of academic rigor, self-discipline and esprit de corp that is the envy of many of their fellow cadets.
The ties between Norwich and Taiwan date back to the early 20th century, before the island nation broke from mainland China in 1949. Kaun-Shun Yao, Norwich's first graduate from China, in 1914, rose to the rank of general in the Chinese army and helped establish the Chinese Military Academy. In fact, 14 of Norwich's first 19 students from China later returned home and became generals. However, due to the shifting geopolitical situation, Norwich didn't see any Chinese cadets between 1932 and 1985.
Seven Days sat down with Hung and Liao shortly before last week's convocation, which marks the formal start of the school year. The small, hilly campus was alive with activity. New, buzz-cut cadets, or "rooks," marched in rows, rigidly squaring off corners at each turn and shouting in-unison greetings to upperclassmen and passing visitors.
Hung was dressed in a blue, starched military-dress uniform; he was due to accept an award at convocation in yet another formal recognition of his academic achievements. Liao was dressed more casually, but his clothes were also starched and pressed.
Hung speaks in slow, measured English, which reflects both his modesty and a desire to express himself clearly. It may also have something to do with the fact that both his mother and father are deaf. So, in addition to English and Taiwanese, he's also fluent in Chinese sign language. (Hung refers to his home country as Taiwan and not by its official moniker, the Republic of China, explaining that many Americans still confuse his island nation with the Peoples' Republic of China.)
Most rooks find the physical and psychological rigors of life at Norwich to be the biggest challenge of a military education. But that was "no problem" for Hung; he began his own military training at age 13. (All Taiwanese males are conscripted into the military by the age of 18.) Instead, he says, the hardest part was getting used to how rapidly his fellow students speak English and their proclivity for colloquial expressions.
"When I first came here, I didn't have any idea what my cadets were saying," Hung admits. "People here swear a lot. It distracts your attention."
Now a senior, Hung says his English has improved significantly. And, he says he's come to relish another fundamental difference between life at Norwich and his years at the Chinese Military Academy: the amount of free time that students devote to "personal development."
At the Chinese Military Academy, Hung says, "It's more strict. There, they don't have much freedom . . . Here, you're pretty much free. We do whatever we want."
Liao agrees. Like Hung, Liao didn't grow up in an army family; he's the son of a construction worker father and a mother who worked as a babysitter. But he chose to make a life in Taiwan's military and is thinking about becoming a paratrooper, noting it's an unlikely career path compared to those of his friends back home. Apparently, few Taiwanese young men voluntarily join the military, where morale can be low, especially among enlisted personnel.
Liao agrees that life in the Chinese Military Academy was "very different . . . We didn't focus on academics too much. Here, we have really good programs."
******
Hung and Liao's presence at Norwich represents a century-old tradition of hosting international students who come to the Northfield campus for academic and military training.
Despite U.S. involvement in two wars that are unpopular here and abroad, Norwich officials report that international enrollment has never been stronger. Apparently, students from all over the world, seeking both military and traditional educations, are more interested than ever in studying in the Green Mountains.
Currently, there are 56 international students from 20 countries enrolled at Norwich, about half of whom belong to the Corps of Cadets, which prepares them to be career soldiers, according to Jenifer Atwood Hasenfus, Norwich's international student advisor. Hasenfus says that Norwich's international enrollment is affected by what happens on the global stage, though not in the way you might expect.
"The impact has actually been very positive" in the last seven years, she notes. "While other schools elsewhere in the country have had trouble attracting international students, we saw a surge in foreign students after 9/11."
One reason, she explains, is that Norwich, and Vermont in general, are perceived as safe places to live, but aren't too far from major metropolitan areas such as Boston, Montréal and New York City. Interest in Norwich has shifted from European students to those from more "far-flung places," such as Thailand, Russia, Indonesia and Cameroon.
Norwich began formally accepting foreign students in 1827, although the first international student to graduate from N.U. was a Cuban in 1824, according to Kelly Gonzalez, Norwich's historical collections specialist. Norwich's founder, Capt. Alden Partridge, a former West Pointer, considered the recruitment of foreign students to be a vital part of the school's mission. Many international students have gone on to the highest-ranking positions in their own militaries.
George M. Colvocoresses of Greece, class of 1831, commanded the U.S.S. Saratoga during the Civil War. "His tuition was paid by Capt. Partridge after most of his family was killed by the Turks in Greece," Gonzalez explains in an email. "He went on to have an illustrious career in the U.S. Navy."
The upper echelons of Thailand's defense force, the Royal Thai Military, have included a number of Norwich alums over the years. A Norwich grad served as Thailand's chief of staff during the 1990s. At the same time, Norwich's best-known alum, Gen. Gordon Sullivan, was serving as Army chief of staff for President Bill Clinton.
That Norwich's foreign students tend to be buffered from the tensions between the United States and their home countries is a testament to the diplomatic nature of a foreign-exchange education. Despite the Cold War, from 1968 until 2000, Norwich had a Russian School, which attracted many Soviet students and teachers. Norwich's first Iranian students came in the late 1970s, during the Tehran hostage crisis.
Now that the U.S. government has begun to allow student visa applications from Iraqis, Hasenfus is "fairly sure" the school will soon begin seeing applicants from that war-torn country.
The grads won't be the only beneficiaries. Since 1999, four of the school's last 10 valedictorians have hailed from overseas, Hasenfus reports. "If you can do that in your third language, with a double major in engineering and computer science," she says, "that's really raising the bar."
Some international students stay on in the United States after graduation, gain citizenship and enlist in the U.S. military; others pursue careers in the civilian sector. But most of them — at least among those in the Corps of Cadets — return home when they complete their studies. Hung and Liao plan to go back, and to show their country, and its military, a few things that are uniquely Vermont.
"I think I'm kind of easygoing now. In Taiwan, we are so serious," says Liao. Though he admits he still yells at his freshmen, "We'll try to explain more. I think this way of teaching is better . . . I won't be a bulldog all the time."