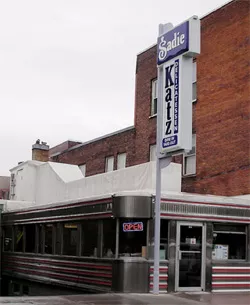 Locals who are still mourning the loss of Sadie Katz Delicatessen may take some solace in the new arrival in its wake, if diners can switch their allegiance from latkes to tacos. El Cortijo Taquería y Cantina will open in the space sometime this winter, with a bar, take-out window and New England Culinary Institute-trained chef.
"El Cortijo" translates to "the farmhouse" — a clue to who's behind these tacos. The new owners are the crew from the Farmhouse Tap & Grill, who have bought the historic diner. They will transform it into a lunch, dinner and late-night spot serving farm-fresh tacos alongside local and Mexican beers, tequilas, margaritas, and a "killer housemade sangria," says Farmhouse owner Jed Davis, who envisions a bustling after-hours scene.
Farmhouse chef Phillip Clayton, who nurtured a love of tacos during his North Carolina upbringing, will oversee the menu. Davis says to expect traditional standbys such as tacos al pastor, tacos de pescado and tacos de lengua, as well as some creative appetizers. "[Mexican food] is a natural vehicle for local food," he adds, and the success of Taco Tuesdays at the Farmhouse has provided definite encouragement.
Since the dining car that once housed the Oasis Diner is on the National Register of Historic Places, renovations won't be dramatic, but the partners are striving for a "gypsy-ish" interior. They plan to replace the diner counter with a wooden bar top, lay new tile and hang lights from Conant Metal & Light, as well as open a taco take-out window facing Bank Street. "We're definitely embracing the history of the building but giving it some interesting tweaks," says Davis.
Now we just need another place to grab an overstuffed pastrami sandwich.