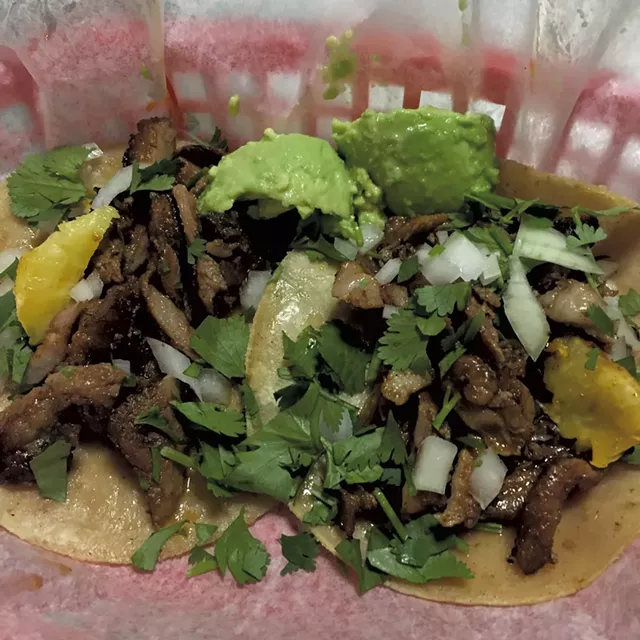 Courtesy of Taco Gordo
Tacos at Taco Gordo
When Taco Gordo opened last week at 208 North Winooski Avenue in Burlington, it added a taqueria to the array of dining options that extends from Shinjuku Station, a sushi place at the corner of North Street and North Winooski, to Pizzeria Ida, a block off North Winooski on Riverside Avenue.
"This is the restaurant district," noted Benjy Adler, co-owner of the Skinny Pancake restaurants and the Old North End's Chubby Muffin. He lives near Taco Gordo and stopped by on opening night, when the full house included students, little kids, musicians, dancers, neighbors and cooks.
Owned by Charlie Sizemore, Taco Gordo started as a food cart on the Church Street Marketplace. In its new location, the restaurant shares space with All Souls Tortilleria, which produces corn tortillas and chips that are served at Taco Gordo and distributed throughout the state. The businesses occupy the renovated triangular building at the corner of North Union Street and North Winooski Avenue that previously housed the Burlington Beverage Center and Bottle Redemption.
"It's fantastic," All Souls co-owner Sam Fuller said. "We're loving cranking along, making fresh tortillas and masa."
A long bar is the centerpiece of Taco Gordo, offering half a dozen tequila and mezcal cocktails, including a spot-on $7 house margarita. On the menu are $2 to $4 tacos topped with chopped onion and cilantro. The Al Pastor ($4) is made with pork marinated in chile paste and roasted on a spit with a pineapple on top.
"I hope it brings a cool and unassuming gathering space to the neighborhood," said Sarah Feigelman, a baker at the Chubby Muffin who was at Taco Gordo on opening night. "I think that would be really neat."