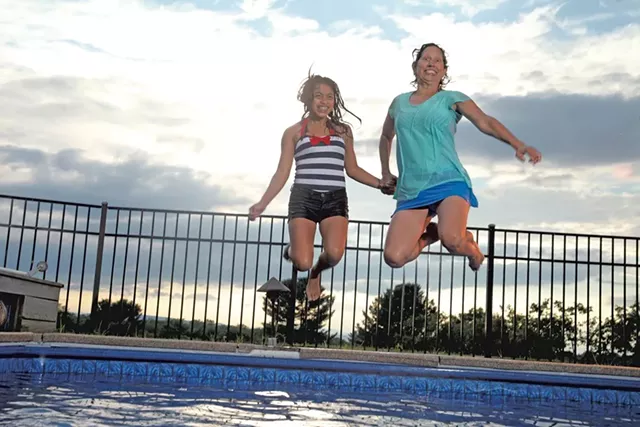 matthew thorsen
Mom: Linda Berlin, 56, director, University of Vermont Center for Sustainable Agriculture; extension associate professor, UVM Department of Nutrition and Food Sciences
Daughter: Karina, 12
It's sunset on a humid summer night, and Linda Berlin's west-facing house is filled with golden rays. Toys float and shimmer on the surface of the backyard pool, a reminder of the playful games she and her 12-year-old daughter, Karina, enjoyed the night before.
As a single mom, Berlin juggles working, paying the bills, maintaining the house and caring for her daughter on her own.
When she was younger, Berlin never imagined embarking on the journey of parenthood solo. She had been in relationships with men, and was once married. Then, in her early 40s, she found herself ready to be a mother — and single — so she decided to adopt.
Linda traveled to Guatemala in 2004 and met 1-month-old Karina. When Karina was 8 months old, Linda brought her home to Vermont; they've been inseparable ever since. And since last September, they've also been sharing their home with Linda's mother.
On the morning routine:
Linda: I get up sometime between 5 and 6 a.m., and I walk the dog, read the newspaper, make the coffee, eat breakfast and, if I have work to do, get some work done until I wake Karina up. I am probably more involved, and foster less independence, because I have one kid. We interact a lot, as opposed to: Set your alarm. Get up. So I wake her up and she comes downstairs and feeds the animals [dog, guinea pigs and fish], and I make her breakfast. Then she goes upstairs and does her whole routine and, during the school year, I make her lunch.
On healthy eating versus independence:
One of the balancing acts I play is — because my field is food and nutrition — it's always about how much do I facilitate her independence to make her lunch, versus if I do it, I am chopping up vegetables, I am cutting up fruits, I am doing all those things. So I've been having this conversation with myself that maybe it's time to shift those routines and have her more engaged in doing them, even if the outcome is not as healthy as what I would prefer.
On their summer schedule:
I am a 12-month faculty member and I also direct a center. A lot of faculty work nine months, so that means there aren't as many meetings because a lot of people aren't there. There's a lot more flexibility in the summer because not every minute is packed with things to do, so that's really, really helpful. Karina has tutoring two mornings a week at 9 a.m., and she has music on Thursday evenings, so I often can take her and then a friend's parent picks her up. Or my mother picks her up. This summer, I had no idea how things were going to go after our initial childcare situation didn't work out. I was just going to leave it up to the gods, but she is so happy being at home, and we are making it work.
On decision-making as a single parent:
If I had a partner, and we were planning things together, we would probably have a conversation that would lead to really explicit decision-making. In the absence of that, it's an internal conversation that's sort of like, Oh, I think I should do this. And then I get distracted because I have work to do or something else comes up. So the conversation is sometimes like, Yeah, I was going to make that list of the five things she's got to remember to do if she wakes up in the morning and I am not here and Grandma's here, but I haven't made that list yet!
On intergenerational living:
Sometimes it's a struggle, sometimes not. I would never have been able to have this summer work out as it is if Mom wasn't living with us. Karina and I are a team; my mom and I are a team; Karina and my mom are working on finding that connection.
On the lack of "me" time:
It would be great, but it happens pretty infrequently. On the weekends, it's making lists and grocery shopping and laundry and cleaning out animal cages and paying bills and doing work, and there are just a lot of pieces to it. I keep thinking, How do other people do it? And then I realize that it is really different when you have the whole set of responsibilities. I used to say that [time for myself] can't happen now; it's just not part of my life and that's OK. But the good news for me is that I find enough ways to regenerate my energy in little ways — like taking the dog for a walk. Even though it is a responsibility, when I go out in the early morning and the sun is rising, I feel I am walking into the sunrise, and it's awesome. After I drop Karina off at school, I change the station to public radio because I love listening to public radio. Or when I am cooking dinner, I put on music I want. So it's like figuring out the ways, through those responsibilities, to get the things that I like.