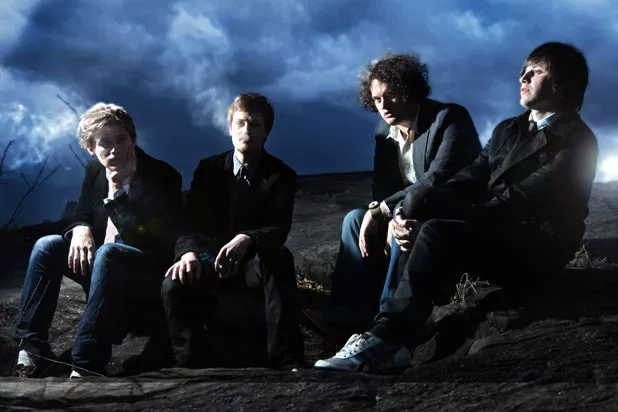 By most measures, TAB the Band are not terribly different from any number of successful, up-and-coming indie acts. They've done South by Southwest. They've notched blips on the radars of NPR, PopMatters and Rolling Stone. They've toured the country and parts of Europe opening for big names such as Dinosaur Jr. and Black Rebel Motorcycle Club. They've got kind of a retro cool about them that the kids seem to dig. They have sweet T-shirts for sale. TAB the Band are pretty much "living the dream." And yet, to quote the late, great Rodney Dangerfield, they "get no respect."
TAB was founded by a pair of brothers, Tony and Adrian Perry. Again, that's not an unusual biographical factoid, found on scores of poorly written band one-sheets and promo materials. But TAB are unusual. They are "different." And it's all because of that pesky surname: Perry.
Adrian and Tony are rock 'n' roll royalty. Or at least their dad is. They are the sons of Aerosmith guitarist and honest-to-goodness rock god Joe Perry. One might think such a lineage would be an asset, especially given the oft-nepotistic nature of their chosen field. But as is so often the case with the progeny of the rich and famous, their given name gives equal cause for intrigue and skepticism.
Seven Days recently caught up with TAB the Band bassist and vocalist Adrian Perry by phone from LA in advance of their upcoming show at The Monkey House.
SEVEN DAYS: It seems as though you and your brother were brought up on some pretty cool, and obscure, music. Was that something you appreciated at the time?
ADRIAN PERRY: Well, I grew up with my mom out in California. So my musical tastes basically evolved of my own volition. My mom listened to a shitload of Cheap Trick and I remember getting into that. As I got a little older, though, my dad introduced me to the Jeff Beck Group. And there were some obscure things along the way that he introduced me to. But my initial musical formation was really just through The Beatles. I loved them from the time I was a little kid. My grandfather was a jazz musician and teacher, and I listened to a lot of that. My first gigs were jazz. So it's really just a melting pot.
But it's true that there were groups my dad was familiar with from the '60s and '70s that I wouldn't necessarily know about, like Blodwyn Pig, that most kids maybe wouldn't have the exposure to. But that's something that kind of happened a little bit later. But it's definitely fun to have all of those different influences, from my grandfather to the stuff my mom listened to and what my dad was into … You definitely benefit from having musicians in your family.
SD: There's often a stigma attached to being the children of famous people. Is that something you've experienced, or that you try and distance yourself from?
AP: I don't know that I try to distance myself from anything. We don't trade on it. Just because, if you want to be taken seriously, you can't. We're not angling for a reality show. We're a real band. We do what we do because we love to do it.
But that's just one of the problems. People often assume that it's a real benefit. But I think there are many more drawbacks than benefits to the association. Which is unfortunate, because it's weird to be put in a situation where you're, like, almost running away from your family. It's just weird. I like the fact that it's a musical family … that's a cool thing. But it's a fine line.
Most people will listen to our music through a lens of "How much does it sound like Aerosmith?" But we're just a different band. And they'll assume other things. Like we're just a bunch of brats, or we don't work hard. Typical things. Obviously, I don't think it's true … But it's par for the course. We're used to it. We don't get pissed off when people ask. You just have to go in there and win 'em over with what you do. And people will either accept you or they won't. But ultimately it's not our problem.
SD: But the music you play is evocative of at least the era during Aerosmith's heyday. Do you think things might be easier for you were that not the case?
AP: Potentially. I think if we played a totally different style of music, it would make it next to impossible to make those comparisons.
SD: If you were like a hip-hop band, or something…
AP: Yeah. But it's funny. We've had those conversations. But it's not like we consciously chose to play this style. We all kind of like rock, pop, guitar stuff from the '60s and '70s. And that music has influenced everyone from my dad to any band that you listen to that has guitars. The commonalities are more due to the fact that we probably have the same influences, not because we're trying to sound like a '70s band. But, yeah, if we didn't play classic-sounding rock 'n' roll, there would be less of those comparisons. But we're not gonna let that dictate what we do.
SD: You guys have certainly reached a modest level of success and done some cool things. But when you play here, you'll be at a pretty small club. It seems like you're still paying your dues.
AP: Well, that's what we have to do. We can't play a club bigger than The Monkey House. We're not a very well-known band outside of New York and Boston. It's extremely difficult for any indie band to build a following and maintain it. I mean, this is our first show in Vermont, ever. So this is where you gotta play. But it seems like a cool club and we're really excited.
It's funny, I've had this question before. People think we're doing it on purpose, "paying your dues." But we don't have a fucking choice. We're a dirt-poor band. We have no money. We have no label. There is no magical moneybag in the sky that's, like, "OK, you've paid your dues. Now you can go tour stadiums!" … If we don't pay our dues, we don't have a career. If we don't play The Monkey House, we're not playing Vermont.