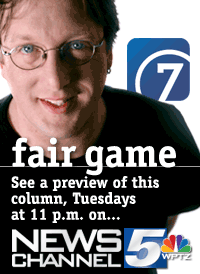 It's crunch time for pols and wannabe pols: June 17 is the deadline to run for local, county or statewide office. Statewide candidates must file a petition — signed by at least 500 registered voters — with the Secretary of State's office.
One big question: Will State Auditor Thomas M. Salmon face a challenge this fall as a result of the negative attention he's attracted?
Democrats and Progres-sives have tried and failed to lure any top-tier candidates to run for the post, even though Salmon seems to be spoiling for a fight.
In an email welcoming Sen. Ed Flanagan (D-Chittenden) as a potential challenger, Salmon wrote, "I am not taking anything for granted, yet remain unafraid of any issue or person." Flanagan served as auditor from 1993 to 2001.
"When two experienced state auditors debate and bring attention to Vermont's accountability office, Vermonters win," Salmon added.
Salmon may get his wish for a tough race, but from a challenger within the GOP. Salmon left the Democratic Party last fall to become a Republican.
State Sen. Randy Brock (R-Franklin), who lost to Democrat Salmon in 2006, is being urged by fellow Republicans to challenge the auditor. Quite a turnaround from last fall, when the GOP openly embraced Salmon's Democrat defection.
Brock is "seriously considering it," reliable sources tell "Fair Game."
Brock served as auditor for one term, defeating Democrat Elizabeth Ready in 2004. Salmon, in turn, narrowly won the office in 2006 after a statewide recount overturned election-night results.
To date, Brock has only had to collect 100 signatures to run for reelection. He'd need 400 more to get his name on the statewide primary ballot.
That shouldn't be a problem for Brock, though, who is a popular figure in the GOP. He's an articulate, affable spokesman for the party and its conservative fiscal values. Plus, he's always been a Republican.
Salmon, the son of popular two-term Democratic Gov. Thomas P. Salmon, joined the GOP less than a month after Gov. Jim Douglas decided not to run for reelection.
If Lt. Gov. Brian Dubie had decided not to run for the top spot, Salmon would have been perfectly positioned to run for either governor or lieutenant governor in 2010.
Then came a string of incidents and revelations that raised questions about the auditor's judgment and management abilities, including a DUI, improper use of state email and a camcorder for political campaigning, and awarding a $20,000 raise to a top aide while urging state workers to take pay cuts. It turned out that Salmon had a history of financial problems before he took office in 2007.
None of these scandals appears to have deterred his political ambitions. Quite the opposite, in fact. In the same week Salmon told me to "fuck off" via email, Salmon penned a letter to the Brattleboro Reformer putting U.S. Sen. Bernie Sanders on notice for his anti-Vermont Yankee stance.
"Be advised, Sen. Sanders," Salmon warned. "In your 2012 election, you will meet me or another qualified Republican candidate who is going to hold you accountable for this Green Ego Ride that you and many of our nation's leaders are on."
One election at a time, auditor.
Salmon Scrub
Last week, on his WDEV-FM talk show, host Mark Johnson reeled in Auditor Salmon to ask him what possessed him to send an expletive-laden email to a journalist.
The fry reiterated, as he did to me, that there's no right way to do a wrong thing.
True dat.
That's why I accepted his apology and his "friend" request on Facebook.
Johnson pressed on, asking whether everything was OK with him personally.
Salmon admitted people ask him if he has "anger issues or frustration issues."
"I knew when I came back from the desert that I would be frustrated by people who probably left their hat on during the national anthem," said Salmon. "I didn't know I'd be as frustrated if I saw the American flag on a stamp, being put on a stamp on a letter upside down."
As part of his post-DUI, court-ordered participation in Project CRASH, he is voluntarily taking part in 12 counseling visits at the Veterans Administration clinic in Colchester, Salmon told Johnson.
"I'm in the process right now of doing a hard scrub, reflective scrub so that I'm stronger, more focused, and, I've got to tell ya, I think it's going to produce a lot of fruit for me personally, but more so for my ability to serve others, which is really the core reason I'm in politics, and why any of this public difficulty or criticism or embarrassment or humiliation is worth it if you can advance and strengthen the auditor's office and you can advance the cause of Vermont getting stronger."
Face the Music
Every Vermont gubernatorial candidate's website hosts at least one video message. These online campaign ads tend to be nondescript biographies, short Q&As or snippets of stump speeches from one of the bazillion forums in which they've already participated.
But only one candidate offers hummable music while you are bombarded with political, personal and policy details: Secretary of State Deb Markowitz has two online ads with soundtracks. One is a nearly five-minute opus called "Decade of Service" that uses "Here Comes the Sun" by the Beatles. The other is a one-minute mashup of news clips set to Coldplay's song "Clocks." The gist of the ad? She's setting fundraising records.
With all that cash, she's paying for the use of those songs, right? Or at least getting permission from the artists?
Wrong.
Since "fair use" allows people to use copyrighted material as long as they are not profiting from it, the Markowitz camps thinks it's OK, said campaign Manager Paul Tencher.
A Vermont music attorney says the campaign should have sought, and received, a green light from the musicians.
"In all candor, a campaign should always seek to obtain permission from the owners of copyright before they use music or images that they do not own or have a license to use," said Dennis Wygmans, a Brattleboro music attorney who formerly co-owned Burlington's Club Toast.
If you use cover versions, you only need to get permission from the writer or publisher, he said. To use original versions, a campaign also needs to get an OK from whoever owns the master of the song. In the case of Coldplay and the Beatles, that's EMI.
**
Jackson Browne and the band Heart sued John McCain for using their songs in his presidential campaign without proper permission. David Byrne is taking Charlie Crist to court — for $1 million — because the Republican-turned-Independent candidate for U.S. Senate didn't ask Byrne if he could appropriate the Talking Head's "Road to Nowhere."
The Markowitz camp reacted with classic campaign spin: "This is the kind of distraction that frustrates voters who want a meaningful discussion of the issues that affect their lives, like creating jobs, securing our energy future and ensuring the next generation of Vermonters has the education, health care and jobs they need to succeed," said Tencher. "This is exactly the politics-as-usual Vermonters are sick of. If our opponents want to debate the legal gray area of fair use in music on campaign videos, that is their choice," he continued. "Deb remains focused on listening to Vermonters' concerns and sharing her plans for how she will address the challenges facing our state."
Battle Scars
More than 100 people gathered in Battery Park on Monday to take part in Burlington's annual Memorial Day ceremony hosted by the VFW Post 782.
U.S. Patrick Leahy (D-VT) was the only politician who spoke at the event — both U.S. Sen. Bernie Sanders (I-VT) and Rep. Peter Welch (D-VT) sent surrogates.
Speakers urged onlookers to thank a vet when they pass one in the street, but, more importantly, to remember the thousands of Vermonters who have died while serving their country.
Missing in action was Burlington Mayor Bob Kiss, who was not formally invited to the event.
Why?
A Kiss surrogate upset vets and their families with an antiwar speech delivered at a November Veterans Day ceremony. Kiss never vetted the speech, and after it created a firestorm of public criticism, he apologized — more than once — to local VFW Commander Bob Colby.
Old wounds still hurt.
Media Notes
Big changes are coming this fall to WCAX, just one year after its longtime news director and anchor Marselis Parsons left the station. In September, WCAX is planning to launch two new newscasts, one at 5 p.m. and one at 5:30 p.m. Roger Garrity and Bridget Barry Caswell will anchor the 5, while Kristin Carlson and Mike McCune are teaming up for the 5:30 show.
The 6 p.m. news hour will not change, said Anson Tebbetts, WCAX's news director.
Later this summer, Carlson will turn over the title of Montpelier bureau chief to Bianca Slota. Congrats to both!
With the changes, WCAX will soon have full-time reporters stationed in Montpelier, Rutland, Plattsburgh, N.Y., and West Lebanon, N.H., as well as its full crew in South Burlington, said Tebbetts.
WPTZ NewsChannel 5 has been running a 5:30 p.m. news show since 2005, and a 5 p.m. show since 2002, according to Sinan Sadar, the station's news director.
** The online version of this column has been updated. The comments of a music industry executive, who was mistakenly quoted in the original, have been removed.
Got a news tip? Email Shay at shay@sevendaysvt.com
Click here to follow Shay on Twitter.