When the 2008 Olympic Games took place in Beijing, they seemed pretty distant from the average Vermont viewer — and not just because they were in China. No, it's that the summer events always look so daunting: To execute a perfect dive or sprint 400 meters requires a lifetime of training, preferably in a climate more temperate than ours.
But the Olympic Winter Games? Different story. Skeleton, ski jumping, ski cross — these events are fun. They're filled with daredevil feats — but ones we may have seen our elite local athletes perform. They're freaking cold. In other words, the Winter Games are perfect fantasy fodder for Vermont's Walter Mitty types.
So, on the eve of the 2010 Vancouver Games (February 12 to 28), we've rounded up some of the best places to try out Olympic winter sports for yourself. And, while Team USA won't be finalized until just before they take their trip north of the border, we've also noted some local athletes who might make it there.
******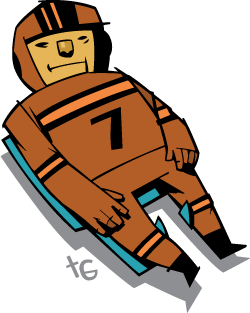 Luge
Two winters ago, I joined the Adirondack Luge Club on one of its evening sliding sessions, and I'm still giddy with terror when I think about rattling down the track feet first, my butt 4 inches from the ice. In the dark. The club — of which you can be a member all winter for just $40 — is a mix of rookies and Olympic team members. They practice most Saturday nights at Mount Van Hoevenberg's Olympic Sports Complex in Lake Placid.
Locals to look for at the Vancouver Games: Chris Mazdzer (Saranac Lake, N.Y.)
Bobsled
The Olympic Regional Development Authority (ORDA) in Lake Placid promises the half-mile "Bobsled Experience" at the Olympic Sports Complex will make you feel like a comet — one with a professional driver and brakeman to make sure your icy body doesn't end up in the Milky Way. For $75, you get a minute or two of adrenaline, a year's membership in the U.S. Bobsled and Skeleton Federation, a photo, a pin and, most importantly, 20 percent off your next ride (available Wednesdays through Sundays).
Skeleton
Like the Bobsled Experience, ORDA's Skeleton Experience is an insane sport on training wheels. On most Saturdays and during holiday weeks, anyone 13 or older can slide down an icy chute on his or her stomach for $60. For tourists starting slightly lower on the track than Olympians, the sled reaches speeds of 30 miles per hour — with no steering mechanism and no brakes.
Locals to look for at Vancouver: Caleb Smith (Lake Placid, N.Y.)
Ski Jumping
Vermont's own ski-jumping venue, the historic Harris Hill in Brattleboro, does not offer lessons. ("I'm guessing our insurance company would go into cardiac arrest," writes a representative by email.) But just over the border in New Hampshire, the Ford K. Sayre Memorial Ski Council will allow adult jumpers, on their own alpine skis, to join high schoolers on Monday and Wednesday training nights with coach Chris Hastings, an Olympian. The club also hosts occasional "learn to fly days."
Locals to look for at Vancouver: Bill Demong (in Nordic combined, a combo of cross-country skiing and ski jumping; Vermontville, N.Y.), Anders Johnson (Plattsburgh, N.Y.)
Figure Skating
Even if you don't know a double axel from a triple salchow, you can channel your inner Peggy Fleming, Tonya Harding or Brian Boitano during Saturday night adult skating classes at Burlington's Leddy Park Arena ($60 for Burlington residents for six weeks). Return on Sundays to perfect your twirls, twizzles and spirals.
Curling
This sport rocks. And since 2005, the Green Mountain Curling Club (GMCC) has made sure Vermonters can learn to throw stones, sweep the ice and outmaneuver other curlers. Slowly, the club is moving closer to the Queen City, too; after ice time in Québec and Morrisville, the GMCC is now curling at Milton's Ice Barn and is planning a special fundraiser for the HowardCenter at South Burlington's Cairns Arena. Learn-to-curl clinics are $25.
Alpine Skiing
Stowe's fabled Front Four are steeped in ski-racing history, from Nosedive hosting the Vermont State Downhill Championship in 1938 to the same slope staging NCAA Championships in 2000. And, while the prestigious World Cup no longer stops in New England, this is about as close as you can get in Vermont to big-time racing. The Mount Mansfield Ski & Snowboard Club organizes a slew of downhill events, including junior ski-racing programs, the Stowe Derby (February 28) and the Ski Bum Race Series on Tuesday nights.
Nordic Skiing
In summer, it's rowing. In winter, the main focus of the Craftsbury Outdoor Center in Craftsbury Common is Nordic skiing — specifically, supporting and promoting participation and excellence in the sport. There are races here nearly every weekend (the best known being the Craftsbury Marathon on January 30). There's also a ski club that offers instruction and training, and one of the most inspiring trail systems in the state.
Locals to look for at Vancouver: Andy Newell (Shaftsbury)
Freestyle Skiing
There's no better place in Vermont for learning to ski moguls than Killington's Outer Limits, the longest and steepest bump run in the East. OK, so maybe there are kinder spots, but none with more bragging rights. The Big K has also seeded, or specially groomed, moguls on Lower Vertigo. The Bear Mountain Mogul Challenge happens on March 27 and 28, and adult mogul camps on February 20 and 21, and March 20 and 21, cost $330 (with lift ticket).
Locals to look for at Vancouver: Hannah Kearney (Norwich)
Biathlon
You ski, you shoot, you score. The Ethan Allen Biathlon Club in Jericho Center has one of the best junior teams in the world and hosts races and training opportunities for athletes of all ages. But for a fun twist on the sport, check out the fifth annual Paintball Biathlon at the Mountain Top Inn & Resort's Nordic Ski & Snowshoe Center in Chittenden on January 30 and 31 — you ski, you splatter, you score.
Locals to look for at Vancouver: Lowell Bailey (Lake Placid, N.Y.), Tim Burke (Paul Smiths, N.Y.), Annelies Cook (Lake Placid, N.Y.), Susan Dunklee (Barton), Haley Johnson (Lake Placid, N.Y.)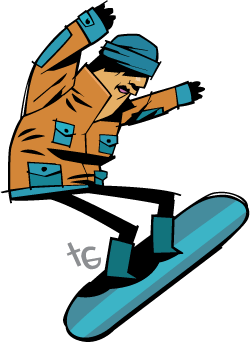 Snowboarding
Vermont teems with riding opportunities. But the closest to Burlington (unless you count the ramps behind Burton headquarters) is at Bolton Valley, where snowboarders ages 6 to 18 can train all season with the mountain's team. Boarders can also compete in the Wednesday evening Night Rider series or work on their skills in the Burton Learn to Ride program.
Locals to look for at Vancouver: Lindsey Jacobellis (Stratton Mountain), Hannah Teter (Belmont)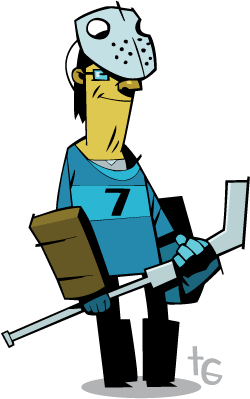 Ice Hockey
It's hard to throw a hockey stick and not hit some playable ice in northern Vermont, but sometimes it can be a challenge to figure out when you can play hockey — or how. Full Stride offers adult beginners' lessons all winter, in both women-only and coed sessions. Also, check town rec department websites for weekly stick-and-puck offerings.
Locals to look for at Vancouver: Hilary Knight (Hanover, N.H.)
Speedskating
Most speedskaters train at indoor venues, but Nordic skater Jamie Hess of Norwich has a much better place in mind: the silky-smooth glass of Lake Morey, where he hosts Nordic skating workshops ($30) all winter. Ice permitting, there are also upcoming workshops on Lake Champlain.