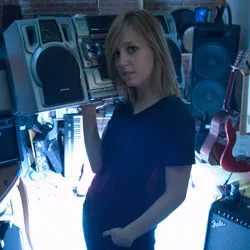 Matthew Thorsen
Alexandria Hall
Alexandria Hall is half-sitting, half-dancing in a chair at Nunyuns, in Burlington's Old North End, laughing as she imitates her own first appearance in a music video. It was during a recent shoot for her song "Skin," and the director, who's also a friend, kept telling her, "Left arm! No, the other left arm!"
"He told me I was just going limp on one side," she explains. "And then I'd go limp on the other side." She bubbles up again while doing her one-sided dance moves.
Hall has been writing and releasing "downer pop" songs under the name tooth ache. since 2008. When asked about that description, she admits she never knew it would come up so often in interviews. She picked it to tag the songs on her Bandcamp page, thinking it was better than another choice the DIY music site provides: "It sounds just like everything else."
While tooth ache. doesn't sound like everything else, her songs aren't downers, either. Not entirely, anyway. While introspection and yearning guide the way, there are also manic synth arpeggios and staccato beats on songs like "Skin," the A-side of her newly released 7-inch single on Father/Daughter Records. When she reaches for a few high notes during the song's chorus, a sunnier tune stretches its arms, waking up.
It might be better to call Hall's songs woozy soul. On "Lazarus," the record's B-side, she croons the line "Lazarus in the porch light / don't bring me down" over funky drum hits and a droning synth line that makes you feel like you're swaying back and forth at the end of a late-night dance party, drink in hand, half asleep.
Hall started writing songs on an acoustic guitar as a teenager. She even went through an earnest singer-songwriter phase, cutting her teeth on folk gigs at Radio Bean. But two years ago a friend left a drum machine, distortion pedal and some keyboards in her basement. She excitedly set it all up and recorded a handful of songs in an afternoon, writing as she went along. Then she posted them on MySpace the same day. She claims it was a joke — at first.
"But then I needed to come up with a name for it," Hall says. "I'd been thinking about starting a project like that, and I'd been thinking about something to do with teeth and the mouth … I grind my teeth a lot. They hurt a lot. All the time."
She named the project tooth ache. and started playing gigs around Burlington and Winooski. Her setup was simple: drum machine, keyboard, a few effects pedals. She recorded several more songs, added them to the MySpace tunes and sold them on a CD-R she called Illogically Chronic.
Then, last fall, the Brattleboro-based, folky a cappella girl group Mountain Man received a round of rapturous applause after singing a three-part-harmony version of Hall's song "Holy Father" during a CMJ Music Marathon showcase in New York City. Videographer and archivist of the New York indie-music scene Ray Concepcion posted a video of the performance on Vimeo and it started popping up all over the Internet.
"I taught ["Holy Father"] to Alex [Sauser-Monnig] and Molly [Sarle] while we were sitting in front of our music building at Bennington College, and then it just went from there," says Amelia Meath of Mountain Man during a recent call from New Mexico. The trio is currently on a West Coast tour with Jónsi, of the Icelandic band Sigur Rós. "It's a really good song to get people's attention," says Meath. "The way that it's structured is really unique and really exciting to me ... I'm a big fan."
Soon afterward, Hall received an email through MySpace. It was from Jessi Hector, who was starting a label called Father/Daughter Records. She wanted tooth ache. to be the label's first act.
At first, Hall didn't believe Hector was for real.
"I was, like, 'Send me an email to this email so I know you're not a scam,' she recalls, laughing. "'Cause on MySpace you get so many of those people who are, like, 'I'm from a promotions company, blah, blah, blah.'"
Father/Daughter pressed 500 copies of Skin 7 on clear vinyl. Hall's friend Matt Mayer, a cofounder of Burlington's cassette label NNA Tapes, designed the sleeve. The cover image is a Polaroid of Hall laying on her side on a bed in a low-lit room, arms wrapped around herself, facing away from the camera. She looks like a little kid suffering from a headache. Or … well, you know.
Positive reviews have popped up on small music blogs and now Hall is about to hit CMJ for her own series of showcases, put on by Father/Daughter, the blog Micro-Pixel-Rites, curator Chocolate Bobka and others.
Though she is excited for the shows, this isn't her first time playing in New York City. In the past year Hall has been there, done that. In fact, she says she's just as likely to find an enthusiastic crowd outside of a city as in it. To wit: She recently opened for Deakin from Animal Collective at Boston's Middle East to a less-than-impressive audience.
The club had double-booked the night; Deakin, Brooklyn psych-weirdos Prince Rama and tooth ache. had to split the evening with a DJ dance party, complete with skimpily clad girls and a "douche-y DJ in a headdress."
"Nobody even knew who Animal Collective was," Hall says. "They were all just coked out and ready to party."
Avey Tare, also of Animal Collective, was deejaying between sets and kept rolling his eyes at Hall, in response to the gaggle of dancers. After she played her set, they talked for a while and he complimented her voice. She gave him a copy of Skin 7 and nervously walked off.
So will support from hot bands like Mountain Man and the guys from Animal Collective help her career? Hall admits that being associated with successful bands is good for marketing and publicity, but she doesn't think it will really help her financially unless someone actually comes to a show and buys a record. Right now, she works at a restaurant to pay the bills.
"I expect to be stuck working in restaurants forever," she says, still laughing.