Courtesy of Alison Noavk
Baby Alison
I can't remember the exact moments my kids, Theo and Mira, laughed for the first time. At 7 and 10 years old, it's been a while since their first giggle. But I do remember the pure joy I felt when it happened.
Courtesy of Alison Noavk
Baby Mira
Clearer in my mind is when my best friend Lexy's daughter cracked up for the first time. Lexy was visiting with her family a couple of years ago, and her infant daughter, Clio, was lying on the bed having her diaper changed. To distract her, I fake sneezed and made a raspberry sound with my lips. Suddenly, an unmistakable burble of laughter came out of Clio's mouth. Her parents were over the moon at their daughter's first laugh, and I felt pretty darn proud to have inspired it.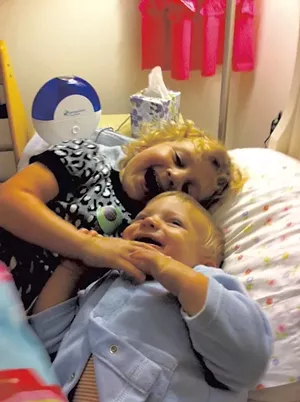 Courtesy of Alison Noavk
Mira and Theo
This month, Ken Picard writes about Johnson State College professor Dr. Gina Mireault, who has been studying humor recognition in young babies. Through some clever studies involving nonsensical beeping sounds and a red clown nose, Mireault discovered that babies laugh spontaneously by 5 months old. Read more about her work in "Laughing Matters."
As we approach the giving season, we've devoted space in this issue to highlight organizations that support people in need. "Special Delivery," tells about Lucy's Love Bus, a Massachusetts-based nonprofit that helps fund therapeutic programs for kids with cancer and other illnesses at several New England hospitals, including the University of Vermont Children's Hospital.
Courtesy of Alison Noavk
Baby Theo
In "Habitat," Grace Per Lee writes about a COTS family shelter in Burlington, where adults and children can live temporarily while looking for stable housing. And Heather Polifka-Rivas shares her family's experience preparing baked goods at the Ronald McDonald House, which provides shelter for families of hospitalized children. We hope you find these articles informative and that they inspire you to help out in your community.
We're also saying goodbye to contributing editor Meredith Coeyman, who is leaving to pursue other opportunities after eight years of working in various capacities at Seven Days and Kids VT. Meredith has written for Kids VT about topics from C-sections to puppy parenting to, this month, being thankful. But most of her work happens behind the scenes, where she's tasked with making sure the writing we publish every month is crisp, original, accurate and honest. She's a skilled editor and writer, a trusted colleague, and a supportive friend. And she's a sucker for a silly baby video. We'll miss her a whole lot.