Bear Cieri
John Brawley with his shrimp nursery tanks
In an old calf barn in Charlotte, where young bovines that would grow to be 1,500 pounds were once raised, a smaller animal is now in production: shrimp. The shellfish at Sweet Sound Aquaculture, Vermont's first shrimp farm, will max out at about an ounce apiece. Once harvested, they are delivered to nearby restaurants, adding a tropical dimension to locavore dining.
John Brawley, the 53-year-old founder and owner of the shrimp farm, is a University of Vermont graduate with a doctorate in marine ecology from the University of Maryland. Before starting his shrimp business, he owned and operated Sweet Sound Oysters, a three-acre oyster farm in Duxbury, Mass., for 15 years.
Brawley's oysters earned fans back in Vermont, where they were served at pop-ups at Hill Farmstead Brewery in Greensboro and in Chittenden County restaurants, including the Kitchen Table Bistro, Misery Loves Co. and the Farmhouse Tap & Grill. A year and a half ago, after spending an increasing amount of time in Vermont, Brawley decided to return; he now lives in North Ferrisburgh.
"I loved oyster farming," Brawley said. "I have really fond memories, and I'm really happy I'm back here. It's just another adventure, part of the journey."
Brawley's business is one of several food and agricultural enterprises at the 600-acre Nordic Farms, which was purchased a year ago by Peterson Quality Malt and Jay and Matt Canning of Hotel Vermont. His project began with the conversion of the calf barn, an effort that involved removing concrete stanchions, pressure-washing the walls and constructing shrimp tanks.
Baby shrimp, which are shipped from a hatchery in Florida, are raised in nursery tanks for about a month. Then Brawley moves them to 8-by-10-foot rubber-lined plywood tanks. Air circulates through the water in the 10 tanks, each of which has a capacity of roughly 2,500 gallons of water and 4,000 shrimp.
The shrimp grow for about three months in the tanks, where they live in saltwater that's kept at 80 degrees Fahrenheit. Brawley produces the saltwater using well water from the farm and salt from dehydrated ocean water. Through his "DIY water-treatment system," the water is recycled after harvest and returned to the tanks. Sweet Sound Aquaculture is harvesting about 100 pounds of shrimp per week.
Brawley's shrimp is on the menu at Hotel Vermont and Bleu Northeast Seafood; Doug Paine serves as executive chef of both.
At Hotel Vermont's Juniper restaurant, the shrimp is deep fried for a minute or two and seasoned with salt and pepper. It's served head to tail in its soft shell and intended to be eaten in its entirety. For the diner who eats the whole shebang — tail, shell, eyeballs — the shrimp delivers a packet of fleshy flavor with a hit of crunch.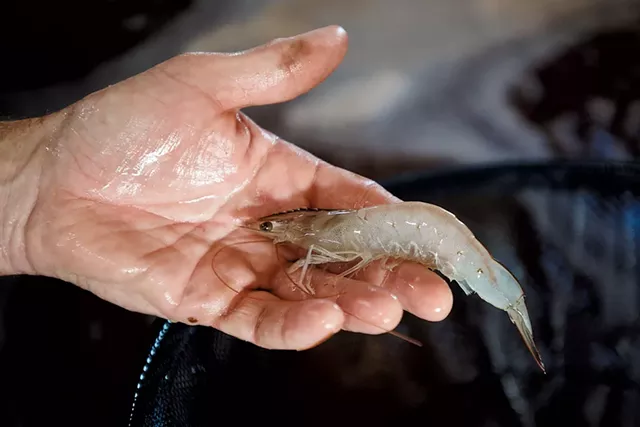 Bear Cieri
John Brawley holding a shrimp
Brawley's product also offers an element of excitement that comes from eating fresh catch in a landlocked state, plucked from an aquarium down the road.
"The shrimp adds a really great shellfish option," Paine said. "People want to eat shellfish, and it's local, high quality and fresh."
Brawley talked shrimp with Seven Days last week.
SEVEN DAYS: Tell me about your interest in aquaculture and how it led to the development of your shrimp farm in Charlotte.
JOHN BRAWLEY: I've always been interested in the shoreline and marine systems, growing up on the water on Long Island Sound in Connecticut. I think that interest and lifestyle stuck with me throughout my life.
After deciding to move from Massachusetts back to Vermont, it was a natural transition to continue aquaculture work. And I spent a couple of years researching what kind of options that would be. Shrimp became a clear choice, at least to begin with, because of their short growing time and the success that I had seen in other farms around the country.
It takes work, but I think having the background in the oyster business prepares me well for this. It's farming, and there are a lot of variables.
SD: At the oyster farm in Massachusetts, water quality was maintained in part by the tide, which moved water in and out of the operation. What is the key to achieving and maintaining water quality in the tanks at Nordic Farms?
JB: Maintaining balance in the microbial ecosystem and monitoring changes in water quality and responding to those changes. I'm always maintaining the organic material load in each pool and removing solids as necessary. And, of course, oxygen is critical, so making sure that the aeration is sufficient.
SD: What are the advantages to farming shrimp indoors as opposed to an outdoor operation?
JB: These are tropical species, so they won't survive outdoors in Vermont. In the Gulf Coast, in Texas and Mississippi, the shrimp farms tend to be outdoors in big fields. I think outdoor farms have issues with birds eating the shrimp and disease spreading fairly rapidly. You can have a five-acre farm, so you can have a lot of shrimp going — millions of shrimp. The advantage of indoor aquaculture is, you have more control over the environment.
When I was doing the oysters, if I woke up at 2 a.m. and I heard the east wind picking up, I had to get out of bed and make sure my boat and float was safe and secure, or I wouldn't be able to work the next day. Here we're independent of any weather — except for power outages, but I have a generator to cover that.
The oyster work was a lot harder — outside, a lot of area to cover, dealing with a couple million new oysters a year. [Here] it's all in this one room. I can listen to NPR and music, and it's like maintaining a whole bunch of saltwater aquariums.
SD: "Local shrimp" seems counterintuitive in Vermont. How do you gain a share of the market in a place that values local production?
JB: For now [it's counterintuitive]. I'm fortunate to have a history of good relationships with a number of restaurant owners and chefs in the area. And I've been working with several aspects of the agricultural and food community in Vermont; it's a small community, and everyone knows each other.
Oysters were novel when I was coming up. People were eating them, but not fresh. We opened a lot of doors and made a lot of good friends through the oyster business. I think the novelty of [shrimp] certainly results in curiosity and interest, at least initially.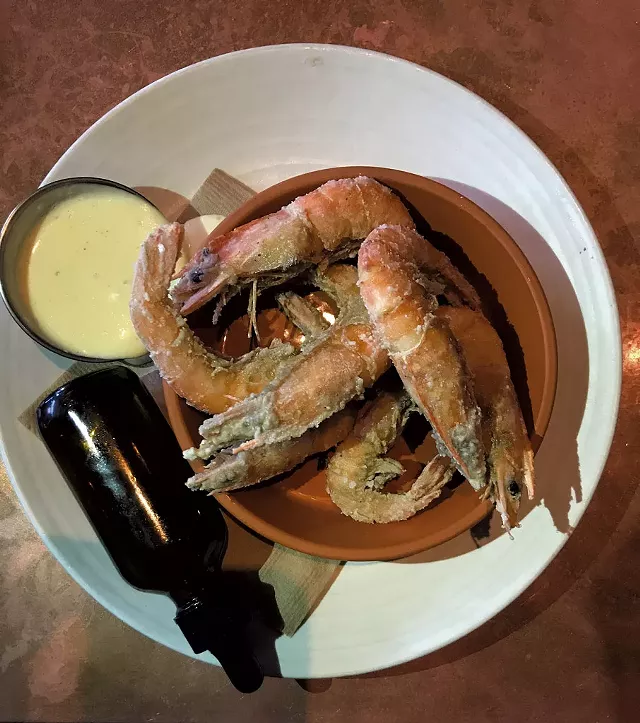 Sally Pollak
Crispy fried shrimp with horseradish aioli and hot pepper honey vinegar at Juniper
SD: Sweet Sound Aquaculture is part of an agricultural enterprise at Nordic Farms that includes livestock, grain and vegetable production, with more products to come. What does being part of this larger food system mean for your project?
JB: I was prepared to do this in a stand-alone barn somewhere. Certainly, I feel fortunate and blessed to be part of this community at Nordic Farms. There's a lot of cooperation across the businesses. We're all very good friends; we all want to see each other succeed as we move on.
One of the really cool things is, looking into the future, we see more cooperation. For example, using farm-specific products to feed our probiotics. I got my first batch of lactobacillus bacteria from Bobby Grim over at Foam Brewers and have had many talks with them about how to ferment these probiotics. The same bacteria they use in their sour beer have amazing, healthy benefits for aquaculture.
SD: Can you describe the process of raising shrimp, from the arrival of baby shrimp from a Florida hatchery to delivery to Burlington restaurants?
JB: The first step is, I acclimate the shrimp to the conditions of the farm, which involves mostly monitoring salinity and temperature. They come at a certain salinity and temperature, so I have to spend a couple of hours acclimating them to the receiving temperature and salinity. Then they are fed a mixture of dry and wet food for the first week, and then all dry food for the subsequent three to four weeks, until they are counted, weighed and moved into the grow-out pools.
Feeding takes place throughout the day, dawn to dusk, maybe four times a day — the feed rate is based on the biomass of the shrimp in each pool. And then water quality measurements are made on at least a weekly basis in each pool. I remove excess solids, typically weekly from each pool, and try to exchange up to 20 percent of the water volume every week or two.
Harvest typically is a drain down of an entire pool. To harvest the shrimp, it's easier to get them when the water is low. It's almost like letting the tide go out on them. I do some minor maintenance work, put the water right back in — it's all recycled water [through] a DIY water-treatment facility — and put the next batch in from the nursery. It's a big conveyor belt.
SD: How do you like to eat shrimp?
JB: We eat shrimp probably three or four times a week as an appetizer. We like to put them into an iron skillet, in butter, and sprinkle some spices on them. We experiment all the time with different rubs and spices from around the world, or herbs from the garden. We cook 'em, flip 'em over and eat 'em whole.
This interview has been edited and condensed for length and clarity.