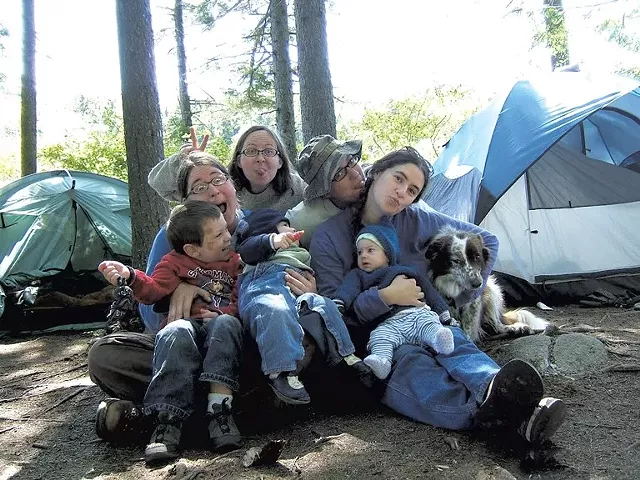 courtesy of cathy resmer
The Johnson-Resmer family and friends, 2008-2017
My partner, Ann-Elise, and I were committed campers before we had kids. The arrival of our son, now 11, and daughter, now 9, didn't slow us down for long. Graham was 5 months old when he first slept in a tent with us; we added Ivy to our annual remote camping excursion at just 5 weeks.
Those early trips exhausted and challenged us all, but through trial and error, we figured some things out. For starters, planning a successful trip begins with finding a good place to camp. We're partial to Vermont's state parks. Vermont's 40 state park campgrounds offer access to the outdoors at a fraction of the cost of a hotel room or vacation home rental — a single-night stay at a tent site costs just $18; lean-tos go for $25; the rates for prime waterfront locations are $2 higher. Some parks also offer pricier cabins and cottages.
All of Vermont's state parks welcome children, but over the years, we've found some that seem ideally suited for them. Here are a few of our faves, along with some tips gleaned from our experiences. Find a full list of parks at vtstateparks.com.
1. Grand Isle State Park:
courtesy of cathy resmer
The Johnson-Resmer family and friends, 2008-2017
About 30 minutes from Burlington, Grand Isle is our go-to choice for a quick getaway; we sometimes stop for creemees at Seb's Snack Bar in South Hero on the way there. The park's 226 acres include a nature center and a rocky beach with a stunning view of the Vermont shoreline. A stand of trees near the playground conceals a small clearing that makes an excellent secret clubhouse or fort.
2. Elmore State Park:
courtesy of cathy resmer
The Johnson-Resmer family and friends, 2008-2017
This Lamoille County gem boasts hiking trails and a sandy beach. The two moderately challenging routes up Elmore Mountain lead to a spectacular view at the top — and a rickety fire tower that will terrify helicopter parents or anyone with the slightest fear of heights. On our last trip, we tried the shorter Mountain Brook Nature Trail, a half-mile loop that crosses a stream and includes stations explaining the natural and cultural history of the area. The kids were intrigued by a water storage building along the route; like the Lake Elmore beach house, it was constructed by members of the Civilian Conservation Corps during the Great Depression. Another find this year: the amazing Fire Tower Pizza, available at the Elmore Store. We called ahead on a Friday evening, and it was ready for us when we pulled up — a splurge worth every penny.
3. Groton State Forest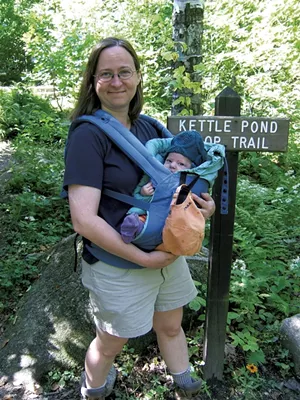 courtesy of cathy resmer
The Johnson-Resmer family and friends, 2008-2017
There are several state parks within this oasis at the southern edge of the Northeast Kingdom, all close to hiking trails, a nature center, Lake Groton's Boulder Beach and a seasonal store. We've stayed at most of these parks; they're all appealing for different reasons. Campers can drive right up to their sites at Stillwater and Ricker Pond, which both offer water access and the occasional loon sighting. Nearby New Discovery, a quieter car-camping destination, features trailheads and a play area. Families ready to rough it can opt for remote camping at Kettle Pond, where sites are accessible only by foot or by boat. There are no garbage cans — if you pack it in, you pack it out. No running water, either. Remote camping is a lot of work, especially with kids, but hearing a barred owl at night — or waking up early enough to watch mist drift across the water's surface — makes it worthwhile. At Kettle Pond, our kids have spent hours building fairy houses and chopping firewood with a hatchet. Last year, we brought a field guide to identify wild mushrooms on the hourlong hike to our site.
4. Burton Island State Park
courtesy of cathy resmer
The Johnson-Resmer family and friends, 2008-2017
This island campground is accessible only by boat; a ferry between Burton Island and Kamp Kill Kare State Park in St. Albans runs several times a day. The first time we camped there, I thought I was in paradise. There aren't many sites, or people, so the trails and beaches were never crowded. Cars aren't allowed on the island, so it felt totally safe to let the kids explore on their bikes. And a marina attracts enough boaters to justify a well-stocked store. Sites on Burton Island are in high demand, which is why they're more expensive and difficult to reserve. But parents of small children, beware: We camped there with friends whose restless, wailing infant refused to be soothed at bedtime. They spent hours walking him in a stroller and would have headed home, if only they had had access to their car. We cut our trip short and caught the first ferry out the next morning.
5. Half Moon Pond State Park
courtesy of cathy resmer
The Johnson-Resmer family and friends, 2008-2017
Much smaller and quieter than nearby Lake Bomoseen, Half Moon Pond is a safe place to practice paddling a canoe or kayak, both of which are available for rent. Half Moon is also an ideal home base from which to explore the new day-use only Taconic Mountains Ramble State Park. We recently spent a day there lounging in the Japanese garden, traversing the trail network and savoring the view.