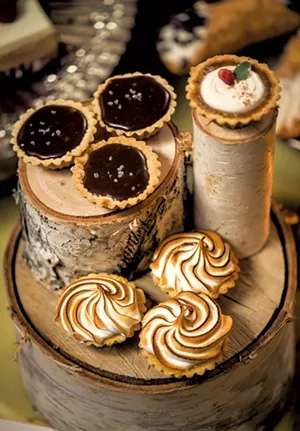 Courtesy Of Sweet Simone's
Fans of Lisa Curtis' Sweet Simone's coconut cupcakes, bagels and canelés will soon be able to skip a trip to the Mad River Valley. Her baked goods will remain on sale at the Sweet Spot bakery her family owns at 40 Bridge Street in Waitsfield. But in January, Curtis will strike out on her own with a bakery called Sweet Simone's at a different 40 Bridge Street — in Richmond.
Curtis, who lives in Huntington, says the closure of On the Rise Bakery inspired her to bring Sweet Simone's to her own backyard. "This is my community," she explains. "This is my home. This is where I go food shopping; these are the people I know."
With Sweet Simone's right next door to the recently closed Bridge Street Café space, soon to be known as Hatchet Tap & Table, and up the street from Kitchen Table Bistro's new Parkside Kitchen, Curtis sees it as the beginning of a new Richmond culinary corridor.
Now Curtis is working on transforming the "blank" space that was most recently Richmond Beverage into a bakery. A sizable new kitchen will supply the bakeries in both towns and host the production of Curtis' highly detailed wedding cakes and other catering commissions.
Curtis' sister, Sarina Gulisano, and her brother-in-law, John Vitko, will continue to run the Sweet Spot in Waitsfield and supply Sweet Simone's with their small-batch Scout's Honor ice cream.
Tables at the front of Sweet Simone's will give customers places to stop and settle in for espresso, pastries or ice cream. Curtis adds that, with more space, she'll introduce more pastries made from laminated dough, such as croissants and Danishes. Bagel production and bread making will likewise grow.
Don't look for lunch at Sweet Simone's, besides a few small items such as prepared flatbread slices or stromboli. Curtis plans to leave that to the new businesses nearby. "We're making sure we're all complementing each other," she says. That's sweet news for Richmond.
The original print version of this article was headlined "Sweet Deal"