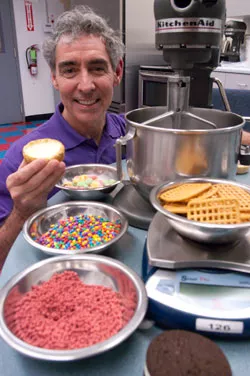 Matthew Thorsen
Dale Conoscenti
On his commute to Burlington's Rhino Foods, Dale Conoscenti has a mantra that plays on a loop in his head. He'll spend the day testing ice creams and cheesecakes at the factory best known for its Chessters ice-cream-cookie sandwiches, but the words that seize his brain each morning are less appetizing. "Glucose and sucrose make fructose," he chants. "Monosaccharides, fructose, galactose, glucose…"
Sound like the inner workings of a classically trained chef? Hardly. But despite earning his degree from the New England Culinary Institute during the strictly French-influenced 1980s, Conoscenti is not your average classically trained chef.
Last week, he became the 76th professional to pass the international Research Chefs Association's grueling test to become a certified research chef. That job title applies to cooks who carefully conceive and test food for fast-food chains and other food manufacturers. And Conoscenti is not the only one certified in Vermont. John Shaffer, a flavor guru at Ben & Jerry's, is the other.
Conoscenti, 57, also got his start in research and development at the Vermont ice cream superpower. Over eight years there, beginning in 1993, he developed flavors including Fossil Fuel; Pistachio, Pistachio; Holy Cannoli and Lemon Swirl sorbet. Through Ben & Jerry's, he designed the Newman's Own ice cream brand, hashing out ideas with its film-star owner over games of pool at Newman's offices in Greenwich, Ct.
Conoscenti's gig as corporate research chef at Rhino Foods is the 54th job in his career, he says. Other stops on his wild ride included creating healthy gourmet lunches at Barre schools in the 1990s, for which he garnered national praise; and running his own critically acclaimed Montpelier restaurant, Conoscenti, at the start of the millennium.
He left the stress of chef/ownership to take a job as corporate chef for the Indianapolis-based diner chain Steak 'n Shake. Next, Conoscenti created gourmet cookies in Boston at Dancing Deer Baking Co. But the increasingly demanding schedule did not fit with his other job: raising his daughter, now four and a half. So, in 2008, Conoscenti joined Rhino Foods, which has allowed him to spend more time with his family — and, for the past two and a half years, to study for the research-chef certification. He would rise at 4 a.m., seven days a week, to cram On Cooking: a Textbook of Culinary Fundamentals and Understanding Food Science and Technology.
This may sound like the habit of a lifelong science geek, but Conoscenti says that the subject had terrified him in school. "I avoided all the sciences as much as I could," he admits. "I felt intimidated by it."
That changed at NECI, where Conoscenti realized he was a hands-on learner. "All of a sudden, science was different for me," he says. "I wasn't studying it out of a book. It was like being in a lab all the time."
Conoscenti had discounted math, too, until he began using often-complex formulas in his work developing recipes and making nutritional labels for products.
Despite more than two decades working in the milieu of emulsifiers and preservatives, Conoscenti had failed the test twice before he recently aced the proctored exam at NECI. "There's a reason there are only 75 of us," he says, citing officials at the Research Chefs Association.
That number will likely increase, according to Conoscenti. When it comes to making nationally distributed food, companies look for someone with expertise not only in the principles of cooking and recipe development, but also in microbiology, heat transfer and packaging, he says.
All of these skills are applicable as Conoscenti tests ice cream flavors, particulates (mix-ins) and baked goods. Rhino Foods' branded products account for only a small portion of its business. The company's bread and butter is co-packing, which means creating, producing and, yes, packing products for other brands. Until recently, every Toll House chocolate-chip ice cream sandwich was made at Rhino's Industrial Parkway factory. So were Ben & Jerry's 'Wich sandwiches. Rhino still makes Hood's ice cream sandwiches.
Once through the factory door, visitors must don a hairnet and sanitize the bottoms of their shoes in a misting machine. Down the hall, the R&D office is labeled with a warning that nut products are used therein. What the warning doesn't say is that every product inside is kosher and subject to surprise visits from a local rabbi.
Inside, Conoscenti and his part-time assistant, fellow Ben & Jerry's alum Rob Douglas, have finally perfected a grab-and-go cheesecake for Chicago-based manufacturer Prairie City Bakery.
They started the process in July, when the company asked Conoscenti to create a cheesecake to its specifications. The single-serving dessert will be sold primarily at convenience stores, so ease was paramount. The cake needed to withstand freezing, be shelf stable for 10 days to two weeks, be simple to eat without utensils, be sturdy but not foldable — and it had to taste good.
Conoscenti says they used the first 20 test batches to capture the desired taste. He sent each version to Prairie City executives to try, with instructions on how to properly thaw the samples for optimal flavor. No matter what he did, though, the tasters wanted more cream-cheese flavor. The problem was, cream cheese is just too soft for the desired consistency of the product. Ultimately, Conoscenti settled on a combination of powdered natural cream cheese and yogurt flavorings.
For 10 more batches, Conoscenti focused on getting the correct texture. Not only did the product have to feel good to the customer, it had to be sturdy enough to handle temperature changes, including blasts of warm air with the opening and closing of the refrigerator door, without leeching liquids.
Prairie City approved both a plain and chocolate-swirl version of the product, each of which is dusted with graham-cracker crumbs. They're firm enough to pick up, but have a creamy mouth feel and pleasant, yogurt-y tang. Once the folks at Rhino master the packaging, which utilizes a half-moon-shaped hole for easy eating without touching the food, the cheesecake will be ready for sale. Prairie City has already ordered 500 cases.
Conoscenti's job also includes selling products that companies don't even know they want. He grabs pints from one of the room's several freezers to demonstrate: coconut cream pie with Rhino piecrust particulates and crunchy shredded coconut; mocha-malted-milk ice cream with chewy brownie bites; rich chocolate with "extruded brownie pieces." They're all delicious. Best of all is something Conoscenti calls "ginger snap," which consists of ice cream, cookies and real ginger, all softened with a creamy caramel swirl. He created all of these flavors to present to the Kroger supermarket chain as potential products to develop. No word from the company yet on whether fresh ginger will soon be a frozen-dessert ingredient.
Another unlikely ice cream add-in accounts for much of Conoscenti's work. Rhino Foods manufactures more than 20 varieties of cookie dough for ice cream. That includes all of the particulates in Ben & Jerry's Chocolate Chip Cookie Dough flavor sold worldwide. The company even makes cookie dough for Dippin' Dots. Conoscenti is tasked with making sure that the dough tastes great, despite its rigid, nitrogen-frozen state.
So, does it bother this chef with a classic French background to focus his energy on binders and starches? Not really, says Conoscenti. Switching from the ultra-high-end ingredients at his own restaurant to fast food at Steak 'n Shake was a learning curve, he admits, but a positive one. At home, he follows a loosely macrobiotic diet, but he still believes there's room for unhealthy treats. "I don't have a problem cooking those kinds of foods," he says. "There's a place for everything. I'm not as snobby as I used to be."
He also points out that science has made food healthier in unexpected ways. His favorite example: the lowly microwave. "Microwaving is such a trigger for people. It's just out of not knowing what a microwave is that people get threatened," he says, shaking his head. "Microwave cooking is actually a form of steaming. It's the healthiest, most nutritious way to cook vegetables."
Conoscenti's professional intensity is on par with the speed of the words that pour from him as he describes his work. It's clear that, after 53 other job titles, "food scientist" turned out to be the perfect match. He even does it in his spare time, helping fledgling brands to optimize their production and packing at the Vermont Food Venture Center in Hardwick. "It's been a big wide world that opened up for me in food science," Conoscenti says. And the world can thank him, one bite at a time.