Jessica Ojala
Pan-seared scallops
Over the four years that followed the 2014 demise of much-celebrated, community-born Claire's in Hardwick, three restaurants came and went in quick succession at 41 Main Street.
Each venture had its own issues, but, overall, it was a sad series of events in the wake of unprecedented national media coverage for "the town that food saved." That claim was detailed in Ben Hewitt's 2010 book of the same title highlighting Hardwick as the center of a robust local food and agriculture system.
Last July, part-time local resident Sven Olson opened the Scale House restaurant and bar in the same location. His goal: to break the building's losing streak and bring the community together once again over food and drink.
Olson has experienced his own bumps, including an extended mud season closure this year precipitated by staffing challenges. He took the opportunity to do some needed kitchen renovations, install acoustic ceiling panels to help manage sound in the dining room, and hire and train staff. The restaurant will reopen in the next 10 days.
Out of the gate, the Scale House set modest goals. The menu features local pork and beef (the cows graze on Olson's land), but the restaurant is no highbrow, locavore destination.
"We're really just a bar that has really good food," Olson explained. "I'm just hoping we can break even."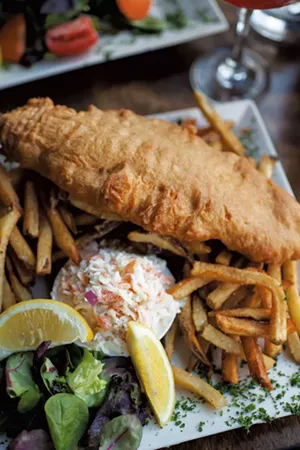 Jessica Ojala
Fish and chips at the Scale House
Olson, 52, splits his time between Concord, Mass., and an East Hardwick house he bought through an online auction in 2012. His long résumé includes positions such as loan officer, real estate investor, accountant, business school professor and seafood entrepreneur.
While many considered the Hardwick publicity frenzy slightly hyperbolic, it did serve to spark Olson's initial interest in the area.
"I'm a foodie. I knew about the book, about the town and its culinary reputation," he said. In addition, he went to summer camp in Craftsbury and has family connections that drew him to Vermont.
Years ago, Olson worked in the restaurant and bar business — "long enough to know that I never wanted to open another restaurant," he joked.
But sometimes life presents opportunities and you just have to seize the day. Olson had already done that with his 4-year-old, direct-to-consumer fish business, Svenfish, which grew out of trips he took to the New Bedford docks on the Massachusetts coast to procure the freshest possible fish for himself and friends.
Similarly, his latest venture was hatched through a confluence of chance and willingness to jump in with both feet. But he first did the due diligence, as Olson would be sure to advise his students at the Northeastern University D'Amore-McKim School of Business.
Traveling to the Northeast Kingdom with his family from Massachusetts for weekends over the last couple of years, Olson started selling some of his Svenfish seafood at the Friday Hardwick Farmers Market. "It sold like hotcakes," he said, noting that people would call ahead with specific requests and drive 35 minutes to come pick up two pounds of fresh cod. "It just seemed like there was a real demand for fresh fish."
Jessica Ojala
Cosmic Girl cocktail
After the market closed, he would head to Havana 802, the Cuban restaurant then in the 41 Main Street space. Over the fall and winter of 2017-18, the restaurant hosted fish-fry pop-ups using Olson's excess market inventory.
"By the third pop-up," he recalled, "they said, 'Why don't you buy our restaurant?'"
Olson started investigating the opportunity by hosting dinner gatherings at his East Hardwick home and seeking input on everything from menu items to restaurant name options. He also asked for financial support from both year-round and summer residents of the area.
Using the community-supported-restaurant model that has become increasingly common, Olson worked with a lawyer (one of the original owners of Claire's) to develop a program through which the nascent restaurant sold 60 $500 gift cards that could be redeemed gradually over a specified period of time.
Not only did this raise $30,000 of startup capital, it cultivated an active group of supporters invested in both the restaurant concept and its success.
This form of community commitment played a role in the repeated recommendations I heard from locals, which in turn led to my visit on an early-spring Sunday afternoon.
A server warmly greeted my friend and me and seated us at a high-top in the bright front window. From there, we had a good view of the expanded, collegial bar that even provides wheelchair-accessible seating, restaurant general manager Mark Rowell told me later.
The bar and restaurant filled up steadily as our meal progressed from a pint of nearby Hill Farmstead Brewery's Susan for my companion to our shared sweet conclusion of rich, fruit- and nut-studded carrot cake baked by Bien Fait Cakes in Greensboro.
In between, we enjoyed a salad topped with a generous serving of smoked Maine bluefish ($12); top-notch fish and chips made from moist, flaky haddock sheathed in a light beer batter ($15); and a straightforward but very good plate of two local pork chops — juicy within, exterior fat nicely crisped — served with a medley of sautéed vegetables and excellent mashed potatoes speckled with their skins ($18).
Jessica Ojala
Guests at the Scale House
The food was not fancy, though a few more complex dishes are on offer. It was more like eating in the home of a confident and skilled cook who is not afraid of deep-frying fish or of keeping the generous band of fat on a beautiful pork chop. This type of home cook is less common these days than one might wish.
Olson and Rowell have clearly applied the input of their supporters and learned from the location's ghosts of restaurants past. "We wanted a place that was going to appeal to everyone, from the Caspian [Lake] crowd, who like fancy cheese and oysters on the half shell," explained Olson, referring to summer-home owners, "to the fish-and-chip crowd."
Rowell admitted that he is not a seafood fan, but the kitchen makes him very happy with a small house Caesar ($8) and local beef burger ($12). On the fancier end of the menu, he said, many regulars are fans of the housemade fettuccine served with a lemon-caper sauce and choice of protein ($18-23 depending on the protein).
On that late Sunday afternoon, the surge of customers who arrived following a performance at the Highland Center for the Arts in Greensboro included a young diner dressed in her tulle-skirted best. But more people sported jeans and mud boots befitting the season. There were families with kids, older folks and young couples.
Local celebrity-of-sorts Tom Stearns, owner of High Mowing Organic Seeds in Wolcott, got up several times from his seat at the bar to give bear hugs to friends.
I later learned that it was unusual that neither Olson nor Rowell were in-house that evening. They consider it their role to be there and do whatever needs doing: helping at the bar, expediting orders at the kitchen pass, getting ice from the basement, working the room.
Rowell, who grew up in the area and worked for Claire's its last two years, said that he wouldn't have signed up to work at the Scale House if it were just for "the upper echelons." He wanted it to be comfortable and friendly, with a menu and price range that offer something for everybody.
Some guests may wear tulle, but "farm boots are always welcome," Rowell said.