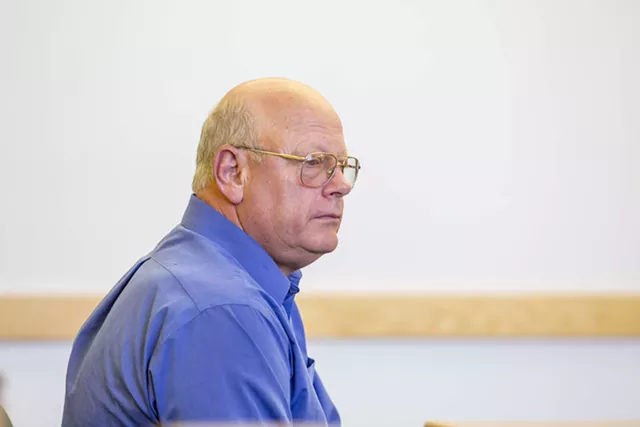 Courtesy of GREGORY J. LAMOUREUX, COUNTY COURIER
Senator Norm McAllister
Seven months after Sen. Norm McAllister was arrested outside the Statehouse on sexual assault charges, his colleagues are preparing for the possibility that the Franklin County Republican will return to Montpelier when the Senate reconvenes in January.
And while most of his peers are still holding out hope that he'll resign before then, support for his expulsion — an unprecedented and potentially messy step — has faded. Instead, they're considering suspending him without pay.
"Whether he gets expelled from the Senate is not nearly as important as the bigger picture," says Sen. John Campbell (D-Windsor), the Senate president pro tempore.
Campbell says he'd vote to expel McAllister if such a vote were held today, but he fears the process leading to that scenario would interfere with the state's prosecution. The senator, who is out on bail, has pleaded not guilty to three felony charges of sexual assault and three misdemeanor counts of prohibited acts. A trial is scheduled for February, while the Senate is in session.
"I do not want to do anything that may jeopardize the criminal case in this matter," Campbell says.
Seven Days called all 29 of McAllister's colleagues this week and spoke to 26 of them before deadline. Fifteen said they thought the Highgate farmer should resign, while 10 said it was up to McAllister. One, Sen. Bill Doyle (R-Washington), said he "should not resign without a trial."
Only four senators said they would vote to expel McAllister, knowing what they know now about his alleged crimes. Seventeen said they would oppose expulsion, while another five said they were undecided or needed more information.
That's a dramatic shift from last June, when the Associated Press' Dave Gram surveyed the Senate. Back then, 14 supported expulsion, five opposed it, nine were undecided and one could not be reached for comment.
McAllister, who previously pledged that he would not resign nor accept a plea deal, did not return a call Tuesday seeking comment.
Sen. Dustin Degree (R-Franklin) was among those who told Gram last summer that he'd vote to expel McAllister, with whom he shares a two-member district. But now that he's learned how "murky" such a process might be, the St. Albans Republican says his position has "evolved" to undecided.
That murkiness could include the appointment of a special investigative committee made up of sitting senators, who would take testimony from witnesses and make a recommendation to the full body, according to Senate Secretary John Bloomer. Such a proceeding might precede or coincide with a criminal trial, complicating matters for all involved.
"I really need to see what's going to happen and how it's going to happen before I say yes or no to anything," Degree says.
Many, including Sen. Brian Campion (D-Bennington), now believe the Senate should vote to suspend McAllister, pending the outcome of his criminal case. At least 10 support that proposal, while another 10 say they're undecided or need more information about the plan.
"I think it's important for the criminal justice process to happen, and I do worry about setting a precedent for the future during this process," says Campion, who was undecided last summer and now opposes expulsion.
At the same time, the Bennington Democrat calls the charges against McAllister "grave" and says the Senate must "take steps to protect other people from harm," as a school or hospital might do.
Authorities have accused McAllister of coercing one woman to have sex with him in exchange for rent — and attempting to do the same to another. They have said he repeatedly assaulted a third woman, who worked for him.
McAllister told Seven Days in October that he had sex with two of the women, though he claimed it was always consensual. In a phone conversation taped by the Vermont State Police last May, he told one of the alleged victims, "I knew I was forcing you to do something you didn't want to do ... I knew that you didn't really want to do that."
The allegations strike particularly close to home for many senators, because the third alleged victim served as McAllister's unofficial Statehouse assistant last session. She told Seven Days in May that he raped her "every time I went down there ... just about," referring to the Montpelier apartment he shared with two other legislators. Two Senate colleagues previously described the woman to Seven Days as looking as if she was 12 or 13 years old.
The woman, who is now 20, told the paper in May that she was 15 or 16 when McAllister first assaulted her at his Highgate farm. McAllister, 64, told Seven Days in October that she was at least 16 before he had sexual contact with her.
"I mean, he brought her to my committee room as his intern," says Sen. Becca Balint (D-Windham), who previously supported McAllister's expulsion but now believes he should be suspended. "That just makes me really uncomfortable. I wish I had more words for it than that, but I assume a certain amount of decorum and professionalism."
Lt. Gov. Phil Scott, the state's highest-ranking Republican and a candidate for governor, is throwing his support behind the suspension proposal, too. As presiding officer of the Senate, he can only cast tie-breaking votes, but he can influence the process through parliamentary rulings.
"We should suspend him until he has his day in court," Scott says. "And, at that point, if he's found guilty, we may move to expel. If he's found not guilty, maybe not."
Not every senator is enamored of that plan.
"It strikes me that, then, Franklin County would not be getting the two senators they're entitled to," says Sen. Peg Flory (R-Rutland), a close friend of McAllister's who previously served as his attorney.
Flory is drafting a competing resolution that would "establish ground rules" for an expulsion procedure but would bar the Senate from ousting McAllister "until the case has been resolved in the courts." At least seven senators say they support her idea, while another eight say they're undecided or need more information.
Even if McAllister remains in the Senate for the time being, his powers may be constricted. Less than a week after his arrest last year, the three-member Committee on Committees stripped him of his seats on two committees in a fruitless effort to convince him to resign. At least nine of McAllister's colleagues now say he should regain his committee seats if he remains in the Senate.
"I would think so," says Sen. Ann Cummings (D-Washington), who opposes expulsion. "I don't see that being accused of a crime, no matter how heinous, keeps you from being able to represent your constituents."
But that decision is up to the Committee on Committees, whose members include Scott, Campbell and Sen. Dick Mazza (D-Grand Isle). Scott and Campbell say they would not vote to restore McAllister's committee privileges, while Mazza says he would.
Competing viewpoints hardly follow partisan lines. Sen. Claire Ayer (D-Addison) and Sen. Tim Ashe (D/P-Chittenden), among the Senate's more liberal members, have consistently opposed expelling the Republican, though both say they hope he resigns.
"He's an American. He's a Vermonter. He has constitutional rights," Ayer says. "And I don't believe the people who make laws should pick and choose who they apply to."
Conversely, Sen. Joe Benning (R-Caledonia), the Republican minority leader and one of the more conservative members of the Senate, has been the most vocal proponent of expulsion. He wrote McAllister in October with a November 1 ultimatum and even provided a draft resignation letter.
Since Seven Days obtained a copy of that letter and published it, Benning's colleagues have hammered him over it and accused him of "grandstanding" — assuming he leaked it to the press to further his political ambitions. Several blame him privately for imperiling the expulsion option by discussing it before his colleagues were on board.
"The Republican caucus is not a happy caucus right now," one GOP legislator says.
Benning still has a draft expulsion resolution "in my possession," he says, but he won't disclose whether he plans to file it.
"I feel like there's a conversation that is ongoing, and I don't want to jeopardize that conversation," he says.
The conversation is ongoing, but it's taking place behind closed doors.
The Senate Rules Committee, which is vetting the various proposals, met last month in the Senate cloakroom to try to find consensus. Leadership notified all 30 senators about the meeting, but not the public nor the press, and did not list it on the legislature's website.
Seven Days made a standing request last spring to be notified directly of all Rules Committee meetings after the panel met secretly to discuss the creation of an ethics committee.
"I take full responsibility," says Bloomer, the Senate secretary.
The meeting about McAllister took place two hours before a Statehouse memorial service for the late Barbara Snelling, a former lieutenant governor and senator. McAllister himself showed up at the memorial service — his first Montpelier appearance since his May arrest — though he did not attend the Rules meeting, according to participants.
Nor did the committee reach consensus on McAllister's fate. Its members — Campbell, Benning, Flory, Mazza and Sen. Phil Baruth (D-Chittenden) — have the option of recommending one or more proposals to the full Senate, but the panel is split between those who want to take action and those who don't.
"We didn't take a vote, but it was clear we were of two minds," Baruth says.
As majority leader, Baruth is hoping to unite his fellow Democrats around the suspension proposal on Saturday at the caucus' annual pre-session organizing meeting.
Don't expect an invitation.
The meeting is usually held at Montpelier's Capital Plaza Hotel and Conference Center and is typically attended by lobbyists, administration officials and members of the press. But this year it's taking place at Campbell's house in Quechee.
"If you would like to come, you're invited to come," the pro tem tells Seven Days.
And what about the public?
"I didn't ask the public," Campbell says. "Just so you are aware, the caucuses do not have to be open to the press or the public. These are things we try to do and are done when we're up at the Statehouse, but I'm not about to open my house ... We don't have the room to do that."
Like their counterparts in the House and in the Republican Party, Senate Democrats have a history of meeting secretly in undisclosed locations. Unlike GOP confabs, though, Senate Democratic caucuses are likely to be attended by a quorum of the Senate, since the party controls 21 of the body's 30 seats.
Campbell and the legislature's lawyers have long argued that the Senate and House are exempt from the state's open meetings law, but Secretary of State Jim Condos disagrees.
Public or private, the most surprising aspect of Saturday's McAllister discussion is that it's taking place so late in the game. Less than a month before the Senate reconvenes, nobody knows how the crisis will be resolved. If it's not — or if the Senate chooses to move forward with expulsion proceedings — the body could be paralyzed for days or weeks.
"Am I disappointed that we don't have the actual resolution that's going to go forward?" Campbell says. "The answer is no, because we have not dealt with this before. I'm disappointed it happened in the first place."
Sen. Rich Westman (R-Lamoille) agrees.
"I hate this," he says. "I find the whole thing just disgusting and sad."
Vermont State Senators on Sen. Norm McAllister
June responses to the expulsion vote question are from an Associated Press survey; Seven Days collected all other responses.
Additional Comments from Senators
Sen. Tim Ashe (D/P-Chittenden)
"At this point in time, [McAllister] has not actually been convicted of a crime. And the idea that we would vote to expel someone who has not actually been found guilty of any wrongdoing by a court just raises all sorts of issues about where the line in the sand would be for anyone who's accused to be immediately expelled."
Sen. Claire Ayer (D-Addison)
"The easy thing to do would be to make a public spectacle about how horrible we think this all is and, damn it, we're going to do something. But I think the most judicious decision is to wait for the experts to weigh the evidence and let the evidence determine his guilt or innocence."
On the Committee on Committee's decision to strip McAllister of his committee assignments: "I, for one, was not happy they had decided to do that. I thought it was making a determination of his guilt or innocence."
Sen. Becca Balint (D-Windham)
"Yes, I definitely think he should resign. Because the statements in the press regarding his relationship with his intern [are] enough to make me feel his judgment is in question — regardless of whether the other charges are valid."
"I would not vote to expel him. Earlier in the year I said that I would, but I've given it a great deal of thought since then … To expel him would require us to take testimony before the Senate, and I feel that would compromise either the defense or prosecution."
Sen. Phil Baruth (D-Chittenden)
"I think the Senate should consider it from all angles, try its best to get on one page and act proactively, with one voice, when the session starts."
Sen. Joe Benning (R-Caledonia)
"I'm getting tired of talking about this subject."
Sen. Chris Bray (D-Addison)
On whether McAllister should resign: "That's Norm's question … I guess sort of the toughest part of it is he's truly elected by a group of people, and if he feels like he can serve them and should serve them, he has a duty to keep on serving them … I'd say, given the seriousness of the charges, though, I don't know how well he can serve them."
On the Senate's process: "The ability to maintain [the Senate's] integrity is also on trial. We need to act, I think, clearly and fairly in response to this challenge to the integrity of the body."
Sen. John Campbell (D-Windsor)
"I definitely would like to have this dealt with within the first week."
On whether to suspend McAllister: "I think, at this point, suspending him until an outcome has been decided — that appears to be the most logical [option] and would have the least disruption to the criminal action."
Sen. Brian Campion (D-Bennington)
"I do think we really want to make sure that people are protected. And that doesn't say someone is guilty or innocent, but it does say that one of our biggest priorities should be making certain this kind of thing doesn't happen again."
Sen. Brian Collamore (R-Rutland)
On whether McAllister should resign: "I think that's Norm's decision. I mean, I don't know any more about it, quite frankly, than what I'm reading in the newspaper. So I don't have any basis on which to make a judgment. I think that's a personal decision that he needs to make."
On disagreements within the Republican caucus: "I think Sen. [Joe] Benning has strong feelings one way and Sen. [Peg] Flory has strong feelings 180 degrees away from that. Many of us are in the middle."
Sen. Ann Cummings (D-Washington)
"If we deprive people of their honors, of their livelihood, of everything other than putting them in jail prior to being proven guilty, then innocent until proven guilty has very little meaning."
Sen. Dustin Degree (R-Franklin)
On whether McAllister should resign: "I've answered this question 100 times and to me it doesn't matter what anybody else thinks. It's up to him."
Sen. Bill Doyle (R-Washington)
"I hope for the sake of the Senate that it doesn't take away from the important business of the Senate."
Sen. Peg Flory (R-Rutland)
"I don't want to do anything that either jeopardizes the prosecution's ability to successfully prosecute or the defense's ability to successfully defend."
On the media: "If the press wants to keep asking questions on it, that's not what I'm up here for. I'm up here to do the Senate's work. And if we allow the press to disrupt our orderly going about our business, that's our fault — not the press, not Norm's. That's ours."
Sen. Jane Kitchel (D-Caledonia)
On the Senate's options: "The problem is, none of these fit very nicely."
Sen. Ginny Lyons (D-Chittenden)
"I think suspending him gives him an option to complete his judicial process for him and for his constituents to consider whether or not they are being represented."
Sen. Mark MacDonald (D-Orange)
"The people of Franklin County elected Sen. McAllister, and if they want him to resign they should try to persuade him to."
Sen. Dick Mazza (D-Grand Isle)
"I think, for the best, he should resign."
On whether McAllister should be expelled: "He's been accused. Let's get it cleared out in court: guilty, not guilty, whichever way it is. That to me would be the fair way. I don't think we should judge his guilt or innocence at this time."
Sen. Alice Nitka (D-Windsor)
"All I know about the situation is what I've heard and your article in Seven Days. I have no other knowledge."
"You could expel somebody, but I think that sets a very bad precedent if you do that without evidence."
Sen. Anthony Pollina (P/D-Washington)
"Resigning would be the right thing to do, from his point of view."
"I think if he continues to serve, he should get his committee assignments. In other words, it's all or nothing. If he's going to be there, he should be in committee."
Sen. John Rodgers (D-Essex/Orleans)
On whether McAllister should be expelled: "I told my leadership that I don't think we should have anything to do with that process. I think the resolutions are foolish and subvert the judicial process. It is the judiciary that will try him and determine his innocence or guilt, and I want no part of it."
Sen. Michael Sirotkin (D-Chittenden)
"My constituents have been telling me they do not want this to be a distraction to the more serious, substantive issues we need to deal with. So I would hope it could be dealt with expeditiously."
Sen. Diane Snelling (R-Chittenden)
"I do think he should resign. I just think it would be the most graceful thing he could do."
"It seems to me as if many people have convicted him in their minds. I guess that makes me very concerned that we really think about justice and how do we manage that."
Sen. Bobby Starr (D-Essex/Orleans)
On whether McAllister should be expelled: "Nope."
"I just think it's just kind of a sad situation. I've never felt it was up to us to decide what was best for him or Franklin County. That's up to them."
Sen. Rich Westman (R-Lamoille)
"I think it will be hard for him to fulfill his duties as senator, so from that vantage point, for his constituency, I think that I would tell you I would hope he would resign."
Sen. Jeanette White (D-Windham)
On whether McAllister should be expelled: "No, because we don't know of his innocence or guilt. I'd vote to suspend him probably, but not expel."
"I would hope that we are grown-up enough to function without this as a distraction."
Sen. Dave Zuckerman (P/D-Chittenden)
"It's important that he not be present in the building, because otherwise the media, nothing against you, will focus more on him than on the issues that actually matter to Vermonters."
"In an ideal world, Norm would recognize that resigning is not an admission of guilt, but a positive step for the legislative process to move forward unencumbered."