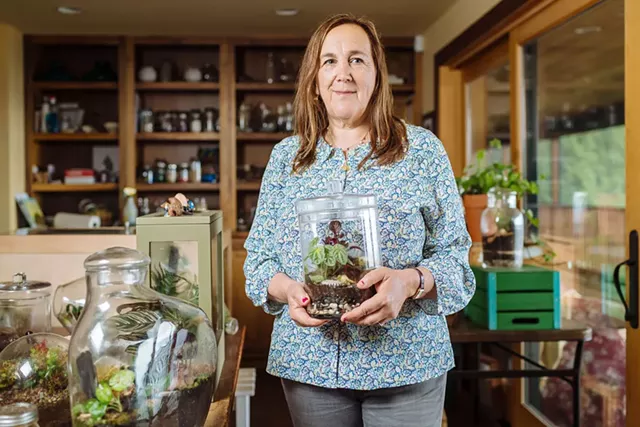 Oliver Parini
Susan Goldstein and her Muddy Toes terrariums
Susan Goldstein's lakefront home in Burlington emanates light, warmth and beauty. A screened-in porch faces west at water's edge. There's a sense of the outside pouring in and the interior extending outward indefinitely.
This confluence of inside and out is exactly the vibe that Goldstein attempts to create in her one-woman business, Muddy Toes. She designs and creates terrariums, crafting miniature assemblages of plants, stones, sand and soil in clear glass vessels. Goldstein works in a home studio overlooking Lake Champlain. Succulents grow in one corner, and shelves hold jars filled with pebbles and dirt. With these materials, she creates self-sustaining natural worlds.
"I woke up one morning and said, 'I want to make terrariums,'" Goldstein, 65, recalled. "I took tons of classes. I ordered tons of stuff."
This epiphany came about four years ago, as she embarked on a new phase of her life both personally and professionally. A longtime Vermonter, Goldstein was then living in the Albany, N.Y., area with her partner (now husband), Steve Kieselstein. Missing her home state, she spent time outside in his yard, creating a nook for herself where she could think and imagine.
"It was time to reclaim my own life," Goldstein explained. "I had this little space in the backyard. I brought crystals and stones and branches and a yoga mat. And I would spend really quiet time out there. That's how Muddy Toes was born."
She has since returned to Vermont, along with Kieselstein and his son; they're renting the lakeside house in Burlington's New North End. Goldstein collects stones and other objects from the beach nearby.
The containers she uses might be round or upright and vase-like, though recently Goldstein created a terrarium of tropical plants in a rectangular vessel that more closely resembles an aquarium. She works occasionally with handblown glass but more often uses commercial glass pieces.
The primary features in Goldstein's terrariums — plants — come in two broad categories: succulents and tropical plants such as calathea and peperomia. For succulents, she builds her terrarium in an open vessel because plants need air. Tropical plants are housed in closed containers.
"I'm finding, over time, that what people really love is the small world," Goldstein noted.
She sells her terrariums at craft fairs and a couple of local shops, including the artist collective Thirty Odd on Pine Street. Prices range from $28 to $38 for smaller pieces and rise to $150 or $200 for higher-end terrariums made with handblown glass. Goldstein also makes custom orders and installations. Her small business has a seasonal component, too, with much of her work centered on holiday craft fairs.
In addition, Goldstein offers workshops in which she teaches people how to make their own terrariums. In her classes, she finds that people appreciate stepping into a world — a contained one — of their own creation.
"You have to think about your personal vision," she advises. "Do you want something earthy, or beautiful colored sands to make it beachy? I like to experiment with all kinds of textures and materials and colors."
Oliver Parini
A terrarium created by Susan Goldstein
Goldstein is originally from suburban Boston. She moved to Vermont more than 40 years ago to attend the University of Vermont, where she majored in studio art with a focus on ceramics. She married a fellow potter, and the two settled in Addison County and raised two daughters. (She and her first husband later divorced.)
In 1978, Goldstein founded a sprout company, called Susan's Sprouts, in her home. She grew alfalfa sprouts in gallon jars and sold them to local stores.
"I was a young mom with a young business," she recalled. "It was a really exciting, wonderful time."
That business grew into a larger one called Vermont Sprout House, which produced some 10,000 pounds of sprouts a week and employed about two dozen people.
Goldstein sold the business after 24 years. She then had a series of managerial jobs, including working for a decade as regional sales manager for a national herb company. When that job ended about five years ago, Goldstein said it was time for a change.
"I was in a very male-dominated [business] culture, and finally I'm like, 'I'm free,'" she said. "I always loved anything connected to the earth. I was a gardener all my life. So I just grew another business."
Muddy Toes has echoes of her original sprout company: Once again, Goldstein is growing green things in glass jars. But her terrariums have a sculptural element, too.
"I have a certain style," she said. "There's a sense of layering: the stones, the dirt, the colored sands."
After years in a high-pressured business world, Goldstein said she finds her work with Muddy Toes to be relaxing.
"I'm like, 'aha!'" she said. "I'm finally able to create something that is sourced from my vision."