"There's certainly magic in evolution," says Jeffrey Sprenger. His Vermont-based company, Xemory Software, is using a National Science Foundation grant to create Neurobotik, a game that allows kids to design and perfect robot brains by simulating evolution. "When you evolve the robots, you get some really crazy results," he says.
Sprenger hopes Neurobotik will engage middle and high school students in science and technology and inspire them to pursue careers in those fields. He's working with University of Vermont professors Josh Bongard, Maggie Eppstein and Kieran Killeen at the Vermont Center for Emerging Technologies to make the game both educational and engaging.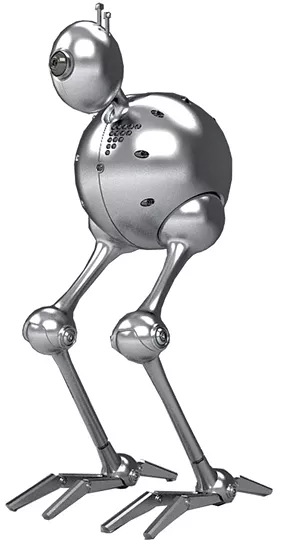 Neurobotik is completely virtual; you don't need to worry about buying robot materials or fiddling with circuit boards. And it starts out simply. Kids choose from a preexisting robot design or create their own from an inventory of body parts and sensors. Then they practice moving their bot around its environment.
Next, they play around with evolution by diving into the robot's "biologically inspired" brain. "It's a very simplistic model of the neurons in your brain," says Sprenger, whose previous job was vice president of research at MBF Bioscience, a Williston firm that makes software and systems to analyze brain images at the microscopic level. "You might have a dozen neurons in this robot's brain, compared to billions in ours. But it's the same idea."
Similarly, evolution in this game isn't the billion-year process it can be in real life. Kids can work through 50 generations of their robot in less than 30 seconds. Over time, their bots will become better at challenges such as navigating a ramp-filled maze to reach a square of cheese.
During the month of October, students at Essex High School, Champlain Valley Union High School, Edmunds Middle School and Williston Central School will test Neurobotik. Sprenger says the game itself will evolve based on their feedback.
Neurobotik: Created by Xemory Software. Want to try the game but don't go to one of the schools listed above? Get your hands on Neurobotik at the Champlain Mini Maker Faire at Shelburne Farms on Saturday and Sunday, October 4 and 5; or at the Vermont Tech Jam at Burlington's Memorial Auditorium on Friday and Saturday, October 24 and 25. xemory.com