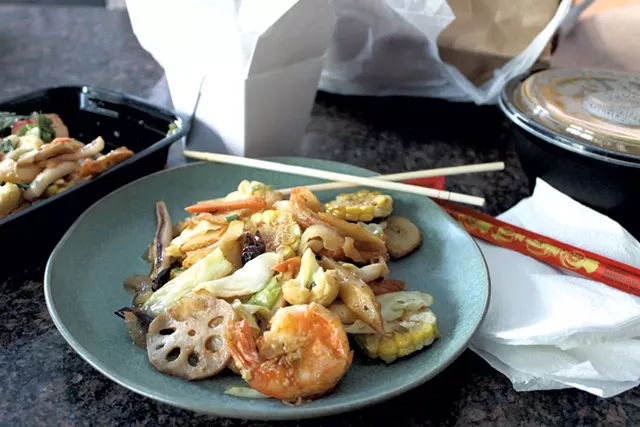 Melissa Pasanen
A takeout order of mixed seafood dry pot from the Mandarin Chinese menu at China Max before the restaurant closed temporarily on March 19
Several weeks ago, when I first went to China Max on the basement level of CityPlace Burlington, my plan was to write about a special menu that caters largely to international students.
The family-owned restaurant has a popular, affordable lunch buffet of American Chinese favorites such as General Tao chicken and lo mein noodles. It was Vito Forte, one of my two dining companions on that inaugural visit, who told me about the alternative two-page menu, which exists only in Mandarin. He'd become a regular at China Max after learning about it through a University of Vermont graduate student. (As of fall 2019, UVM had more than 320 undergraduate and graduate students from China.)
Ordering that evening, Forte consulted with Yuki Wu, who owns China Max with her husband, Jay Lin. He asked for "the dish with corn and potato" made with tripe and took Wu's suggestions for a few other choices, including soy- and cumin-glazed pork ribs and braised pig ears.
We ate in a little room with a sign on the door that read, "Reserved Area. Do not enter." What the space lacked in atmosphere, it made up for with a fragrant aroma of five spice, heavy on the star anise. Dishes came on unmatched flowered dishware with rice served in Styrofoam bowls.
The food was delicious and unlike anything I had eaten in Burlington.
"You kind of travel by going to a restaurant," Forte said.
Much has changed in the intervening weeks.
For the foreseeable future, most Vermonters will be doing no international travel in real life and minimal virtual travel via local restaurant offerings. Like many restaurant owners, Wu and Lin have been navigating the constantly shifting situation that is the current COVID-19 pandemic.
I wish I could urge you to support China Max right now by ordering takeout or delivery, but it is among the Vermont restaurants that have reluctantly decided to cut their losses. On Thursday, March 19, Wu texted me that the restaurant was closing: "We are worried about our health, and there are also less customers."
I last chatted in person with Wu on March 16, when I picked up a takeout order of dry pot made with mixed seafood and crimson-brothed ma po tofu, chock-full of soft, custardy bean curd. Mayor Miro Weinberger had just directed all Burlington restaurants and bars to close for in-person dining and drinking; an expanded statewide order would follow shortly. We couldn't ignore the pandemic.
Wu was hesitant to address directly the discrimination some Chinese restaurants have seen around the country since the spread of the coronavirus.
"I know some people call it 'Chinese coronavirus,' but it just started in China," she said. "Most people are nice. You cannot control other people."
Speaking more broadly, Wu said, "It is a tough time for every restaurant. But what can we do? Nothing."
While restaurant owners can't control external events, they do choose how to respond to them. For some, that means closing to conserve resources or take care of family members. For others, it has involved reinventing their business to meet current requirements and generate desperately needed cash flow.
Last Thursday, Wu, Lin and their two teenagers cleaned the restaurant before locking it up and leaving, with no date set for their return.
In Burlington's Old North End, Kortnee Bush and Jackie Major, owner and executive chef of Butch + Babe's, respectively, were doing the same. After launching a well-received takeout effort at the beginning of the week, Bush and Major decided that closing was their best option.
Their children, ages 3.5 and 6, were perched at one of the restaurant tables watching TV on a laptop, Bush said on the phone as she scrubbed the toilet. Concerns about childcare and the risk of exposing their families to the virus were key reasons for closing. Major's husband works in eldercare, which heightened their worries.
"We weren't looking to make money, just break even and keep people employed and cover expenses," Bush said. "We got close-ish, but it was too much to keep it up.
"If Jackie and I didn't have kids, and it was just the two of us jamming, maybe we would have kept going," she continued. "Jackie says this feels really anti-feminist, but someone's got to take care of the kids."
Bush has heard from her bank that loan payments can probably be deferred. She hopes her rent can be reduced so she can keep as much of her savings as possible, but she understands that landlords have to pay their mortgages. "I think if it's one month, we'll be OK, but if we're looking at three months with no income...," Bush said, trailing off.
Courtesy Photo
Country pâté packaged for takeout from Bistro de Margot's Margot on the Go menu
Chef-owner Hervé Mahé of Bistro de Margot in downtown Burlington said he has received supportive calls from his bank and landlord, but he doesn't want to go into debt by deferring too many payments. "If we have to catch up, it's going to be extremely difficult," he said.
"To stay afloat," as Mahé put it, he came up with a new takeout menu called Margot on the Go. Although it includes some favorites from his regular appetizer and dessert menu, most of the entrées are different: quiches, braises and stews such as coq au vin and boeuf Bourguignon that can be reheated well. "I didn't want to send food like steak," he said, "and stews are the ultimate comfort food for right now."The shift to new recipes and packaging has been almost like launching a restaurant, Mahé said. So far it's been going well, giving him hope that he can keep his sous-chef and line cook employed, as well as one server who is coordinating orders. He is not currently offering delivery, but that may change if demand warrants, though insurance liability on the service can be tricky.
126 College St.
Burlington, VT
802-863-5200
French
Gov. Phil Scott's executive order of March 19 allowing restaurants and bars to sell alcohol for off-premise consumption has been helpful, Mahé added. He has put his wine list online and hopes that business will grow enough to enable him to hire back a few more of his 10 former employees.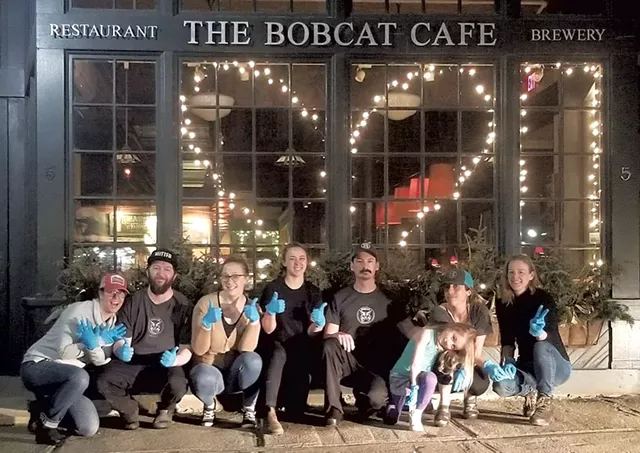 Courtesy Photo
The team at The Bobcat Café & Brewery after finishing a night of takeout service
In Bristol, the Bobcat Café & Brewery has offered free meals from its new takeout menu to the growing ranks of the hospitality industry's unemployed. Kids eat free, too. Everyone else is welcome to pay what they can, but chef and co-owner Erin Wheeler said that "so far, everybody has paid the menu prices, and most have paid extra."
Wheeler and her husband and co-owner, Sanderson Wheeler, have been cooking with their longtime sous chef. Two servers are helping out, with one volunteering to do delivery to Bristol and Lincoln.
"We're doing it with no payroll," Erin Wheeler said. "They're all doing it out of the kindness of their hearts because they don't want to see Bobcat go away."
5 Main St.
Middlebury Area
Bristol, VT
802-453-3311
American (New), Brewery and Food Truck/Cart
She said she started taking the idea of social distancing and her restaurant's role more seriously after Middlebury College announced on March 10 that it was sending students home for the rest of the semester. "First I was mad, and then I thought, They're smart people. They didn't do it for no reason," she said.
"For a restaurant, it's a totally impossible situation," Wheeler continued. "We're so in debt and so reliant on cash flow ... It's really up in the air whether or not we'll survive."
Wheeler said the team is learning every day and trying to manage the pickup process to maintain safe space between customers. She posted a photo on social media of the couple's 7-year-old daughter: "This is Simone with a 6-foot stick. That is how far we must stay away from each other even though we all want a hug real bad."
The restaurateur is looking for a silver lining. "Restaurants are pretty unsustainable, but I've never felt brave enough to change anything," Wheeler reflected. "Now we have servers washing dishes and less separation between front and back [of the house]. It helps me to envision how things could be different. Maybe it will bring some protections for hospitality workers. Maybe it's a start-over button."
I, too, hope there is a future in which restaurant workers and small business owners have a reliable safety net, and when we will once again be able to enjoy China Max's meaty pork ribs spangled with dark red dried chile peppers.
But for now, I will order a quiche Lorraine from Bistro de Margot and dream of China Max's aromatic dry pot with meltingly tender sliced potato, first deep-fried and then stir-fried with sweet corn disks cut crosswise from the cob, cabbage, cauliflower and thin ribbons of pleasantly chewy tripe in a lightly tongue-tingling Sichuan peppercorn sauce.
Although Wu could not project how long her restaurant would be closed, when we last spoke, she said, "We think we will be OK."
Before they locked the doors of Butch + Babe's, Bush and Major wrote, "See you soon" on the restaurant's front windows and let their kids add their own artistic touches.