courtesy of Peter Cirilli
Collin Hale
Age: 31
Occupation: pro skateboarder and sous chef
Town: Stowe
Collin Hale has lived in Vermont most of his life. But it was during a brief stint in Phoenix, Ariz. — in fourth through sixth grades — that he discovered skateboarding. By the time his family moved back to Underhill, Hale was hooked. "Skateboarding's not for everyone, but the people that it is for, it really takes a hold of your life," he explains.
These days, Hale is one of just a handful of Vermont skaters who have gone pro — he joined LA's Warco Skateboards in April 2016. While most in his industry make it big by moving out to California, Hale has stayed put. Why?
"I've grown up here, fallen in love with the food and the environment," he says. Plus, "Vermont, from a skateboarding perspective, is very different from anyplace else. It's hard to do the sport from here. It's rainy and it snows and it's not the best pavement. When you can make it from here, it seems even more special."
When he's not skating locally and at parks around the world, Hale can be found foraging for mushrooms, gathering his own spring water or pursuing his other passion — cooking — in the kitchen at Stowe's Doc Ponds.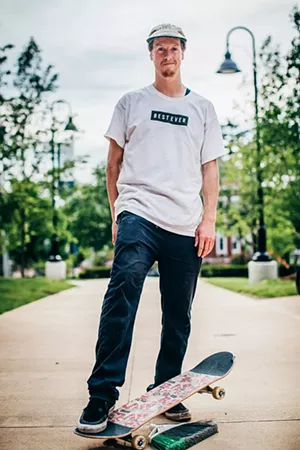 courtesy of Peter Cirilli
Collin Hale
Where to skate in Burlington: The "Jersey Barrier" on the unfinished section of the highway [off of Pine Street] — because of the do-it-yourself aspect. People have built concrete ramps there. It's in a zone where you don't really get messed with by authorities. It's off the beaten path, tucked away, and skaters can do their thing. It's a pretty big cornerstone of the community.
And we're incredibly blessed with the Andy A-Dog Williams Skatepark. I've traveled extensively and been to some of the world's best parks. This one is definitely in the top five of the ones I've been to.
Local band you'd like to soundtrack one of your skate videos: I want to get Rough Francis on the soundtrack. They're awesome. Lead singer Bobby Hackney Jr. was one of the older skaters I grew up with.
Vermont restaurant worth driving for: Worthy Burger. I like that it's far out from the normal areas I visit — gets you outta Chittenden County. You go there, and they have all the best beers on the list and the food is really high quality, sourced from the best farms.
Local farms I love: Jericho Settlers Farm. Knee Deep Farm. Pete's Greens is fucking phenomenal.
How to survive six months of winter: There is one indoor skate park, Talent. They hold it down. If it wasn't for them, I'd probably go crazy and move.
Two things you need to survive in Vermont: A sharp knife and a roll of duct tape.