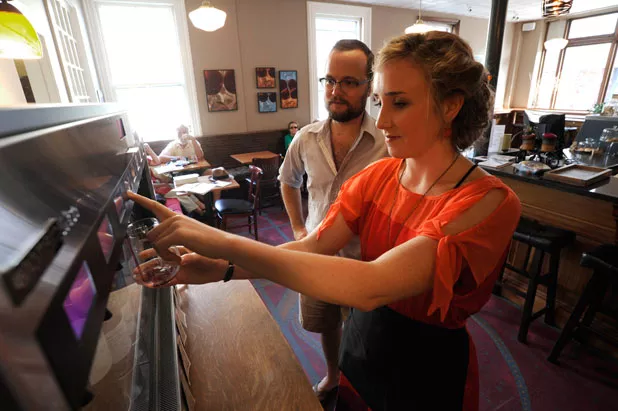 Jeb Wallace-Brodeur
Becky Parker pours a glass of wine from the Italian Enomatic wine dispenser at the North Branch Café
The wine bar may be old hat in urban areas, but in Vermont it is still barely charted territory. Burlington's pioneering Wine Works, which opened in 1999, was ahead of its time but soon transformed itself into a more conventional bar — and changed its name accordingly, to Drink.
Since then, local restaurants have emerged with "wine bar" in their names, either explicitly, as in Burlington's Blue Cat Café & Wine Bar; or implicitly, as in White River Junction's Elixir. Other establishments have sophisticated wine-by-the-glass lists (such as Pistou in Burlington and the Pitcher Inn in Warren). But, until this past year, no establishment in northern Vermont but Wine Works had branded itself solely as a wine bar — that is, a place to sample wines along with complementary small plates.
In Middlebury, former chemist Nancy Weber-Curth led the charge in spring 2012 by opening the aptly named Sparkling, dedicated to Champagne and sparkling wines. This past spring, L'Amante chef Kevin Cleary amped up his passion for wines by transforming an empty space — just two doors down from his College Street restaurant — into Vin Bar & Shop. About a month later, one half of Montpelier's long-empty Chittenden Bank building found new life as the North Branch Café, a wine and tea spot opened by Lauren, Wes and Becky Parker.
None of these places offers full meals; instead, each focuses on the pours, from Barbaresco to sparkling Grüner Veltliner. The bars diverge mainly in personality, a reflection of their owners' tastes, which shows in the décor and wine selection. I recently visited all three to gauge their vibe.
Anyone familiar with Burlington's L'Amante won't be surprised by the polished, minimalist new space created by owners Kevin and Kathi Cleary for their wine bar. Its scale is surprising at first: To the left of the entrance, a shop is stocked neatly with wine bottles and a cold case offering cheeses and charcuterie. To the right is a curved, sleek, walnut bar with a cherry-red meat slicer sitting on one end. Toward the back, behind a glass wall, a wine classroom holds dark wood tables set with sextets of waiting glasses. Light spills in from Vin's floor-to-ceiling windows, but it doesn't dilute the dim, sexy ambiance.
For much of his cooking life, Kevin Cleary has had a love affair with wine, studying it intently and traveling to Italy's wine regions every year. In 2011, he opened his own wine school inside L'Amante, where he spends his only day off of the week teaching students (including me) about the finer points of vinification and the Guyot pruning system. That educational component is integral to Vin — hence the classroom — and a spirit of serious experimentation permeates the place, starting with the raft of 2-ounce pours you can order from the wine list.
These tiny tastes can push the casual, curious drinker to full-on wine geekdom. Ten minutes after I arrived with two friends, our corner of the bar was lined with seven glasses, each filled with samples such as a brisk Bodegas Valdesil Godello and spicy Numanthia Fermes.
Though Cleary's focus has long been Italian wines — which make up the bulk of L'Amante's wine list — Vin allows him to draw more heavily from other regions. Even so, the emphasis is definitely on the Old World: Bottles from France's up-and-coming Languedoc-Roussillon region, a selection of Champagnes and numerous reds from Spain outnumber wines from Italy. Our bartender was decidedly hands off, but when one of the wines we tasted was faulty (7 to 9 percent of all wines are), he replaced it with no questions asked.
Vin is not a place to come for dinner: Cheeses and meats — and the occasional lobster roll or other special — constitute the entire menu. But they're exquisitely presented. Rich Vermont Butter & Cheese Cremont, fennel-spiked finocchio sausage and a hefty pile of paper-thin prosciutto di parma (shaved on that red slicer) came artfully arranged on a plate with quince paste, fig jam and roasted peppers. A basket of crusty Red Hen bread rounded out the course.
If you like what you're drinking at the bar — and, with seven wines in a suite, there's a good chance you will — you can pick up a bottle in the shop on your way out. Just don't try to cross from the bar into the shop with a glass in your hand — that's a legal no-no.
Vin Bar & Shop, 126 College Street, Burlington, 497-2165. vinbarvt.com
The bohemian: North Branch Café
Everything about North Branch is delicate. As I took a seat on a soft, patterned cushion, Bon Iver wafted from the speakers, and a ceiling fan twirled slowly overhead. Soon a server delivered a glass of steaming-hot pomegranate oolong tea, a plate of shortbread and a stemless glass of Domaine de Couron rosé.
Just before the North Branch Café opened this past spring, co-owner Lauren Parker described it as "an eclectic, Montpelier kind of thing." The floor is painted with an undulating river pattern, and an undercurrent of serious oenophilia flows there, as well.
A stainless steel wine chiller dispenses pours from a rotating selection of off-the-beaten-path wines such as Gerard Metz Riesling from Alsace and Michael Pozzan Zinfandel from California. Behind the counter, the barista doles out wines from bottles. On a recent day, those included Good Pinot Grigio and Brotte La Grivelière Côtes du Rhône. My Grenache-based rosé was not quite as chilled as it could be, but it tasted of strawberries, cherries and citrus and, for $7.50, was a generous pour.
The savory menu consists mostly of snacks and small plates of cheeses, dips and bread. I ordered a Winooski — an oblong wooden plate arranged with snow-white chèvre, triangles of warm pita bread and a tiny pot of sage-infused honey. It was a heavenly late-afternoon snack.
The Parkers also bring in pastries and cookies from local bakeries, including delectable pistachio-lavender shortbread dipped in dark chocolate and dusted with pistachio bits; an unusual spicy-curry shortbread that tastes of turmeric, pepper and cardamom; and a fennel-anise shortbread medallion barely tinged with sweetness. All these come on plates adorned with a bright purple flower.
Don't try to order coffee with your pastry, though — the Parkers don't sell any, as they don't want its overpowering aroma to taint the space. Softer-edged drinks are the draw here, and a powerful one. As soon as I left, I started planning my next visit.
The North Branch Café, 41 State Street, Montpelier, 552-8105
The siren: Sparkling
To open a bar devoted to one drink is a bold move. But such is the singular focus of Nancy Weber-Curth, a petite, elegant woman who left behind her life as a chemist and business consultant to renovate a Victorian home in Middlebury into Sparkling, a Champagne and wine bar.
When I first heard of her plans, I had doubts that Sparkling could last. Who in Vermont even orders Champagne on a daily basis? But Weber-Curth's instincts were savvy: It turned out that legions of Champagne lovers were lurking among us, just waiting for a place to get their obsession on.
"On weekends, it's packed!" said Weber-Curth, who services all the tables herself with a gracious calm.
Sparkling has a French-styled, shabby-chic décor. The shaded patio is filled with flowerpots; the glassed-in front porch and dining room are effortlessly stylish, finished with distressed doors and tiny wooden tables.
Adding to the bar's charm is its spare menu: sparkling wine, Champagne, local cheeses and chocolate. That's it. Six wines are offered by the glass, another two dozen by the bottle. All of them are bubbly.
"I'm dedicated to the grower houses, the winemakers who work hard to make unique wines," said Weber-Curth, who traveled to the Champagne region of France to track down wines she wanted to carry. Other sparklers originate around the world: a Prosecco from northern Italy, a Cava from Spain, a sparkling rosé from R. Stuart & Co. Winery of Oregon.
Of the rosé, Weber-Curth told me, "It's out there. Some people love it, some people hate it." I got the sense that she loves it, and ordered some, along with a Champagne.
Weber-Curth returned to the table with a tray holding two bottles and two flutes. She popped both open and dribbled wine incrementally into each glass, letting the bubbles grow and recede and grow again. The act was filled with suspense.
On the nose, the R. Stuart & Co. rosé suggested cognac; the carbonation hovered somewhere between still and sparkling. By contrast, the Champagne from Gaston Chiquet was classically rich, round and biscuity. In their own ways, both wines were excellent foils for the Vermont cheeses we ordered — a crumbly Orb Weaver Farm cave-aged cheese and a creamy cow's-milk cheese from Scholten Family Farm — and smeared across Carr's Table Water Crackers.
As we sipped, three more customers trickled in — all women. Each settled in at a table with a book and a flute of bubbly at hand.
Wine sellers can be frustrated by the typical American view that Champagne is exclusively a special-occasion treat. Not so at Sparkling, where we seemed to be witnessing a quiet revolution.
Sparkling, 56 College Street, Middlebury, 989-7020. sparklingvt.com