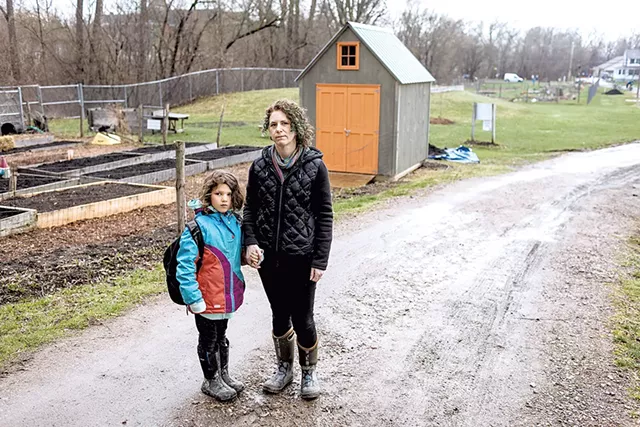 Oliver Parini
Joanna Grossman and her daughter, Isa, at Champlain Elementary School
Second grade teacher Suzanne Weishaar remembers how she and her colleagues at C.P. Smith Elementary School found out a few months ago that a major construction project was planned at its campus in Burlington's New North End. "The kids were playing, and there were these stakes in the ground," she said, "and someone was surveying."
The stakes marked the site where leaders of Burlington's public school system want to start construction this summer on one of two new preschool buildings in the city — an $8.75 million investment that many faculty, parents and taxpayers had no idea was coming.
Critics of the construction say Burlington Superintendent Yaw Obeng and other central office administrators are trying to rush the new buildings through without support or permission from taxpayers.
"Don't keep surprising us. It's not going to work," said Philip Pezeshki, a C.P. Smith parent who sees the imbroglio as part of a pattern in which district leaders consistently lack transparency with the public. He added: "It's not even frustrating for me anymore; it's enraging."
Minor elements of the plans have been put on hold in response to public criticism over the past two weeks. But Obeng and Burlington schools director of property services Marty Spaulding are still working to get city permits to construct the buildings. One would be a combination preschool and central office headquarters near Champlain Elementary School in the South End; the other, a freestanding preschool building next to C.P. Smith. District officials contend that voters authorized both buildings last year as part of a $19 million bond to address maintenance projects that had long been deferred.
Ben Traverse disagrees. The South End father of two voted yes on the bond and now feels misled. He and others point out that the bond ballot language says nothing about building the structures that are proposed, and that district videos and promotional materials emphasized repair and renovation at its 10 existing school buildings — not erecting new ones.
The plans look substantially different from what was presented to voters in the bond, Traverse said: "It just doesn't sit right with me."
Many residents asked questions about the proposals at a Ward 4/7 Neighborhood Planning Assembly meeting in the Miller Center on April 25. District architects and Spaulding showed renderings to a crowd of 50 people who mostly criticized the plans. One speaker even suggested that using the bond money for new school buildings would be illegal — a claim that Spaulding refuted.
During the meeting and in an interview afterward, Spaulding said the construction would help meet strong demand for preschool services, as students are currently "spilling into the corridors because we don't have space."
The new construction would also free up the Ira Allen building on Colchester Avenue to serve as "swing space" for students displaced during renovations at various schools, so there would be no need to rent space. That building, currently home to central offices and some preschoolers, could eventually be used for the district's alternative education programs or even be sold, Obeng said.
The superintendent has scheduled a series of public meetings to build support for the preschool projects. He'll also need to sell it to the reconstituted Burlington School Board. Seven of its 12 members were elected in March. The old board gave preliminary approval to the projects, but the new board also has a say. Members will be asked in June to approve a request for proposals to advance the work, according to Spaulding. Without that OK, the projects cannot go out to bid — or be built.
The plans are just the latest ideas to stem from a long conversation about the district's creaky old schools and the ballooning cost of maintaining so many buildings. Past proposals to consolidate the district's six elementary schools flopped, however, and many parents appreciate the fact that city children can walk or bike to schools that are close to home.
But upkeep on so many school buildings is expensive. The district has racked up $30 million in school bond debt for renovations made since 2007. The $19 million in new bonding, which has not yet been tapped, will bring that tab to nearly $50 million.
And that's not all: The school board is considering a massive $70 million renovation of Burlington High School, and may put a bond before voters in November. Depending on how the borrowing is structured, the district could face debt of more than $100 million for school construction and repairs — at a time when enrollment is slightly declining. This year, 3,930 students in preschool through 12th grade attended Burlington schools, according to the Vermont Agency of Education.
Obeng acknowledged a decline in the higher grades but said enrollment is increasing at the preschool level, in part due to Vermont's universal preschool law. Act 166 mandates public funding for 10 hours of preschool education a week. Preschool-age children are 3- and 4-year-olds, as well as 5-year-olds who miss the late summer birthday cutoff for kindergarten.
Burlington educates 171 preschoolers in classrooms at various district schools. Another 370 Burlington preschoolers are taught with Act 166 funding at partner preschools that receive public funding. About 22 students are on the wait list for Burlington district preschool slots, according to district figures.
Such a situation means there is not enough room to accommodate growth, according to Obeng.
"Even if the spaces at elementary schools were perfect for preschool students, elementary enrollment wouldn't decrease fast enough to provide enough space to meet our current or future needs," he wrote in an email to Seven Days.
The new buildings would provide some wiggle room, the superintendent said. A $2.5 million price tag is attached to the North End Early Ed Center, a one-story, five-classroom preschool that would be built next to C.P. Smith. It includes a controversial access road that would run through a lawn and an orchard that students currently use as an outdoor classroom.
The South End Early Ed Center, a two-story structure that would be built behind Champlain Elementary, would include five preschool classrooms and a suite of offices for 37 administrators. That project would cost the district around $6.25 million.
It initially included plans for a new road that would cut in from Pine Street, run past the new preschool building and connect to Shelburne Road via the existing access to a district maintenance building. District officials say it would not be a public road.
Nevertheless, that portion of the plan particularly irked some parents. Joanna Grossman started a petition online to prevent the road from being built and quickly gathered more than 300 signatures. She and other parents also created a Facebook page to promote community-driven solutions to school capital needs.
The campaign worked — at least temporarily. Obeng issued a statement last week saying that the Champlain Elementary access road would be placed on hold to allow further discussion. He also agreed to pause another controversial access road in front of Edmunds Middle School on Main Street. That drive would eat up a large chunk of front lawn that is used for athletics, school ceremonies and outdoor study.
It's good to see district leaders responding to public concerns about some of the proposed work, Grossman said, but she's worried that the Champlain Elementary and Edmunds road projects are just delayed, not dead, and wants more specific assurances from Obeng that they are off the table. Meanwhile, the district hasn't changed the plan for a new access road and preschool building at C.P. Smith, she noted, despite opposition from residents.
"It just seems like the district doesn't do a strong communications plan with big decisions," Grossman said. "If you are going to build a new building, sell it first. If you are going to build a new road, sell it to us first. Convince us that you're right."
She also said, "If they are going to ask for a lot more money for BHS, they need to build public trust."
At a school board meeting Tuesday evening, half a dozen parents and residents again raised the communication concerns. Some new board members vowed to be more open. Martine Gulick, who was elected to represent the New North End in March, said that as someone who ran on a platform of transparency, she was unhappy with the way the plans for the preschool buildings were rolled out to the public.