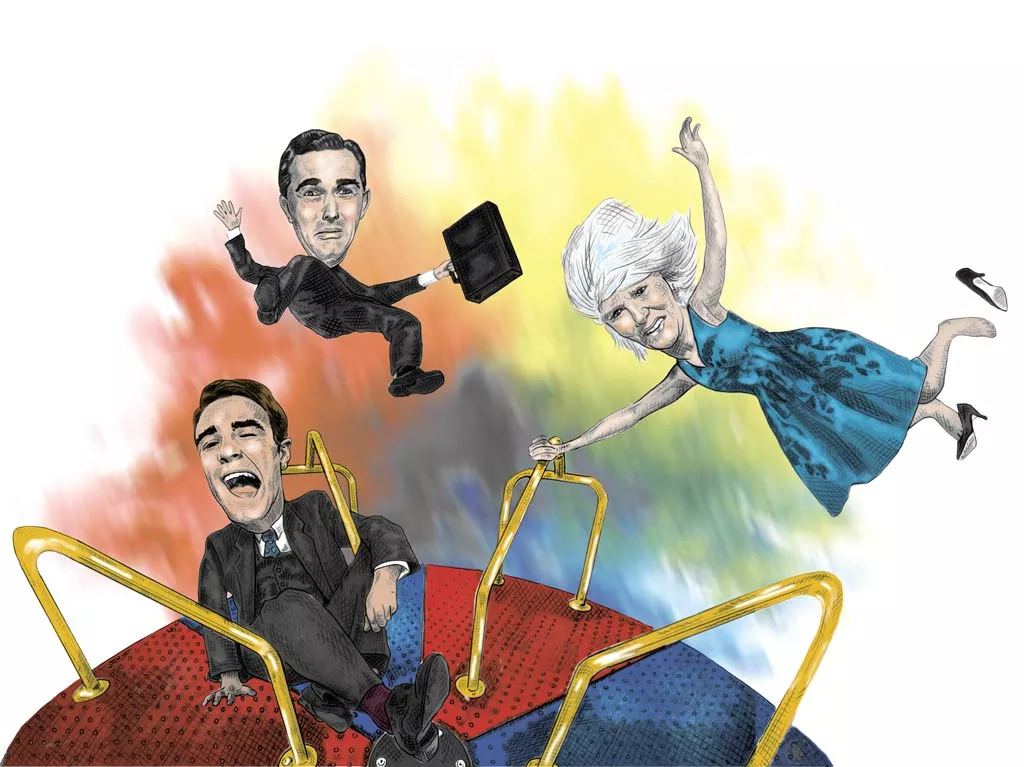 It took a lot of red ink and behind-the-scenes negotiations to get Burlington School Superintendent Jeanne Collins to agree to resign last week — effective at the end of the school year — after nine years on the job. But an alarming number of her counterparts around the state are leaving of their own accord.
At the end of June, nearly a third of Vermont's 60-something superintendents are leaving their posts. That is cause for concern if you ask Vermont's secretary of education, Rebecca Holcombe. "If this was a business," she recalled recently telling a group of state senators, "and you had 30 percent turnover every year, you'd think it was a crisis."
Even more vexing: "The same person is a finalist in five searches, which suggests there are not enough candidates statewide," Holcombe said.
"We are seeing the pools of interested applicants diminishing," confirmed Jeff Francis, executive director of the Vermont Superintendents Association.
Case in point? Collins is already a finalist for superintendent of Rutland Northeast Supervisory Union — a post that opened in early April when its super signed on with North Country Supervisory Union. Currently she's the only finalist; the other contender dropped out to accept the superintendent job at Windsor Southeast.
Superintendents are troubled, too. "I think there is a leadership crisis in Vermont," said North Country's superintendent, Robert Kern, who is stepping down after seven years in the post and 42 years in education.
Why should we care? "Research shows length of tenure is associated with student gains," said Holcombe. "It's just destabilizing at every level of the system when you have turnover at the top."
Vermont's 18 outgoing superintendents are leaving for reasons ranging from retirement to scandal; some are simply moving from one supervisory union to another. But the annual exodus begs for some analysis.
"Our supervisory structure is, in fact, a relic of years gone by," is how Francis put it. As stewards of these conglomerations of towns and schools, the superintendent's job is a complicated one.
Supervisory unions were created at the turn of the 20th century, with superintendents installed as their chief executive officers. Currently, Vermont is carved into roughly 60 supervisory unions; some consist of a single pre-K-12 school but most comprise multiple school districts. Superintendents oversee these units, coordinating services such as special education, testing and transportation, and they report to each district's school board.
People often take the job after serving as principals, assistant superintendents or directors of special education. (Between 16 and 23 percent of principals and assistant principals leave their jobs each year, according to Ken Page, executive director of the Vermont Principals' Association.) Superintendent salaries run from $77,200 to $154,500, and average $114,000. That's pretty plush for a public sector job in Vermont, Francis concedes, but not, he says, competitive with other New England states.
Superintendents aren't being lured out of state by higher salaries, however. According to Francis, most of the movement occurs within Vermont's borders, and, according to Holcombe, "What we tend to see is migration from challenging districts."
And those aren't necessarily the ones you might think: "The stability of leadership has been a hallmark of our district, said Mary Moran, who's closing in on her 15th year as superintendent of the Rutland City Supervisory Union. "The most important thing I do is support principals."
Among those departing in June is Franklin Northwest's superintendent, Jack McCarthy, who with 15 years under his belt is believed to be the longest-serving superintendent still in office. "Can you imagine having 25 bosses?" McCarthy said, referencing the total number of board members he reports to. After spending 150 of his evenings at meetings each year, the inveterate superintendent is looking for a job that will let him return home by 6 p.m.
"It takes a lot of time ... to develop the trust that goes into making that successful — the three-way relationship between the board, principal and superintendent," said Dan French of the Bennington-Rutland SU, noting that, for him, "It took five years to get the system working."
Late nights, lots of mileage and an overabundance of bosses are symptoms of a larger issue: The cumbersome system, with authority vested in multiple boards, can make it difficult for superintendents to get much done when it comes to sharing resources and implementing reforms across districts.
"We have superintendents chomping at the bit to make substantive changes," said Brian Rayburn, superintendent of the Essex-Caledonia SU. "But sometimes the governance structure doesn't allow that to happen."
"Currently it takes about 24 votes to get a policy approved," said North Country's Kern, explaining that each of his 12 boards must vote twice before approving a policy proposal. "It's good to have checks and balances, but I think it creates large delays in moving forward."
"At least 50 percent of my time is just associated with governance functions, preparing agendas and so forth," said French. "There's a lot of repetition."
Superintendents say their jobs are further complicated by an ever-growing collection of well-meaning mandates handed down by state and federal governments. And their position has become more political as declining student numbers make assembling affordable budgets increasingly tricky. "That creates stress on our administrators. You have to put yourself out in the community and sell something that's going to be a hard sell," Holcombe said.
During the recent legislative session, a number of superintendents lobbied for a bill that would have shaken up their spheres of influence — if not totally dissolved them.
Had it passed, H.883 would have done away with supervisory union borders and gradually consolidated the state's 273 school districts into roughly 50. One school board would preside over each district, and proponents argued the new arrangement would make it easier for schools to share resources.
The proposal stirred alarm among apostles of local control, a concept tied to the one-town, one-school-board model.
Francis insisted that the VSA's support for the bill didn't stem from the fact that it would simplify things for superintendents — "I have never had a superintendent complain to me about the number of school boards or school board meetings that they have to contend with ... What they do lament is the inefficient utilization of resources."
H.883 passed in the House but died in the Senate, leaving education policy makers to contemplate some incremental changes. "It's a complex problem, and it's been useful to have the conversation in the legislature," Holcombe said.
In the meantime, the Vermont Agency of Education is trying to find ways to "clarify" the superintendent's role — which can vary widely across the state — and to develop an evaluation model similar to what they've constructed for teachers. The VSA started a "superintendent academy" last year to address the drying-up applicant pool. The nine-day training acquaints potential recruits with the skills needed for the job.
As for wholesale change that might make it easier for schools to hold onto their superintendents? "We are hoping to continue to have conversations to see how we can continue to move ... toward more sustainable leadership models," Holcombe said.
Until then, Vermont remains a superintendent's market.
Disclosure: Alicia Freese's partner, Charles Enscoe, was jointly employed by several education associations prior to May 19, including the Vermont Superintendents Association, the Vermont School Boards Association and the Vermont Principals' Association.
Vermont Principal and Superintendent Turnover, 2010-2014