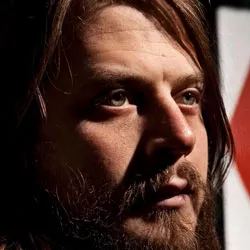 Since he first ran a Hammond organ through a distortion pedal and a Fender Twin amplifier to create fuzz-toned jazz anthems with the Benevento-Russo Duo, Marco Benevento has modded the sounds of traditional keyboards with vintage amps, effects pedals and circuit-bent toys. His three genre-destroying albums with his eponymous trio — Invisible Baby, Me Not Me and his newest, Between the Needles and Nightfall — are clearly influenced by renowned jazz pianist Brad Mehldau's seminal 2002 long-player Largo, which filtered pop and rock songwriting archetypes through an improvisational lens. The albums feature covers of songs by a variety of indie rock and pop artists including My Morning Jacket, Deerhoof, Amy Winehouse and Beck.
Last month, Benevento played a sold-out solo piano show at Parima's Acoustic Lounge. He returns to Burlington this Sunday for a show at Nectar's with his trio, which features bassist Marc Friedman and drummer Andrew Barr of The Slip. In advance of that performance, Seven Days recently caught up with Benevento by phone.
SEVEN DAYS: How was your recent solo piano gig at Parima?
MARCO BENEVENTO: I had a really great time. The audience was super-receptive. I've been playing a lot more solo piano gigs and getting more and more comfortable with playing piano for a bunch of folks and entertaining for the night.
SD: Did you find solo gigs challenging at first?
MB: My first ones were a little nerve-wracking, because it's just you up there making the rhythm, the harmony, the melody, the solo, the intro, the middle, the ending — everything. So there was a big weight. And over the years that weight has been a little lighter.
SD: Have you done anything over the years to lessen that weight a bit?
MB: Sure. My trio albums have a lot of samples going on. There's banjo, Mellotron, drum samples. And at first I thought, Maybe I need to have those gadgets to make all those noises, or those loops to play along with. Over the years, I learned that I could actually do all of them just with my hands, if I actually learned them and took my time to try to work that into the solo piano performance.
SD: Do you think your three trio albums have been an exploration of trying to get out of the piano trio format, or adding to it?
MB: Yeah, definitely. I remember the moment when I was doing my first trio tour and we had three nights at Yoshi's. It was the night before I was going to fly, and I thought, Oh, this is so great. I get to just fly somewhere and not have to bring anything with me. I'll just play pianos. And then I started listening to some demos I had been making for Invisible Baby and started thinking, Well, I really like how the piano has a delay on it for the bridge, and then the distortion comes on … And I like the tremolo … So I went out and got a guitar pickup [to mic the piano] and I brought the pedal board and some circuit bent toys and was able to do it.
SD: Your new album, Between the Needles and Nightfall, is constantly swirling with wild sound effects and hard-to-define keyboard sounds.
MB: I did a lot of overdubbing at my house, and I did a lot of re-amping. My basement looks like a laboratory. There's just racks of amps, and keyboards and pianos. I ran [bassist] Reid Mathis through different amps. I ran [drummer] Andrew Barr through my four-track machine and some old distortion pedals for some sections, and tried to have the trio have a little different flavor and bite than Invisible Baby. Invisible Baby came up on shuffle last night and I was, like, Wow. There is nothing going on. This is just, like, piano, bass and drums. It seems like a jazz record.
I also have this keyboard called the Optigan. Have you ever heard of it?
SD: I don't think so.
MB: It's a keyboard made by Mattel in the '70s. It's my most favorite keyboard to use. There is Optigan on every track [of my new album].
SD: Why do you love it so much?
MB: If you saw it, you would know. Basically, it's a keyboard that plays discs that are in the shape of a record. You stick the disc in and you hit a button — it has piano keys and buttons, like accordion buttons — and it plays a drumbeat or something and then you hit a chord and it sounds like a guitar. And it spins and plays in a loop, so you can choose the time and the rhythm and speed it up or slow it down.
SD: Let's talk about your recent touring schedule for Jazz Fest in New Orleans. You were playing with an incredible variety of people [George Porter, Johnny Vidacovich, Robert Walter, et al.]. What does collaborating with so many musicians do for your playing and creativity compared to when you spent most of your time playing in one band?
MB: You just get a chance to see where you're at as a musician. I can play with Billy Martin and Dave Dreiwitz and almost observe myself and how, five years ago, it would have been different. It helps me learn about myself, especially when it's a super-free improv where nobody has any expectations. You really get a chance to see yourself deal with the situation.