Tom McNeill
The Parker House Inn & Restaurant
When chef Alexandra La Noue-Adler and her husband, Adam Adler, purchased Quechee's Parker House Inn & Restaurant almost a decade ago, it was in something of a rut. The stately 1857 inn had good bones and a plum spot overlooking the Ottauquechee River, but it also had a fusty interior and reputation.
The Adlers, fresh from turning around a similar inn in Maine, were undaunted. They layered a funky French provincial vibe — think patterned wallpapers and vintage Euro bric-a-brac — into the firelit rooms. They planted a kitchen garden, added a bar that opens onto a wraparound terrace overlooking the river and introduced a new American menu laced with Gallic touches.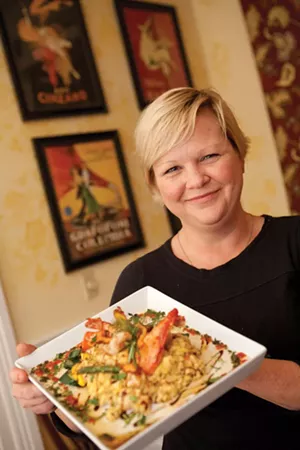 Tom McNeill
The Parker House Inn & Restaurant
Like the effervescent La Noue-Adler — who often pops out of the kitchen to mingle with guests — the menu is colorful, gutsy and original. She'll serve plump mussels in a garlicky saffron broth fragranced with rosemary spears, then deliver a cone of salty, crisp frites to soak up the juices. She might smear tart strawberry chutney across a salmon fillet and then drizzle on earthy, roasted pistachio oil. Or dress up succulent rack of lamb in a fragrant honey-lavender reduction that tastes of the inn's garden.
The rustic desserts showcase seasonal ingredients: A hand-shaped fresh blueberry and almond tart competes with a parfait delivered in a jar.
Devouring it all on the terrace on a summer evening is intoxicating — even more so when Adam Adler serves up glasses of French wine or shakes together a rose-hued martini made with fresh cranberries. The Englishman's pours are as generous as his banter.
Like many Vermont eateries, the Parker House took a beating during Tropical Storm Irene. But the Adlers mucked out and reopened within weeks, fortifying locals and tourists alike with their polished fare, creative cocktails and buoyant personas. Restoration never tasted so good.