Don Whipple
Bill Stenger at Q Burke Mountain Resort
Bill Stenger remembers well the day he promised economic salvation to Vermont's Northeast Kingdom.
"It was September 27, 2012," he recalled last Thursday, sliding a photograph across a conference room table at Jay Peak Resort. "The reason I remember that is because that's my birthday."
Left to right: Congressman Peter Welch, Bill Stenger, Sen. Patrick Leahy, Sen. Bernie Sanders, Gov. Peter Shumlin, Ariel Quiros, and William Kelly in Newport in 2012
The photo, snapped on the shores of Newport's Lake Memphremagog, featured a smiling Stenger and two business partners surrounded by the most powerful men in the state: Gov. Peter Shumlin and Vermont's three-member congressional delegation.
"That was a very important day," Stenger said, a trace of wistfulness in his voice.
The charismatic Jay Peak president had celebrated his 64th birthday by announcing $500 million worth of development projects, which he promised would "fundamentally alter the economic landscape of the Northeast Kingdom."
Stenger had already spent $250 million transforming his sleepy ski area into a four-season resort, replete with an indoor waterpark, ice arena and several new hotels. Now he envisioned bringing 10,000 jobs to the struggling region by convincing hundreds of foreign nationals to invest $500,000 apiece in a biotech campus, convention center, airport improvements and hotels in three small towns. In exchange, those investors would be granted permanent residency in the United States.
"It was a big deal then," Stenger recalled. "It's still a big deal."
But not everything has turned out as promised.
Almost three years later, nearly every project is behind schedule, delayed indefinitely or, in the case of a window-manufacturing facility slated for Newport, canceled altogether. A high-profile land deal for a nearby convention center and marina fell apart. Stenger bulldozed a downtown Newport block, but he hasn't yet delivered the revitalization project designed to replace it. And a long-planned extension of Jay's skiing terrain — the West Bowl — has been delayed due to environmental concerns.
More troubling still, Stenger has faced an investor revolt, fueled by claims that he misled those who financed his first new hotel at the base of Jay Peak and has delayed repaying them.
"We have no trust whatsoever in Bill Stenger," says Tony Sutton, a car salesman from London who invested half a million dollars in the Tram Haus Lodge in 2008 and claims to speak on behalf of 19 other irate investors. "I personally think he's a crook."
Meanwhile, the U.S. Securities and Exchange Commission has subpoenaed reams of records and deposed Stenger, two associates and at least one state official. Stenger says he spent a day in May 2014 at the SEC's Miami field office, discussing the development with federal officials.
Don Whipple
AnC Bio Vermont site
"The questions they asked me had to do with the background of the projects and what we were doing with every project and how we recruited our investors," he said.
Stenger characterizes the SEC's interest as nothing more than a routine "private review" of the most successful projects funded through the federal EB-5 immigrant investor program.
Established in 1990 to steer money toward rural and economically depressed areas, the program has boomed in recent years, generating more than $9 billion worth of capital nationwide in the last decade, according to the trade group Invest in the USA. Fraudsters and schemers have followed the money, prompting a crackdown by the SEC.
Whether or not the feds ultimately take enforcement action against Jay, their review appears to have spooked state officials charged with marketing and regulating the Northeast Kingdom initiative. Last summer, the state suspended Stenger's approval to raise foreign funds for two projects: a biotech research and manufacturing facility planned for Newport and new hotels slated for Q Burke Mountain Resort.
When the state finally lifted the fundraising bans this spring and summer — while retaining certain restrictions — Stenger's political friends were conspicuously absent from a subsequent groundbreaking at the Newport site.
In spite of the setbacks and skepticism, the now-66-year-old maintains the optimistic outlook that's earned him the nickname "Sunshine Stenger."
Asked last week whether he had delivered on the promise he made in September 2012, he said, "I think we've delivered on it in a lot of ways. I think that we are continuing to deliver on it."
Despite the delays, which he blames on the federal and state bureaucracies, Stenger said his vision remains achievable, and every job he promised will be created.
"There are going to be good days and bad days," he said.
But, he added, holding up an architectural rendering of the stalled Newport revitalization plan, "This is gonna happen."
He paused.
"We're committed to Newport."
Kingdom Come-On
Jay's famous aerial tram cut through the summer sky as Stenger sped down the mountain in his black Audi sedan, license plate: JAYPEAK.
A born salesman with a salt-of-the-earth shtick, Stenger appears to enjoy nothing more than showing off his kingdom. He's a constant presence on the mountain, in winter and summer alike, monitoring the lift lines and greeting guests by name. As he drove by the resort's new ice arena and wedding chapel, he noted with pride how many events each venue had hosted this year.
"What motivates me most is the desire to see my employees have full-time employment," he said.
By that metric, Stenger has already found success in this three-county region hugging the Canadian border —population 65,000.
In the past decade, the various ventures he co-owns with Miami-based partner Ariel Quiros have grown from 35 full-time workers to more than 500, Stenger says. Their winter workforce has increased from 220 to 1,600. Annual visits to Jay are up, from 250,000 to more than a million.
"And when you've got 500 to 700 construction workers working continuously somewhere on these projects over an eight-year period, you say to yourself, 'Well, if these projects weren't here, what would have become of them?'" he said.
All that growth has been made possible by more than 800 immigrants hailing from 74 countries — from China to Dubai to Panama. In return for a $500,000 investment, they and their immediate family members receive temporary green cards through the federal EB-5 program. Two years later, if they and Jay can show their investment created 10 direct or indirect jobs, they become permanent residents.
On this late July day, Stenger appeared weary from a recent trip to Vietnam, where he had spent five days speaking at immigration seminars in Hanoi and Ho Chi Minh City and meeting with 60 potential investors. He expects several of them to visit Vermont in August to see the projects they might help fund — a practice Stenger encourages.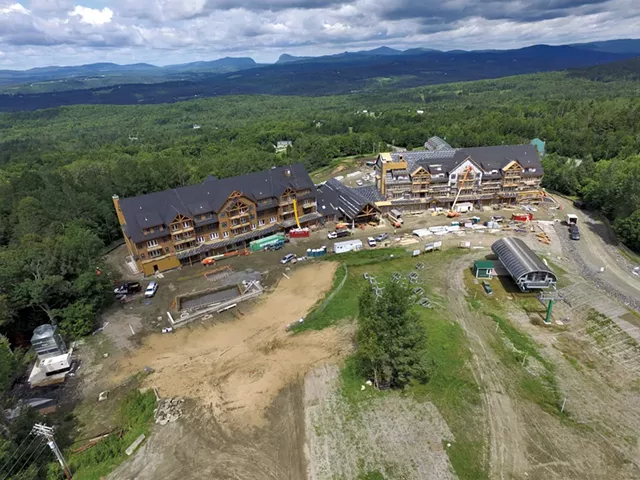 Don Whipple
Q Burke Mountain Resort
"If you come here and stay for a few days, it becomes evident what our objectives are," he said. "Generally speaking, they leaved enthused."
It's easy to understand why.
As Stenger drove the 20 miles from Jay to Newport, he described his adopted region as "incredibly beautiful" but plagued by "intense economic challenges." A western New York native, the Syracuse University graduate managed a resort in the Poconos before moving to Newport in 1984 to help manage Jay.
All three of his grown children, as well as his five grandchildren, live in Vermont. Two of his kids work for the resort. Stenger said he hopes the jobs he's creating will help keep other Kingdom families together.
"We are driving through a rural landscape here," he said as he motored past beat-up ranch houses and snowmobiles with for-sale signs. "These aren't Rockefeller farms. These are our neighbors."
Not all of Stenger's investors remain enthused about his mission to save the Northeast Kingdom.
In August 2013, he and Quiros exercised their rights as general partners to take full financial control of the Tram Haus Lodge, the first development they'd funded through the EB-5 program in 2008. They dissolved 35 foreign investors' shares in the hotel and issued each a promissory note, payable over 10 years.
Stenger failed to inform his investors of the move until January 2014. Over the next six months, many of them lodged complaints with the state and, eventually, with VTDigger.org, which took their story public in July 2014.
Sutton, the British car salesman, led the charge. Years earlier, he and his family had sold their dealership to finance a move to Florida, where they already owned a second home. To obtain green cards, they plowed $500,000 into the Tram Haus Lodge.
Sutton says he recognized it was a risky proposition. By law, developers who raise cash through the EB-5 program cannot guarantee they'll return the principal — let alone interest. But Sutton claims Stenger led him to believe he'd be paid back within five years.
"All the investors understood if the business were to fail we would lose our investment," says Sutton, who is now a U.S. citizen. "Nowhere was it pointed out that the investment would be stolen, and that would be the risk."
Stenger has repeatedly apologized for his failure to communicate, calling it "clumsy." But he stands by the unilateral change in ownership, arguing that it was necessary to make his investors whole.
"Why in the world would I guarantee the payback of $17.5 million when I don't have the collateral?" he asked. "The bottom line is: Every investor is getting their money back. Many of them are now U.S. citizens. And that is a very successful outcome."
Though Stenger now promises to repay the Tram Haus investors by January 2017, Sutton worries the whole enterprise may collapse under its own weight before then, leaving him with a worthless piece of paper. And he wonders whether subsequent groups of investors, whose own payback will soon come due, will be treated similarly.
The episode appears to have deeply wounded Stenger, whose eyes glistened as he defended his conduct.
"It was personally very hurtful," he said. "I've given my heart and soul to this plan, and we have done great work. The economic impact here has been profound."
Investi-Gate
As Stenger pulled into a Newport construction site above Lake Memphremagog, a dozen workers were busy installing water and sewer systems.
"That's where the building sits," he said, pointing to vacant lot on the grounds of a shuttered Bogner skiwear factory. "By September, we'll be doing concrete, getting some steel up."
Stenger appeared eager to demonstrate that, despite years of delay, he was finally constructing the 67,000-square-foot facility built to house AnC Bio Vermont. The company, an offshoot of a Korean biotech firm, plans to manufacture artificial organs, conduct stem cell research and operate clean rooms.
"A lot of people have been critical of this project," he said. "They don't think it can happen here — but it can. And it's because of the capital."
In recent years, the SEC has cracked down on developers who raise millions of dollars through the EB-5 program, never to build a thing. In the most notorious case, a Chicago man named Anshoo Sethi raised $160 million from Chinese investors, ostensibly to build an environmentally friendly convention center, only to divert a portion of that money to unrelated businesses. Last year, he was arrested on 10 counts of fraud and false statements.
In showing off the construction site, Stenger's unspoken message seemed to be: This is no Ponzi scheme. This development is real.
How serious a look the SEC is giving the Northeast Kingdom initiative is a highly contested matter. VTDigger's Anne Galloway reported in June that the feds were "investigating" the projects, but Stenger and top state officials reject that characterization.
"That implies wrongdoing," Stenger said. "I know that there are 20-plus major projects in the United States that are being reviewed by the SEC."
According to Department of Financial Regulation Commissioner Susan Donegan, word choice is important.
"For regulators to use the word 'investigate' is a very specific thing. 'Review' is a different thing. 'Examination' is a different thing," says Donegan, who recently assumed state oversight of EB-5 projects. "I think it was someone in the media who made the decision that the word 'investigation' was appropriate."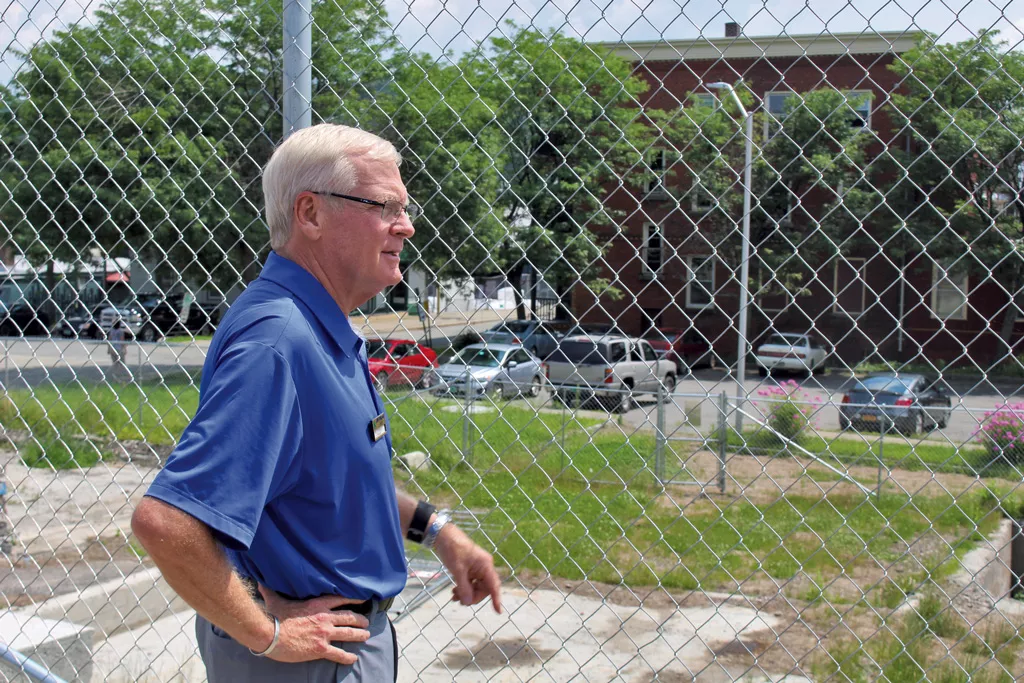 Paul Heintz
Bill Stenger surveys the Newport Renaissance Block site
In fact, it was a state employee: former Vermont EB-5 Regional Center executive director Brent Raymond. In a May 22 email obtained by Galloway through a public records request, Raymond expressed concern that VTDigger had learned of "the SEC investigation of all projects." In a May 27 email, he said he'd been "subpoenaed three times in less than 12 months" about the matter.
The SEC won't say what it's up to, nor will it define the words "investigation" or "review."
"I could refer you to the dictionary, but I think that would probably not be helpful," an SEC spokeswoman says.
But Jeffrey Ansley, a former SEC enforcement attorney and federal prosecutor, says it's "highly unlikely" that his former agency would be subpoenaing documents and deposing witnesses if it was not engaged in a "formal investigation."
"They can move quickly, but they can drag on for literally years," says Ansley, who now works for the Dallas law firm Bell Nunnally and defends EB-5 developers. "It may go nowhere."
Either way, Stenger argues, the damage to his projects has already been done. In the cutthroat world of EB-5 investor recruitment, he says, competitors are quick to translate negative press accounts into Mandarin and other languages and circulate them around the globe.
"They'll take a salacious headline from a VTDigger article and make sure those investors have seen it," he said. "My feeling is, there's probably between 40 and 50 investors who have probably looked elsewhere because of headlines that weren't reflective of the real truth."
Galloway stands by her reporting — and her use of the I-word.
"The stories that have run on VTDigger are based on documents from the state," she says.
Anxiety over the projects' prospects has reached Newport, too.
A mile away from the AnC Bio construction site, Stenger surveyed the demolished city block he promised to convert into office and residential space by the end of 2014. Now, he said, the so-called Renaissance Block will be built in the summer of 2016.
A tall, handsome man with white hair and glasses, Stenger is easily recognizable, even without the Jay Peak name tag he sports throughout the kingdom identifying him, appropriately, as "President." As he described the block's 150-year history, a woman in blue pants and a white, floral blouse crossed the street to talk to him.
"I was just trying to make sure if that was you or not," the woman said. "How are you?"
"I'm good," Stenger responded without making an introduction.
"I'm hearing all kinds of things," she said, a note of concern in her voice. "Are you doing all right?"
Stenger assured her that everything was fine.
After the two conversed for a few minutes, the woman exclaimed, "I'm pulling for you!"
Stenger reflected on the conversation as he drove through the streets of Newport to a lakeside shopping center where he once hoped to build the marina and convention center.
"We've bitten off a lot, and we have to deliver. And we are," he said. "Some of this is taking a little longer, but the resolve is there, and the community is behind us."
Stenger's optimism occasionally appears at odds with reality.
Last summer, after years of negotiation, Burlington developer Tony Pomerleau pulled out of a multimillion-dollar deal to sell the shopping center to Stenger and Quiros. Pomerleau said the Jay Peak owners couldn't come up with the money, while Stenger said, "Mr. Pomerleau did not want to wait."
Even now, Stenger maintains he's looking at alternative sites and may still resurrect the $100 million project. Precisely where it would go remains unclear.
Like many successful business owners, Stenger seems like he doesn't quite know when — or how — to stop. Asked when he might hang up his hat, he said, "I would like, very, very much, to complete the Newport initiatives."
And after that?
"It'll probably be time for someone else to do it," he said.
Will It Fly?
Newport State Airport, just four miles south of town, doesn't look like much. A few raggedy hangars line a 4,000-foot runway, which currently serves mostly small private planes.
Stenger hopes an $8.8 million federally financed runway expansion will draw commercial aviation — and serve other components of his kingdom. He imagines skiers flying commercial airlines to Jay Peak and AnC Bio shipping stem-cell products to hospitals around the country.
In 2012, Stenger and Quiros signed an agreement with the state-owned airport to become its fixed-base operator, overseeing air traffic, fueling and aircraft storage. Last week, Stenger unveiled designs for a new, 10,000-square-foot terminal, which he initially promised to build in 2014 and now plans to do next summer.
"This airport is going to be substantially more than it is now and will be a complement to whatever economic development we do in Newport," he said as he drove through the airport's gates and came to a stop next to the taxiway.
Stenger pointed to a fleet of heavy machines, already moving dirt and rock to make way for a 5,000-foot runway.
"This is J.A. McDonald. It's doing this expansion. They're out of St. Johnsbury," he said. "Percy, the other excavators, are out of Stowe. Mike's Electric is out of North Troy. Everybody's local who's working on these different projects."
For years, Stenger's job-creation record — and seemingly limitless ambition — made him a popular man with the state's political class. A friend and donor to the last four governors, he enlisted two of them — Republican Jim Douglas and Democrat Peter Shumlin — to travel abroad with him in search of investors.
In January 2013, Shumlin devoted four paragraphs of his second inaugural address to Stenger and Quiros, who, he said, "continue to shine a beacon of hope, opportunity and future prosperity." That same month, the men hired Shumlin's former campaign manager and deputy chief of staff, Alex MacLean, to serve as a project manager. Collectively, they donated at least $12,000 to Shumlin's reelection bid the next year.
The web of connections has prompted many to assume the governor's office is greasing the skids for Stenger and Quiros. But emails between state officials and the developers show that over the past 15 months, ties between the two parties have frayed — and, on occasion, their exchanges have been downright hostile.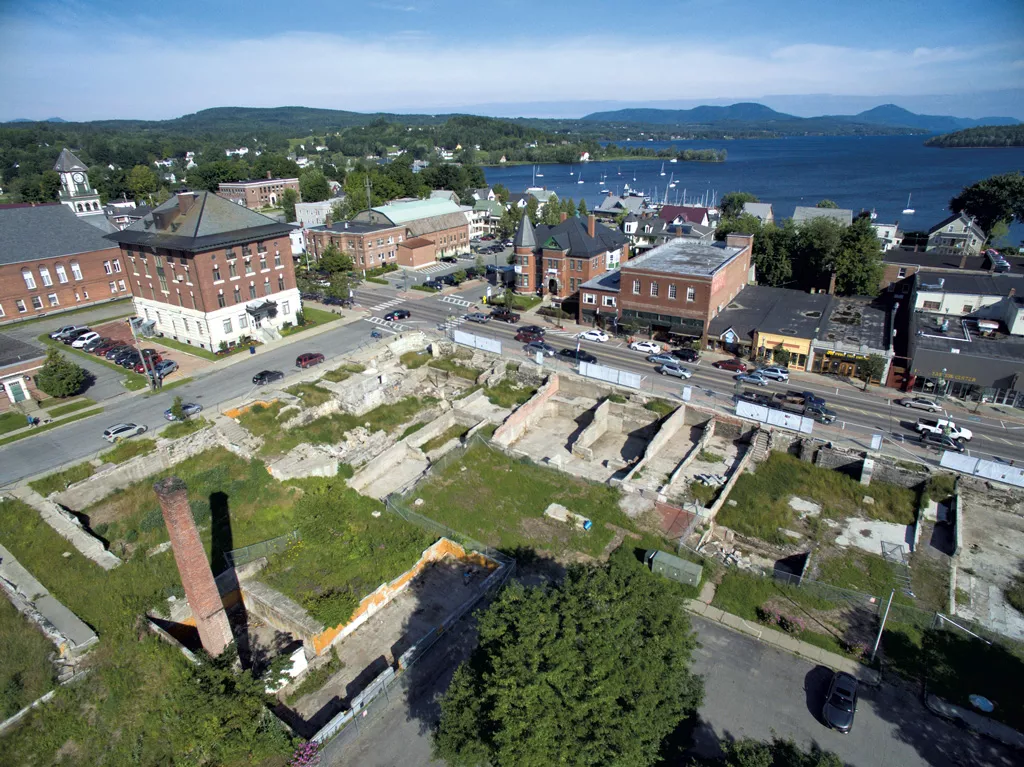 Don Whipple
Newport Renaissance Block site
In May 2014, the Agency of Commerce and Community Development learned that a Korean affiliate of AnC Bio Vermont had been losing money for years and had lost its headquarters to foreclosure a year earlier. The revelation prompted Raymond and ACCD general counsel John Kessler to ask probing questions about financial and familial ties between the two companies and about inconsistencies in their public representations.
The next month, ACCD barred Stenger and Quiros from raising further funds for the AnC Bio and Q Burke Mountain Resort projects until they answered the state's growing list of questions and updated investor disclosure forms.
"We really wanted to make sure that all the information contained in the [disclosures] was solid enough so that any prudent investor has all the information she or he needs to invest," Secretary of Commerce Pat Moulton says.
As the developers dragged their feet over the next six months, Kessler repeatedly wrote their lawyers to say he was "deeply troubled" or to express "profound disappointment" at their inadequate responses. In May 2015, Raymond eviscerated them in an email to Moulton, referring to their "many new layers of inadequately disclosed business entities, new principals and gross misrepresentations."
Last month, Raymond took a job at Mount Snow, becoming the third ACCD official to leave state government for a job in the EB-5 industry.
ACCD's intense scrutiny, which may have been inspired by fears about the SEC's review, was entirely new for the state. In 1997, Vermont established the first state-run EB-5 regional center — a vehicle used to pool investment for foreign-funded projects. But for much of the regional center's existence, ACCD engaged in more promotion than oversight.
"Things were looser," Moulton admits.
Recognizing the inherent conflict, Shumlin called on Moulton and Donegan last summer to separate the two functions. As with the captive insurance industry, ACCD would be charged with marketing Vermont's EB-5 projects, while the Department of Financial Regulation would ensure compliance with securities laws.
When DFR took on its new responsibilities in December 2014, Donegan pledged to subject new EB-5 development — as well as the two suspended Northeast Kingdom projects — to a "complete financial review," a task she described as "pretty daunting."
"We are going to touch everything," she said. "We're going to go from the attic to the basement."
But Stenger and Quiros had already raised tens of millions of dollars for AnC Bio and Q Burke — and they had already begun construction on the latter. The fundraising suspensions threatened to hold up further work, leaving earlier investors in immigration limbo and imperiling hundreds of construction jobs.
"These projects were at risk of total failure if we didn't get the offerings done," Stenger said. "If you can't bring in new capital, you can't pay the bills."
So Stenger called for a meeting in March 2015 with Shumlin, Moulton, Donegan and several others to clear out what he called a regulatory "logjam."
"Sometimes you just have to get people around the table and stop talking on the phone and stop having your attorneys run the show," Stenger explained.
The meeting, which one participant described as "contentious," worked. Later that month, Donegan agreed to allow the developers to resume raising money for AnC Bio, so long as they held it in escrow pending completion of the exhaustive review. In July, she let them do the same with the Q Burke projects, with similar conditions. DFR's full financial review is ongoing.
As he drove from the Newport State Airport 40 miles southeast to Burke Mountain, Stenger became animated at the suggestion that Shumlin had doled out any special favors.
"He hasn't done a single thing that's inappropriate," Stenger said. "He was a governor being a governor — just saying, 'Look, folks, can we identify the issues and can we agree on a path to solve them?'"
Donegan and Moulton concur with that assessment.
"He tells me, 'Donegan, do your job,'" the DFR commissioner says of the governor.
If anything, Stenger seems to think the administration has become a thorn in his side.
"Over the last 15 years, we've had 14 great years with the state," he said. "This last year was a challenge."
'Why the Hell Not?'
Burke Mountain has been in business for 60 years, Stenger noted, as he drove through Lyndonville toward the ski resort he and Quiros bought in 2012. But, he argued, it has never capitalized on the ready supply of skiers from Boston, just three hours away.
"There's not one hotel in the community!" he exclaimed incredulously.
It was a bit of an exaggeration. A moment later, he passed the Lynburke Motel, a dreary brown building with a faded red sign advertising free Wi-Fi.
"Every weekend, that's full of skiers," he remarked with a touch of disdain.
In Stenger's mind, the dearth of accommodations spoke to something bigger.
"There's a tendency in Vermont — maybe it's in all small areas — that people underestimate their capacity. They think, How could something like this happen in Vermont? Well, why the hell not? Why the hell not?" he asked. "You look back on Burlington. People probably said at one point in time, 'IBM in Essex? Are you kidding?'"
Stenger drove halfway up Burke Mountain and parked his car just below the Mid-Burke Lodge, a relic of the resort's quieter days. Along the way, he gestured at a parking lot filled with pickup trucks.
"These are all workers," he said. "These are all people working on this project right here."
Standing under a ski lift, Stenger looked with admiration upon his handiwork. Below him, two large, partially built hotels sprung up from the ski slope, framing Willoughby Gap in the distance.
"Beautiful. God, look at that," he exclaimed. "There's probably 300 guys in there right now, all from Caledonia and Orleans County — and some from Lamoille."
Courtesy of Jay Peak Resort
Proposed renovations to Newport State Airport
Stenger remembered a question he'd tried to answer earlier that day.
"When you asked me, 'This initiative that you started on September 27, 2012 — gee, things haven't happened, have they?'" he began. "Well, yeah, they have. AnC Bio is happening. We've purchased the Renaissance Block. We've got an airport expansion going on. This is near completion."
Stenger paused.
"Yeah, I wish it was a little faster, but we're makin' it. We're makin' it," he insisted. "The glass is more than half full. Is it as full as I want it to be? No, but nothing ever works out exactly the way you hope."
As he drove back to the mountain road, a man flagged him down and introduced himself as a season ticketholder.
"Bill, God, I saw you five years ago," he said. "It was raining, and you were directing people to move the snow so we could get around safely."
"Well, you gotta make it stretch sometimes, huh?" Stenger replied.
"How's it going?" the man asked.
"It's going well," Stenger said. "We're gonna make it for a December 11 opening."
Before he drove back to Jay, Stenger wanted to point out one more thing: the view from Darling Hill Road, across the Passumpsic River valley from Burke.
"It's the most beautiful part of Vermont," he said.
Three miles away, up another hill, Stenger slowed as he passed the Inn at Mountain View Farm. Across the street and down the road stood an elegant, three-story mansion with 35 rooms and a view in every direction.
Stenger had claimed just hours earlier that his developing days were numbered — that after completing his Newport projects, it would be "time for someone else" to take over. But as he puttered up the driveway, he let slip his latest plan: He'd been talking to the mansion's owner about turning the property into a retreat — or, perhaps, the home of a think tank.
It's on the market for $4.5 million.
Was the king of the Kingdom serious about buying the place? Did he really have another project in him?
"You gotta get the funds together," he said. "I think it's doable, but it's not on the front burner."