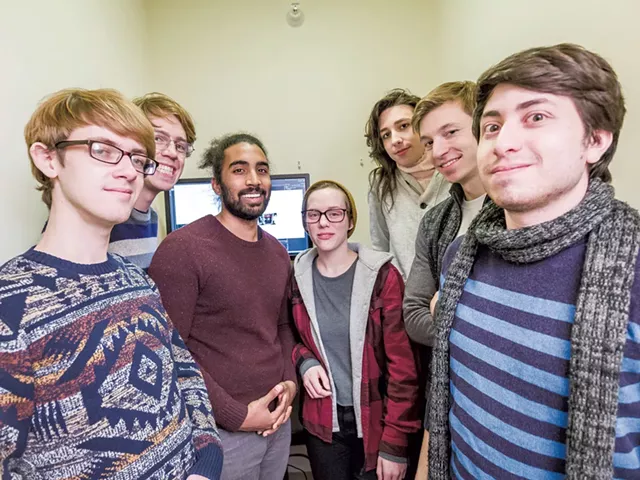 Oliver Parini
The Sundae Month collective
The candy-colored landscape and light electronic music belie the message that you, "a lonely spaceport sanidrone," receive when you sign up to play: "One day, you'll find your way off this ancient death trap of a planet."
Diaries of a Spaceport Janitor is not a happy video game.
Sundae Month, an artistic game-design collective composed of Champlain College students and graduates, recently released Diaries. It's a critique of capitalism featuring a space-station janitor who, while stuck picking up trash, is constantly forced to reassign, or reidentify, their gender.
That theme can be traced to the game's principal creator, 22-year-old James Shasha, who identifies as genderqueer and nonbinary and prefers the pronoun "they." Shasha is currently completing their degree in creative media at Champlain. Sundae Month's other two founding members and co-owners are 22-year-old Ryan Huggins, who graduated with a degree in game design last year, and 21-year-old Levi Rohr, who's still a student.
Diaries isn't the young group's first game, but it's by far the most successful to date. Picked up by independent publisher tinyBuild Games, it was released on September 16 on the gaming platform Steam. Since then, Diaries has won the Honorary Autodesk Award for Best 3D Game and has been shown at the Montréal Independent Games Festival and other indie game events around the country.
A copy of Diaries was recently installed in the gallery at Champlain College with other games the collective has designed over the past three years. Those include Rohr's Petrichor, which invites the player to wander through a forest; and Shapedown, which involves catching different shapes in a rotating square.
Gallery curator Chris Thompson compares Sundae Month to an indie-punk band. "They've got this rock-and-roll attitude," he says, "but what they do is more like an art collective." The principal creatives of Sundae Month draw on the skills of their close friends, usually fellow students, for each project. For Diaries alone, Shasha collaborated with 11 other artists on everything from vocals to music to art.
"Most people, they go study game making, then work for a [highly rated] game company," Thompson says, "and they make texture maps of crates in a basement, and they do that for three years. And then they get to move up to doing texture maps of someone's backpack. This group is like, Fuck that, we're doing our own game, we're doing it right now and we're going to do something that's really interesting to us."
Sundae Month's creations don't conform to expectations for a typical video game, Thompson notes. Take the gender component of Diaries. "Once every few days, the screen goes all fuzzy and [the] text becomes hard to read," Shasha explains, "and the game tells you [that] you need to gender shift. You do this by going to a kiosk that literally sells gender for you to eat."
Some 25 genders are for sale, with names such as Susan Sarandon and Slimefield. "It's a bit of an analogue for how gender dysphoria can feel in real life, at least for me personally," Shasha says.
Adding to the list of quirks, "Diaries is anti-adventure," Rohr says, "because it's the exact opposite. It's the loop of disempowerment, and making you feel bad and powerless. Instead of picking up trash, and then leveling up and getting stronger, it's fueling more of a narrative where you're actually experiencing a system of poverty and you can't actually go anywhere."
There is no escape for the lowly sanidrone.
Taunting users with the depressing realities of the cycle of poverty might seem to run against a successful business model. But the members of Sundae Month put art before commerce. In Rohr's mind, it's not just about catering to players' desire for fulfillment.
"We want to make art/games/experiences for people," he says. "And, personally, I want to create things that allow people to see the world differently. Perhaps make people ask questions they didn't have before."